English
Skip to main content
Bushcraft Fundamentals
Derbyshire, Oxfordshire, East Lothian   
REF:

BUSHCF
• Bushcraft days at your choice of location
• Spend a full day in the woodlands with an expert
• Learn the essentials - shelter, food, fire & water
• Get ready for walking, foraging & outdoor cooking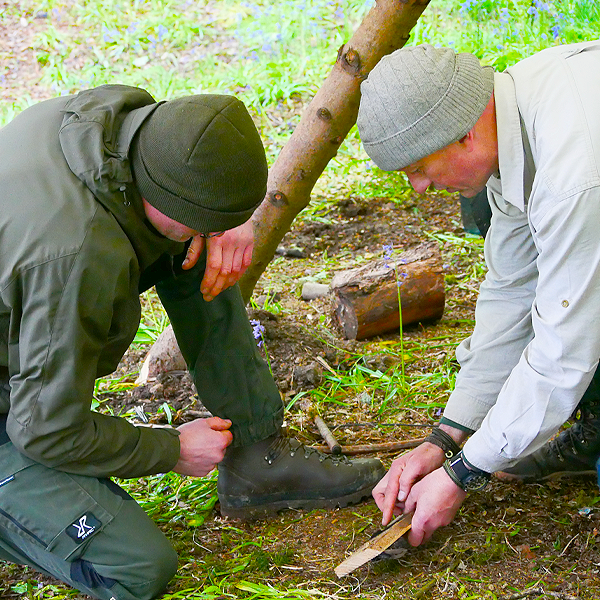 What's Included
• Learn basic skills required to survive in the wild
• Four main principles of survival - fire, food, shelter and water
• Allow spending a whole day at the venue
• All equipment and instruction is provided
• All instructors are fully qualified in survival, wildlife and first aid techniques
What Can I Expect
Get to grips with your bushcraft basics without sleeping under the stars! With these vouchers you have to choice of the Derbyshire, Oxfordshire or East Lothian countryside as your serene backdrop for this thoroughly engaging full day of bushcraft
Surviving in the wild requires four basic principles - shelter, food, fire and water. Your experienced and qualified wilderness instructor will show you just how you can light a fire, prepare food and build a shelter, as well as collecting and purifying water. As you walk through the woods to you base camp, your knowledgeable trainer will bring the hinterland to life, introducing the foraging material surrounding you and opening your eyes to just how the flora and fauna could help you stay alive.
As the saying goes, by failing to prepare, you are preparing to fail, so the first thing your training will show you is how to forage for firewood and collect useful materials that are all around you. Next you will design your one-man kennel shelter, which you will build as a group. Once your abode is soundly constructed your belly will be rumbling and it will be time to move onto the second basic principle, a hearty lunch. The ingredients for your meal will be 'au naturel' and still furry or feathered (vegetarian options are always available), so before you can eat, you will be guided on how to prepare your nosh. We like to call it a survivors BBQ.
Having been trained in two of the four survival skills (building your shelter and preparing food), the afternoon continues with fire and water. Fire is an essential element to surviving in the wilds; it will keep you warm, cook your food and protect you from wild animals. You will be trained in the different fire builds, the selection of appropriate kindling and tinder and at least 10 creative ways of getting your fire lit. Believe us it is tricky, but with the outdoor experts giving one to one tuition you'll be toasting your tootsies in no time.
Finally, having built your digs, cooked up some munch and kindled the crackling campfire, it's time for a drink. The longest humans can survive without water is around three to five days, so rehydration skills are an essential part of your bush craft basics. Your survival coach will teach you the basic elements in the art of sourcing, collecting, filtering and purifying your water so you won't ever go thirsty. A walk back through the woods to the cars will finish off the full day of survival and bushcraft skills.
Availability
• Bushcraft Courses run throughout the year with sessions available on selected Saturdays each month (excluding November/ December)
Location
• Haddon Hall Estate, Derbyshire
• Appleton, Oxfordshire
• East Lothian, Scotland
Suitable For
• Minimum age is 18
• Under 16's can attend if accompanied by a participating adult
• You are advised to wear suitable outdoor, waterproof clothing and sensible footwear
• You will need to be prepared to travel on foot over rough terrain and spend a day outdoors
Spectators
• This activity is not suitable for spectators
Reviews
Average Rating 5
Total Reviews 1
Recommend to Friend 1

Enjoyed the day in the woods. Lots of basic Technics were shown. Particularly enjoyed the fire making and how to take the meat off a wood pigeon without using a knife!
David Foster
{{reviews.text}}
{{reviews.user.username}} Bushcraft Fundamentals
Bushcraft Fundamentals
Total Price
£
99.00