English
Skip to main content
Bladesmithing Experience Kent
Welling, Kent   
REF:

OBBLAD
• A workshop with skilled bladesmith Owen
• Hosted at his forge in Welling, Kent/SE London
• Make your own one-piece forged knife
• Group sizes kept to a maximum of 10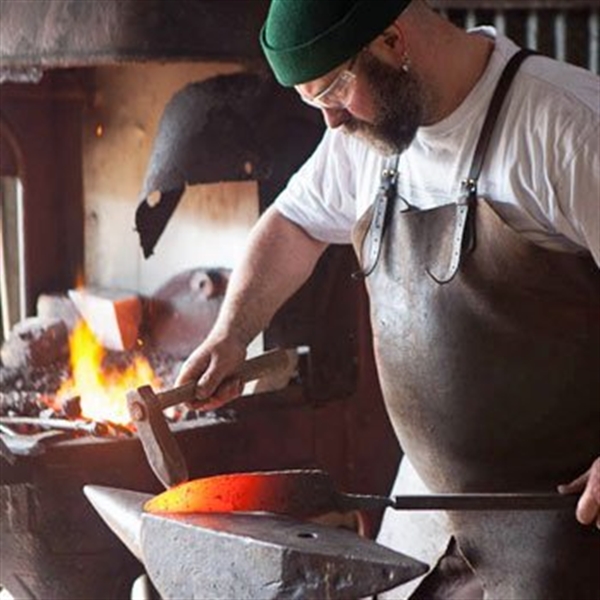 What's Included
• One day bladesmithing course
• Forge a one piece Blacksmith's knife
• Learn basic forging, heat treating and blade sharpening
• Take home your finished knife
• All equipment is provided
• You will form part of a small group of up to 10 participants for this experience
What Can I Expect
History and fine craftsmanship combine on this bladesmithing experience in Kent! During these full-day classes in Kent you'll learn how to forge a traditional blacksmith's knife, with the help of Owen, who has been teaching knife-making skills at his forge for many years.

For Owen it's all about forging soul into steel. It's an amazing material that can be manipulated and fashioned into a myriad of things. A self-confessed foodie, this passionate bladesmith combines his love of food with his love of working metal by specialising in forged blades.

Owen's passion is historically inspired Viking and Saxon swords, seaxes, knives and axes, in particular pattern-welded pieces. This is the methods of forging different steels together, creating historical or new, contemporary patterns as he works.

His work has been featured in many a TV show, film and in print; from bringing mythical Game of Thrones steels to life, to iron ore smelting on George Clarke's Amazing Spaces. Owen has quite literally forged himself a reputation as highly skilled bladesmith.

You'll be spending the day with Owen at Bush Fire Forge on the edge of East Wickham park by Welling. As a pupil of this bladesmithing school, everything you need is provided for you. You'll be making a classic one-piece, forged knife. Owen has based the design on bog finds in Denmark, so your knife will have Viking heritage.

The bladesmith skills you'll be taught include basic forging techniques, heat treatment and blade sharpening methods. The forge is very well equipped for teaching, including multiple workstations with hydraulic presses, power hammers and grinding stations around the heat-treating furnace.

Group sizes for these workshops in Welling are kept deliberately small (usually a maximum of ten students for each course date), so Owen has plenty of time to spend with each of you. By the end of your bladesmithing experience in Kent, you'll be leaving with your knife forged by your very own hands.
Availability
• Selected dates throughout the year
• Courses start at 09:00 finishing between 17:00 and 18:00
Suitable For
• Minimum age 18
Spectators
• Not suitable for spectators
Anything Else
• Non-flammable clothing and sturdy footwear should be worn Bladesmithing Experience Kent
One Day Bladesmithing Course
Total Price
£
195.00