English
Skip to main content
Blacksmith Experience Lancashire
Garstang, Lancashire   
REF:

ANVIL1
A full day course for 1 or 2 people together
One-to-one tuition from blacksmith Colin
Make 2 or 3 forged pieces to take home
Expert tuition from this retired Master Farrier!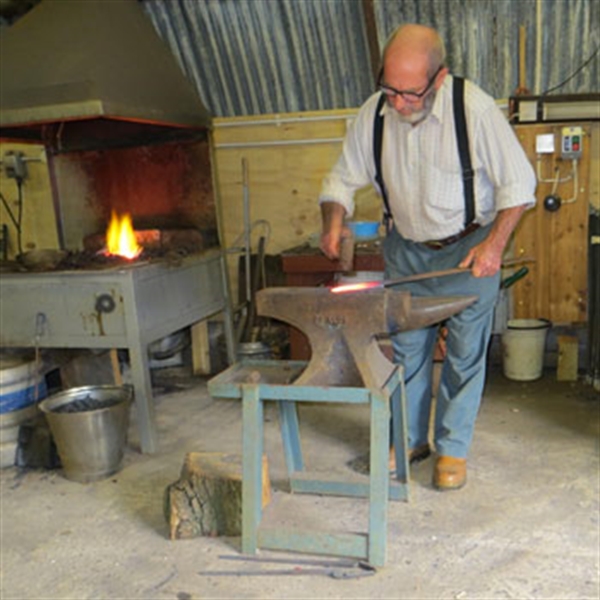 What's Included
Full day course using traditional blacksmithing tools
1:1 step by step instruction and demonstrations 
Learn about forge fire management, forging techniques - Drawing down, upsetting, hole punching, splitting, riveting etc
You can expect to make two or three small items or one larger one, even your own design if feasible!
Examples of items you can make: toasting fork, fire poker, bottle opener, paper knife plus hooks etc. and a choice of more 
All tools, materials, protective wear (safety glasses, apron) and insurance provided
Courses run on an exclusive basis for just you or the two of you
What Can I Expect
Join our blacksmith in Lancashire for a day! These one-to-one courses are for one or two people together to learn the techniques of forging steel to make several pieces throughout your day that you'll be taking proudly home with you.
Colin is a retired master farrier. He's since swapped horseshoes for bespoke forged pieces and he has won awards for his impressive wrought iron work. His forge is the warming heart of his work and it's a pleasure to be able to meet Colin and work with him on these exclusive one-day courses.
Straight talking, old school and down to earth, Colin is a true Lancashire craftsman who's highly experienced. He's a superb tutor, having the knack to be able to explain the techniques of blacksmithing in a simple way - and he's very patient too. The forge is very well equipped, with coke and gas-fired forges, fly press, power hammer and welding gear. And make no mistake, it will be you who will be heating that piece of flat steel in the flames to make it red hot and ready to shape, so expect the sparks to fly!
As for what you'll make, Colin will show you a portfolio of decorative and practical items that might catch your eye, or you can maybe integrate your own design if it's feasible. Pupils normally leave this Lancashire blacksmith workshop with two or even three pieces they've made, ranging from bottle openers and ash scrapers, to decorative hanging basket hooks and ornamental knives.
The forge is in the pretty Lancashire village of Scorton, which is mid-way between Lancaster and Preston, ideally located near the M6 for those visiting from all over the north west. What's more, forging is physical work, so you'd be pleased to hear there's a village pub and even an excellent fish and chip for a tasty lunch break, so you're refuelled and ready to hammer and forge some more in the afternoon.
Book your blacksmith course in Lancashire today for one or two people to get exclusive access to Colin's forge and his wisdom on these friendly, warm and welcoming one-day workshops.  
Availability
Weekdays and weekends throughout the year
09:00 until approximately 16:00
Dates and session times are subject to availability
Suitable For
Minimum age 16
A good, general level of fitness is required
Spectators
Not suitable for spectators
Anything Else
Jeans, T-shirt and jumper are recommended (no fleeces, nylon etc)
Sturdy footwear should be worn

Please note: The only knives permitted to be made on this experience are small viking knives (see image 6 for examples).  Other knives, swords, axes etc are not possible to create on this one day course Blacksmith Experience Lancashire
Blacksmith Experience Day for One
Total Price
£
190.00