English
Skip to main content
Vintage Biplane Flights Nationwide
Nationwide Locations   
REF:

BPNW15
• Our most flexible bi-plane flight voucher
• A choice of flight times & UK-wide locations
• All flights give you time to take the controls
• Genuine biplanes such as Tiger Moth & Stampe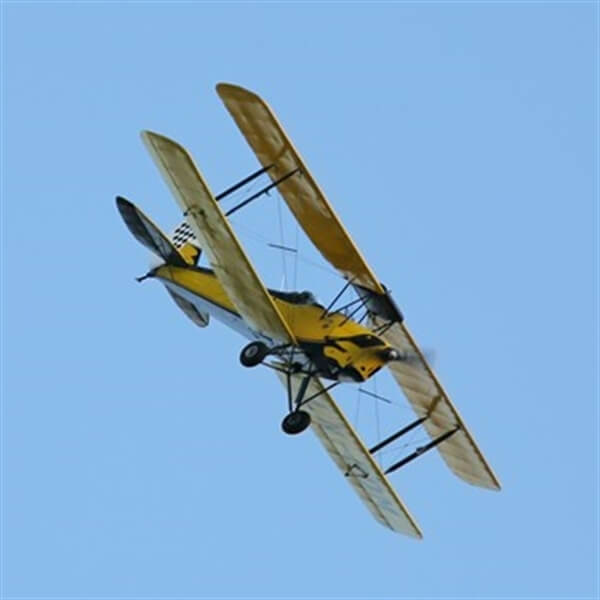 What's Included
Flight in a vintage biplane with a fully trained and experienced pilot
15, 30, 40 and 60 minute flights are available, depending on your chosen venue
All experiences will include a pre flight briefing in addition to your flight time
Opportunity to take the controls during your flight
Flying helmet and goggles are provided
Opportunity to pose for photographs with the aircraft
If you love vintage aviation but don't fancy flying how about becoming a member of the Battle of Britain Memorial Flight supporters club?
What Can I Expect
Take an aerial trip back in time onboard these biplanes! Enjoy biplane flights in beautifully restored vintage aircraft such as Tiger Moths, at your choice of location throughout the UK. Nothing beats the thrill of open cockpit aviation and this is our most flexible voucher, valid at various aerodromes around the country.
You're strapped into your seat in the snug interior of the biplane ready for your flight. Then comes the almost theatrical performance of 'swinging the prop' - all necessary to get these marvellous old boys started and ready for take off. 'Switches off, fuel on, throttle closed, suck in', followed by 'contact'. Then with an almighty heave on the prop, the biplane's engine will burst into life, ready to take flight.
Even taxiing in biplanes like the Stampe or Tiger Moth is an art form, as the pilot weaves to and fro, craning their neck over the side of the fuselage, looking past the propellor, to see where you are going. It's hard to explain the exhilaration of take-off in biplanes like this, as it shudders and purrs, eager to get airborne, as you bump along the grass runway.
Once airborne, you'll find that, despite the open cockpit, the windscreen does a very good job of keeping the breeze to a minimum. By the time you're in level flight, you will have got used to the biplane's engine noise, which fades to a loud but comfortable rumble, as you cruise the skies over your chosen airfield in classic vintage style.
Your pilot will demonstrate a few gentle turns, before letting you take control of the wonderful biplane aircraft for yourself. Taking the flight controls, you'll soon discover only the lightest touch is needed to keep the wings straight and level, or maintain height through a turn. Just imagine all those young and eager RAF recruits training in these much-loved biplanes in the 30s and 40s.
Any signs of enthusiasm during these biplane flights will be more than likely met with the offer to demonstrate more exciting manoeuvres. We're even talking a loop (if the aircraft is cleared for aerobatics), making for a rather adrenaline-pumping finale to your first biplane aviation experience!
Availability
Weekdays and weekends between March and October *
Dates and flight times are subject to availability at your chosen venue
Experiences are subject to weather conditions
*West Sussex: Sundays only for 15-min,  Derbyshire: Friday, Saturday and Sunday's
Location
All flights are in a Tiger Moth unless otherwise stated
15 Minute
Derbyshire Derby Airfield
Essex North Weald Aerodrome
Kent Headcorn Aerodrome
West Sussex Shoreham Airport**
30 Minute
Cambridgeshire Duxford Airfield
Derbyshire  Derby Airfield (Tudbury Tour)
Essex Damyns Hall Aerodrome
Essex North Weald Airfield
Gloucestershire Cotswold Airport
Kent Headcorn Aerodrome
Oxfordshire Bicester Heritage
West Sussex Shoreham Airport**
40 Minute
Cambridgeshire

 

Duxford Airfield
Essex

 

Damyns Hall Aerodrome
Gloucestershire

 

Cotswold Airport
Oxfordshire

 

Bicester Heritage
West Sussex

 

Shoreham Airport**
60 Minute
Dorset

 Compton Abbas Airfield*

Essex

 North Weald Airport

Kent Headcorn Aerodrome
Gloucestershire

 

Cotswold Airport
Oxfordshire

 

Bicester Heritage
West Sussex

 

Shoreham Airport**
* Boeing Stearman
**
Stampe or Tigermoth available
Suitable For
There is a minimum height limit of 4'6" and a maximum of 6'4"
Maximum weight limit is 16 stone
Prolonged periods of inactivity, air pressure changes, G pressure changes, turbulence, noise and light levels experienced during flights in open cockpit vintage aircraft may affect certain medical conditions
Any passenger with any doubts about their health when flying should seek medical advice
You are advised to wear warm comfortable clothing
Spectators
Friends and family are welcome to come and watch, time can usually be made to pose for photographs
Anything Else
All Tiger Moth and other vintage aircraft flights are operated by aeroclubs fully compliant with Civil Aviation Authority rules and regulations
The flight times quoted are 'chock to chock', so run from taxiing out to when you stop after landing
Facilities vary from site to site but most venues have a clubhouse where you can purchase snacks and refreshments
Entry to IWM Duxford is included for participants if selecting this venue
Reviews
Average Rating 5
Total Reviews 11
Recommend to Friend 11

Efficient organisation providing experiences provided by third parties.. My flight in a Tiger Moth was well organised and a spectacular experience of a lifetime. Out of the Blue staff communicated clearly, helped make the flight as easy as possible to achieve and were very pleasant in the process. Would use them again. Superb.
Richard Childs
Absolutely amazing experience, I bought this for my husband and he was speechless, we had many family and friends come to watch and we were all made welcome :) will definitely use Into the Blue again
Sue Gray
Fantastic experience!!!!!!
Trevor Jackson
Great day and experience. The pilot was very competant and helpful. Did the loops and barrel rolls and enjoyed every minute. I would highly recommend this experience. By Robert Martell
Robert Martell
My pilot/instructor and his ground crew were excellent. The flight was an amazing experience that I would recommend to everyone.
Nick Spencer
{{reviews.text}}
{{reviews.user.username}} Vintage Biplane Flights Nationwide
15 Minute Biplane Taster
Total Price
£
159.00