English
Skip to main content
Artisan Gourmet Gift Boxes
UK-wide Home Delivery   
REF:

SGART1
Four artisan hampers to choose from
Delivered directly to your door
Award-winning cheeses, wines & more
Available anywhere in mainland UK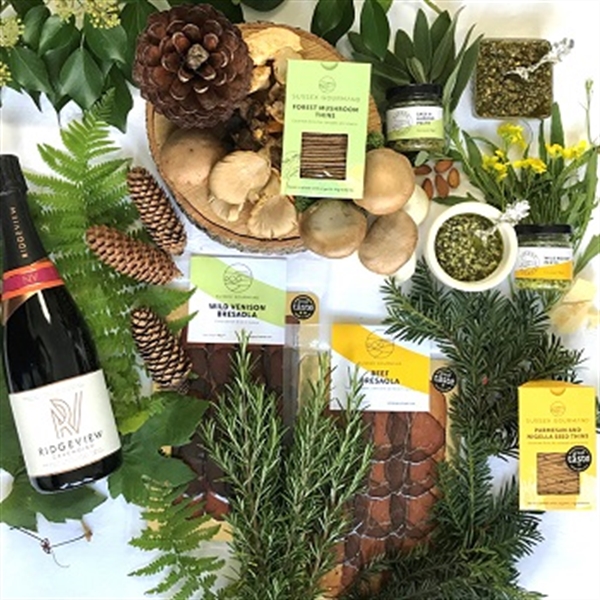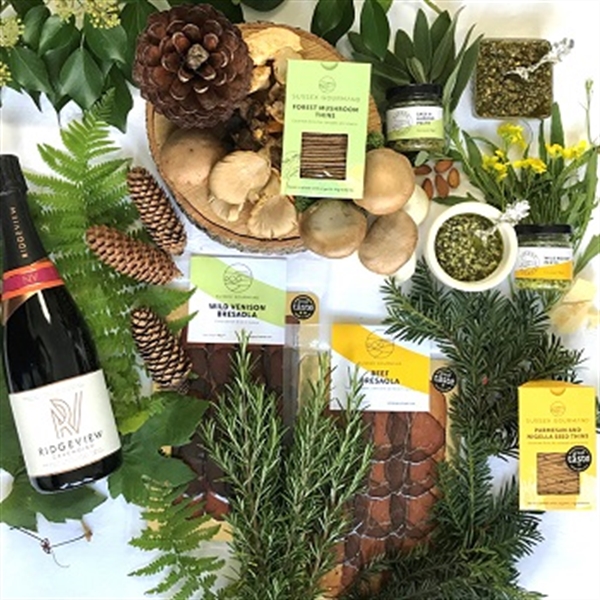 What's Included
Luxury gourmet gift boxes - the perfect present for food lovers
Presented with tasting notes in a gift box with natural raffia ribbon
Gift tag with your personalised message
Packed in eco-friendly sheeps wool courier box with chilling devices to ensure it arrives in top condition
Delivery throughout mainland UK via courier is included
Choose from four luxurious gourmet boxes (see menu for full contents)
Sussex Cheese
Three Sussex hard cheeses with gourmet thins and a membrillo style quince paste
Forest & Field
Guaranteed to please foodies who enjoy small-batch artisan produce, with delicious bites that reflect the Sussex countryside
Bubbly Forest & Field
Small-batch artisan produce along with a favourite Sussex Sparkler
Taste of Sussex
The perfect Sussex hamper that showcases wonderful, award winning artisan food and wines
What Can I Expect
Open up an artisan food hamper filled with cheeses, wines, smoked salmon and lots more gourmet goodies besides! These artisan-crafted food gifts are sent directly to you by post, bringing the tasty treats right to your door.
We are offering four different artisan hampers for you. We've got the Sussex Cheese, the Forest & Field, the Bubbly Forest & Field and the ultimate in hampers; the Taste of Sussex. All are beautifully wrapped and tied with a raffia bow. There's a gift tag in each one, so you can add a personalised message to your gift.
All hampers have one thing in common : the finest foods produced by artisans using local ingredients. Your gift will be lovingly prepared by our friends at Sussex Gourmand. They are all massive foodies who proudly love to pack the best of the county in their boxes. From cheeses and wines, to gourmet thins and zingy pestos and pastes, all have been hand-selected for you and many are award-winning.
The Sussex Cheeses box contains local cheeses such as the Brighton Blue, the nutty Mayfield and the Seven Sisters, which is made from sheep's milk. The Forest & Field showcases the best of the cured meats, with award-winning smoked venison and beef bresaola, served with everything you need to serve as canapés.
English wines are also celebrated. The Ridgeway Cavendish in the Bubbly Fields & Forest hamper is a light sparkling white that is delicious and an award winner. The Bolney Estate wines included in the Taste of Sussex are smooth and medium-bodied pinots - and they have won accolades too.
With so many prize-winning products, we think you will love these artisan food hampers. Settle down for a cosy evening, with delicious savoury treats from dedicated and highly-skilled artisan producers. Staying in has never tasted so good!
Availability
Once registered and redeemed delivery is 1-3 days (or on your chosen date)
A delivery date will be confirmed once your order has been processed
Please note boxes featuring bresaola are available for dispatch from 1st March 2021
Location
Delivered to mainland UK via courier is included

Deliveries to Scotland, Ireland, Isle of Man and Isle of Wight incur additional courier fees which will be confirmed once you have redeemed your voucher
Menu
Gourmet Gift Box Contents
~SUSSEX CHEESES~
Brighton Blue - Mild semi-soft cows milk cheese with a mellow blue flavour and slightly salty finish (130g)
Mayfield - a Gold medal-winning semi-hard cheese made from cows milk, with a creamy, sweet, nutty flavour (200g)
Seven Sisters - a semi-soft matured sheeps milk cheese, coated with a layer of seaweed.  Light and nutty (130g)
~
Forest mushroom thins - made with an organic flour blend and organic butter (24 pieces
~
Quince paste - made from fresh, local quinces (80g jar)
~FOREST & FIELD~
Forest Canape Kit
(Makes 24 exquisite gourmet bites)
Sussex wild venison bresaola (naturally cured and air-dried) 50g
Sage and almond pesto (made with organic sage and toasted almonds) 80g)
Forest mushroom thins (made with a blend of three organic flours (24 pieces
~
Field Canape Kit
(Makes 24 exquisite gourmet bites)
Sussex native breed grass-fed beef bresaola (naturally cured and air-dried) 50g
Wild rocket pesto (made with parmesan-style cheese) 80g jar
Parmesan and nigella seed thins (made with a unique organic flour blend and organic butter (24 pieces)
~BUBBLY FOREST & FIELD~
Contents as per Forest and Field
plus
A bottle of Ridgeway Cavendish (Silver Decanter Wine Award Winner 2017)
Made from a blend of Pinot Noir, Pinot Meunier and Chardonnay grapes
Notes of forest fruits, cherries and toast make this a favourite Sussex Sparkler
~TASTE OF SUSSEX~
Sussex wild venison bresaola - Cured with Sussex gin and foraged berries, lightly smoked and air-dried (50g)
~
Natural Sussex oak smoked salmon from award-winning smokers (200g)
~
Brighton Blue - Mild semi-soft cows milk cheese with a mellow blue flavour and slightly salty finish (130g)
Burwash Rose - a semi-soft cheese made from raw cows milk, washed in rose water.  Creamy, sticky, full of flavour (200g)
Twineham Grange - a parmesan-style cheese perfect for fine shavings over the Sussex Beef Bresaola (150g)
~
Sage and almond pesto (made with organic sage and toasted almonds) 80g)
~
Forest mushroom thins (made with a blend of three organic flours (24 pieces)
~
Bolney Estate Pinot Noir
Well-balanced red wine with soft tannins
Leather, spice and chocolate complement fresh plums, with a smooth and creamy finish (750ml)
~
Bolney Estate Pinot Gris
Super-tasty, medium-bodied and smooth white wine
Fresh pear meets citrus, honeysuckle and grassy notes (750ml) Artisan Gourmet Gift Boxes
Sussex Cheese Gourmet Gift Box
Total Price
£
45.00