English
Skip to main content
Ultimate Army and Fire Service Driving Experience
Bicester Heritage Centre, Oxfordshire   
REF:

SWHOG1
Drive tanks, trucks & fire engines 
Takes place at Bicester Heritage
Enlist a buddy to put out fires & fire the gun
These are all genuine ex-Service vehicles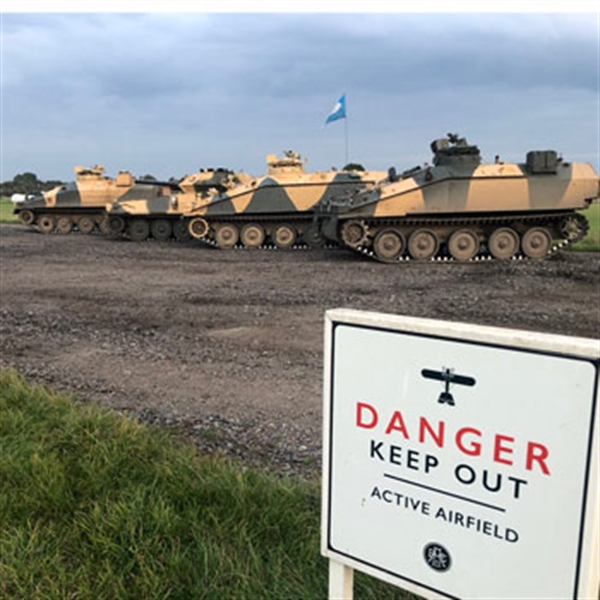 What's Included
Drive a scorpion tank and take along a friend to fire the gun
Drive DAF and MAN army trucks
Drive a Dennis Sabre Fire Engine taking a passenger
Drive an Alvis RIV Airport Tender taking a passenger to put out the fires for you
Passenger ride for you and your guest in a 1956 Bedford Green Goddess to finish
Each driving session will be between 20-30 minutes

Choose the 'two driver' option and you both get to drive and both get to try your hand at putting out the fires, firing the gun and riding as a passenger
What Can I Expect
This is the ultimate Army and Fire Service driving experience. That's why they call it 'The Whole Hog'! You will literally be driving everything they've got in the garage at this driving centre based out of Bicester Heritage. It's going to be one heck of a day for you and a mate!
All the vehicles you will be driving are Army and Fire Service related. All have served their time. And now, having been demobbed, they enjoy a new civilian life at the brilliant Bicester Heritage, itself ex-RAF. They are all ready and revved up waiting for you to take them for a spin.
If full-tracked is your thing, you will love the Scorpion. This is the sportiest of sporty tanks. Light, yet well-armed, this tank holds the Guinness World Record for speed, easily clocking up over 82km/h - fully loaded! Whilst you're at the helm, your tank comrade will be firing the gun. Not for real, of course, but it will make a cracking noise and give you plenty of smoke so you know you've hit the target!
Continuing with the military theme, you'll be driving a DAF and a MAN army truck. This duo has an age gap of 20-odd years, so you can experience how things have progressed in that time.  The MN is the British Army's current load carrier and Bicester is the only place in the country you can drive one of these!
A change of watch to the Fire Service leads you to drive both a Dennis Sabre (the best of the best!) and an Alvis Fire Tender, which were used at military airports across the world. Both are massive machines and they are really cool to drive. You'll need to enlist help for the Alvis experience, as your crew mate will be called on to put a fire out using both the massive capacity, roof mounted monitor and the smaller, high pressure side hoses!
Last, but definitely not least, you and your army and fire service driving day buddy will be treated to a passenger ride in the legend that is the Green Goddess. The Bedford RLHZ Self Propelled Pump, to give this verdant fire engine it's proper name, was an integral part of the Auxiliary Fire Service and is much loved still to this day!
Availability
Selected weekday and weekend dates
Dates and session times are subject to availability
Location
Bicester Heritage Centre, Oxfordshire
Suitable For
Minimum age 18 for driving (full driving licence required)
Minimum age 10 for the passenger/guest
Height restrictions: Minimum 4ft 6ins, maximum 6ft 4ins
Participants should have a good, general firness level and be able to climb in and out of the vehicle
Not suitable for those with epilepsy, heart complaints or during pregnancy
Anything Else
Suitable outdoor clothing and sturdy footwear should be worn Ultimate Army and Fire Service Driving Experience
'The Whole Hog' Experience for Two - 1 Driver Option
Total Price
£
429.00