English
Skip to main content
Indoor Archery Lessons
London Bridge, London   
REF:

ARCLNO
• All year round indoor archery lessons in London
• Shoot the bows at this centre nr London Bridge
• Highly qualified Archery GB trained coaches
• Learn stance, loading bows & knocking arrows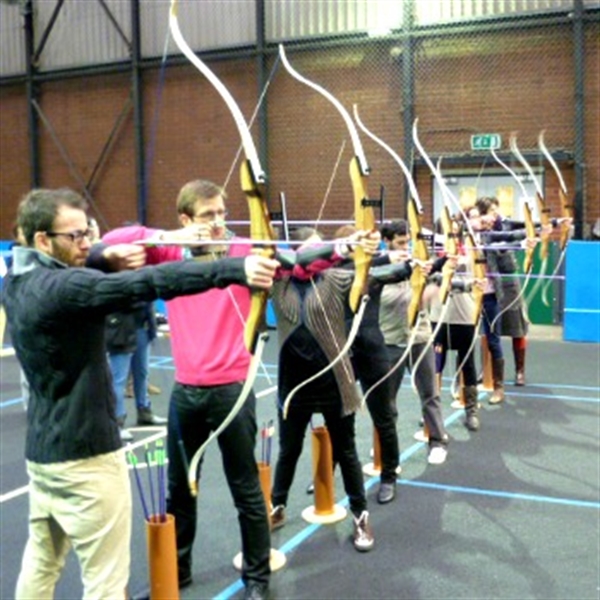 What's Included
• Archery lessons last for an hour and a half
• Tuition with experienced archers
• All shooting equipment is provided
• Everyone should reach a standard where they can enjoy a fun archery competition at the end of the session
• You may be part of a group of up to 12 others
What Can I Expect
If, like us, you never would have thought there was anywhere you could do archery in London, prepare to be pleasantly surprised as we have found a superb indoor archery centre offering taster lessons in the London Bridge area. Forget about seeing the sights, it's time to get the bullseye in your sights!
Lessons take place at either of the two venues this friendly and lively archery club uses in the vicinity of Bermondsey and London Bridge . The whole team is incredibly enthusiastic and loves nothing better than to welcome archers of all ages and teach them how to shoot.
Now a popular precision sport (and many of the archery instructors here at this London club have competed to pretty high level), archery has its roots in hunting and combat, as well as popular tales such as William Tell who had to shoot an apple off the top of his son's head with a bow and arrow - and now here's your chance to take your stand and take a shot yourself.
All equipment and coaching is included, with gear suitable for those as young as 11 always in stock here in London. Archery lessons all start with an introduction to the kit used and the safety rules of this indoor centre. The first task is to set up your stance on the shooting line with the bow pointing toward the target. Next you'll load the bow by placing the shaft of the arrow on the arrow rest and complete the loading by 'knocking the arrow' - that is placing the rear end of the arrow onto the string. Then you'll take sight and release!
The bows used are modern recurve bows, the same style as shot at the Olympics, as opposed to long bows, which are less suitable for beginners to use. During your lesson you'll get to know just how a bow and arrow work together and you may be introduced to some technical archery terms so you'll be able to tell what the fletching on an arrow is. By the end of the session you'll be shooting well enough to take part in a fun competition to find out who is the best archer on the day.
Archery London 'Have a go' lessons last for around an hour and a half in total and are a great way to discover this sport. All coaches at this professional indoor archery club in London are highly experienced and the head coaches are fully qualified and registered with Archery GB.
Availability
• Archery classes run on selected weekends and on occasional week night evenings
• Times can vary but a Saturday afternoon session runs two or three times a month
Location
• Saturday sessions are run at The Downside Centre, SE1
• Monday and Wednesday evening sessions are run at Harris Academy, SE16
Suitable For
• The minimum age for archery classes is 11 years old
• All under 16's must be accompanied by a participating parent (or for kids only sessions check out our
Junior Archery
)
• You should wear comfortable clothing with long sleeves
• A strict no alcohol policy applies on site
Spectators
• This experience isn't suitable for spectators
Reviews
Average Rating 4
Total Reviews 10
Recommend to Friend 10

My Nan have a great time . Roger was brilliant and gave her plenty of help more or less one on one which was brilliant. Seeing as at 93 years old she wanted to give archery a go!
Nikki Raven
The archery itself was great. Also the instructors were lovely especially the girl we had..Jade I think was her name sorry a bad memory for names! The negative would be lack of knowledge /awareness of our booking. We booked weeks ago at the recommended time as we were a large group of 16 but it was very apparent that this came as a surprise to all at the venue and we had a lot of hanging around. This was honestly the opinion of each individual in our group. Hence we also questioned value for money...not good really. We did enjoy ourselves all the same thanks to the lovely staff. Well done to them. Thanks
Treasa Sweeney
Great fun and enjoyable time. A good into archery . Well presented and organised. A thick jumper is must as very cold . Suitable for a large range of ages in my opinion. Follow on courses and events available .Would recommend.
Mark
It went very well, really enjoyed it. Our instructor was very knowledgeable and friendly. I had a great time.
Kim Holton
We went to the have a go session on Saturday 26th, our tutor John was very clear in his instruction and encouraging and we really enjoyed ourselves. Only a couple of observations, would be nice to have a slightly smaller number in the group so you had more goes and less crowded and there should be a cut off point for late attendees. We had people turn up at 10 minutes and 20 minutes into the session which disturbed the rest of us and held up the class.
Kay & Lori
{{reviews.text}}
{{reviews.user.username}} Indoor Archery Lessons
Have a Go at Archery
Total Price
£
30.00