English
Skip to main content
Afternoon Tea Leicestershire
Melton Mowbray   
REF:

MISSBT
• Afternoon tea for two people
• Delicate sandwiches 
• Pork Pie or quiche included
• A pot of speciality real loose leaf tea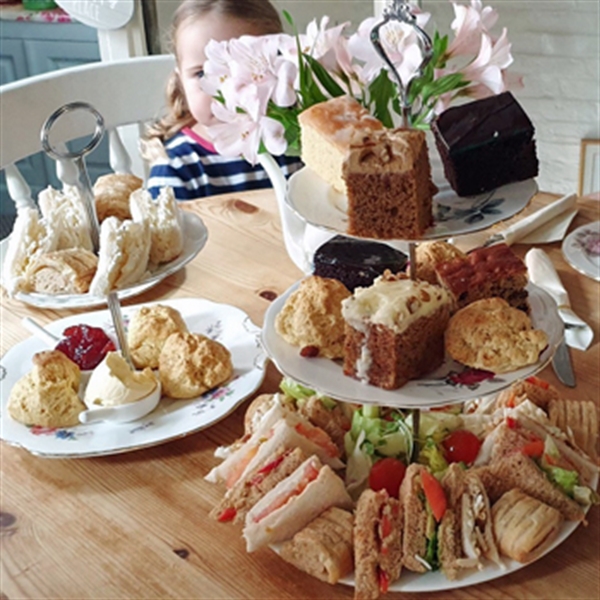 What's Included
• Afternoon tea for two people
• Delicate sandwiches
• One choice per person from potted beef, egg and cress, tuna mayonnaise, cheese and pickle, cream cheese and cucumber or smoked salmon and cream cheese
• A choice of pork pie or quiche
• Scone with strawberry jam and clotted cream
• Selection of home made cakes
• Tea or coffee
What Can I Expect
This vintage afternoon tea in Leicestershire is a very civilised affair! Guests tell us they love the traditional setting, the service and the excellent range of loose-leaf teas on offer at this well-known tea rooms in Melton Mowbray.
As Leicestershire's official 'Rural Capital of Food', the market town of Melton Mowbray is already famous for its Pork Pies and cheeses and is a thoroughly lovely place to take your afternoon treat for two. 
The tea room is upstairs in a beautiful Grade II Listed building overlooking the town's main market place - a hub of culinary and agricultural activity for centuries. The room is elegantly decorated with period furniture, traditional chintz and china crockery. And, as everyone knows, drinking tea out of a proper cup and saucer makes it taste even better.
Seeing as it's Melton Mowbray, this luxury tea for two includes a slice of pork pie (or quiche if you'd rather), as well as a serving platter of delicate sandwiches. A selection of homemade cakes is also included, in addition to that time-honoured treat; scones with clotted cream and jam.
Your tea is served in antique style, with a teapot, tea strainer and sugar cubes with silver tongs on crocheted doilies. With over 30 blends and infusions to choose from, including a variety flavours from Earl Grey and Darjeeling, to Chai and Fruit Frenzy blends, afternoon tea tucked away inside this Leicestershire parlour could last longer than you think!
Having been awarded the Tea Guild Award of Excellence in 2012, it's no wonder that an afternoon at this lovely traditional tea room is proving to be really popular. There's nothing quite like settling into a comfortable chair and watching the rain lash the windows outside while you tuck into a range of freshly-made sandwiches and cakes, a steaming pot of tea infusing gently on the table.
A great way to spend an afternoon whatever the weather, or to make a foodie trip around the East Midlands even more enjoyable, afternoon tea at Leicestershire's gourmet capital is the perfect gift. 
Availability
• Available from Monday to Saturday throughout the year
• The tea rooms are open 09.30 - 16.00
Location
• In a grade II listed building in Melton Mowbray, Leicestershire
• The tea rooms was awarded The Tea Guild's Award Of Excellence in 2012
Reviews
Average Rating 4
Total Reviews 7
Recommend to Friend 6

Excellent sandwiches, cakes could have been better. like the tearoom and the waitress in black and white.
Chris
We were well looked after and the quality of the food was varied and excellent. However I do think it was rather pricey and would not be willing to pay £15 per head for what was served
Anonymous
Lovely experience and one of the best afternoon teas I've had. Fabulous selection of teas and not in a bag :-)
Jackie Buckle
An absolute fantastic experience, good food and attentive staff,would recommend to anyone looking for an afternoon tea experience
Alan Lomath
{{reviews.text}}
{{reviews.user.username}} Afternoon Tea Leicestershire
Afternoon Tea for Two in Melton Mowbray
Total Price
£
35.00