English
Skip to main content
Under 17 Motorsport Academy Drive & Licence
Bovingdon Airfield, Hertfordshire   
REF:

DLJMAP
Drive a Boxster or RX8 at Bovingdon
Open to kids aged 11 to 16 years
Opportunity to gain a Motorsport Academy Licence
Dual controlled cars are used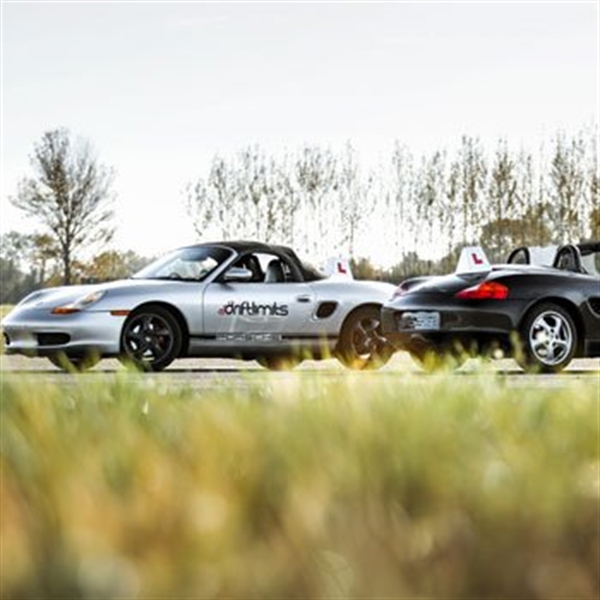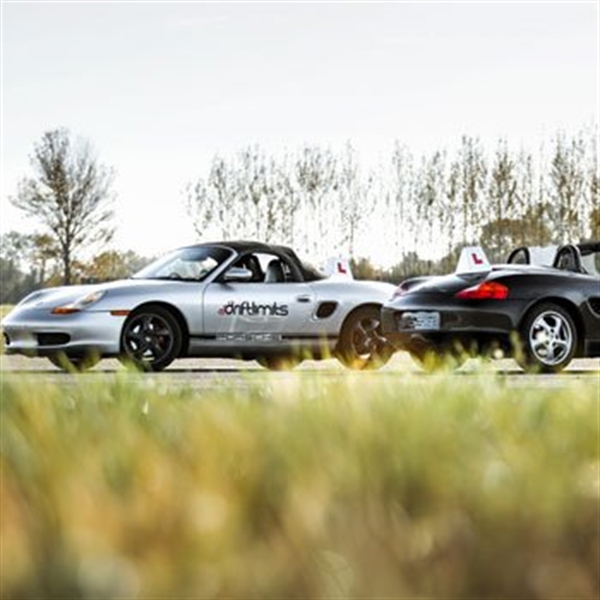 What's Included
A Junior driving experience in a dual control Porsche Boxster or Mazda RX8 
Welcome and introduction
Driving time is 30 minutes
Take the wheel alongside an approved instructor driving on the circuit
Practice essential car control building your confidence
You will perform a series of activities, checking your skills and abilities
Upon successful completion of the experience you will be awarded your own Motorsport Academy licence
The licence enables you to progress to supercars such as Lamborghini's or Ferrari race cars, joining adult sessions at the venue
Please allow 90 minutes for this experience
What Can I Expect
Sign up for the under 17 Motorsport Academy at Bovingdon Aerodrome circuit! Open to children and teens aged 11 to 16, these experiences give youngsters the chance to drive a sporty Porsche or Mazda well away from the public roads on a dedicated driving area.
The cars used for these academies are the Boxster and the RX8. The Boxster is the two seater convertible Porsche and it is a total blast to drive. We have to say, Porsche has got that 'fun in a small package' thing all wrapped up with this car.
The Mazda RX8 is the rarer, big cousin of the little MX5. The RX8 is a rear-wheel drive sports coupé that loves to race, be it on the mean streets of Japan or in a Daytona track race. And take a look at how the rear doors open - they're mad!
Of course, the kids won't just be jumping into these cars and heading off into the sunset on their own. The whole idea of this academy is that they'll be taught some skills as well as having fun. An instructor will be in the passenger seat and all cars are dual-control, so everything proceeds in a safe and controlled way.
Using the dedicated Academy track area, the youngsters will put the Porsche or Mazda through its paces. After a quick practice, students will be asked to perform a series of activities, checking driver skill and ability.
A few tense minutes of waiting whilst the instructor completes the Academy assessment and, hopefully, your little one will be proudly waving their licence at you as they climb out of the driver's seat to greet you with a huge grin on their face.
Holders of this licence can then go on to book further experiences driving even more powerful supercars with the same operator. So if you know a youngster who's mad about cars and really wants to drive, get them lined up to attend the under 17 Motorsport Academy and watch them whizzing around in a fancy motor!
Availability
Regular Saturday afternoons and occasional Sunday dates throughout the year
Experiences are subject to availability and weather conditions
Location
Bovingdon Airfield, Hemel Hempstead, Hertfordshire
Suitable For
Age restrictions: Minimum 11, maximum 16
Height restrictions: Minimum 4ft 8ins, maximum 6ft 2ins
Weight restrictions: Maximum 18 stone
Participants should be physically fit with no serious health conditions
Glasses must be worn if needed
Flat-soled shoes should be worn
Spectators
Friends and family are welcome to come along
Anything Else
Options for collision damage waiver, 

Option 1:

 Reduce Liability from £2500 + VAT to £500 + VAT = £25 

Option 2: 

Reduce Liability from £2500 + VAT to £50 + VAT = £35, if a driver does not wish to choose either of these options they will need to sign a form accepting risk and vehicle damage liability Under 17 Motorsport Academy Drive & Licence
Junior Motorsport Academy
Total Price
£
49.00