English
Skip to main content
Flying Lessons Perth
Perth Airport, near Scone   
REF:

TFPR23
• Flights from Perth (formerly Scone) Airport
• Dedicated Flight Training Organisation
• Only General Aviation activities on site
• Flying time can be added to your training logbook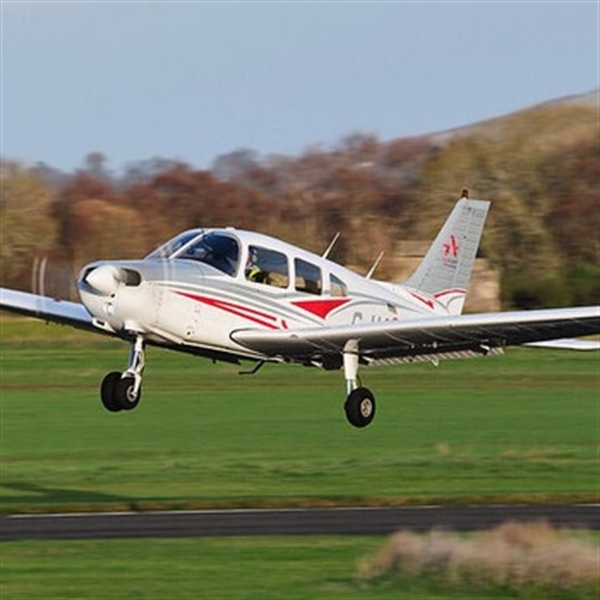 What's Included
• A flying lesson in a two or four seater aircraft
• Safety briefing and familiarisation with the aircraft and its controls
• Your flight route will be explained as your instructor completes the final flight checks before take off
• Once airborne you will be given the opportunity to handle the controls
• Learn how to turn, climb and bank the aircraft
• Flight times quoted are chock to chock
• Flight time can be counted towards a Private Pilot's License (PPL)
• A certificate upon completion
What Can I Expect
Flying lessons Scotland out of Perth Airport! Once called Scone Aerodrome, this airport has an excellent reputation for providing top notch aircraft tuition as it is an official Flight Training Organisation, which means they train students to become professional pilots.
No commercial flights operate out of Perth, so this Scottish airfield is entirely dedicated to pilot training, flying lessons, maintenance and other aviation-related activities. So your lesson will take place in a world that's specifically set up for training, so you'll learn lots and have fun at the same time.
Your pilot will greet you on arrival at the training centre and run through the aircraft safety briefing. Once comfortable in the cockpit of the two or four seater trainer aircraft, it's time to wave off your family and friends watching and head up into the skies of Perth over farmland and Scotland's mountainous terrain on your very first lesson in flying.
From your privileged viewpoint in the cockpit, you'll love the views of The Fair City below, as the River Tay winds around the town and you spot Scone Palace, St John's Kirk and the famous Whisky mills. As well as sightseeing in this stunning part of Scotland, there will be plenty of time for your to have a go at flying the plane yourself when you pilot hands you the controls mid-way through the lesson.
We are offering 20, 30, 40 or 60 minute lessons from Perth Airport, taken in modern two or four seater training aircraft such as the Cessna 152 or Piper PA28. Based centrally, this airport is easy to get to from all over Scotland. For flying lessons with a difference, why not make a weekend of it and book into the Skylodge B&B on the airfield site? There's also the Aviator Cafe and Restaurant at the aerodrome to keep spectators fed and watered too.
And if you do decide to continue with your training, these flying lessons in Scotland can be added to your training pilot log book, so they count towards your flying hours when studying for your licence.
Availability
• Weekdays and weekend throughout the year
• Flight are subject to availability and weather conditions
Location
• Perth Airfield, located just outside Perth
Suitable For
• Minimum age of 14 years old
• Under 18s must be accompanied by an adult on the airfield
• Photographic ID will be required on the day

Two Seater Restrictions
• Maximum weight 15 stone 9lb (100kg)
• Maximum height 6ft 1ins

Four Seater Restrictions
• Maximum weight 18 stone (114kg)
• Maximum height 6ft 3ins
Spectators
• Spectators are welcome and can watch you take off and land
• Participants of the four seater experiences are allowed to bring an interested observer (min age 14) who can observe the lesson from the rear seat (at the discretion of the flight instructor and subject to weather conditions and a maximum combined weight of 25 stone)
Reviews
Average Rating 5
Total Reviews 7
Recommend to Friend 7

Very friendly instructor. Gave a good brief on what to expect and also quite some time on the flight controls. Overall a very memorable experience.
Melvin
Great fun.fantastic way to see the area in a new perspective
Gordon
Amazing experience! The staff was very friendly and professional. Can't believe I took off and landed the plane! With a little assistance of course :)
Leith Atia
The voucher was easy to use & the flight was amazing. The staff were very friendly & helpful
Johnnie Lindsay
{{reviews.text}}
{{reviews.user.username}} Flying Lessons Perth
2 Seater 30 Minute Lesson
Total Price
£
169.00