English
Skip to main content
Kent Skydiving Experience
Headcorn Airfield, near Ashford   
REF:

SKYHCW
• Skydiving at Headcorn Airfield in Kent
• Tandem jumps from 12,000ft
• A renowned drop zone & school established in 1979
• British Parachute Association qualified instructors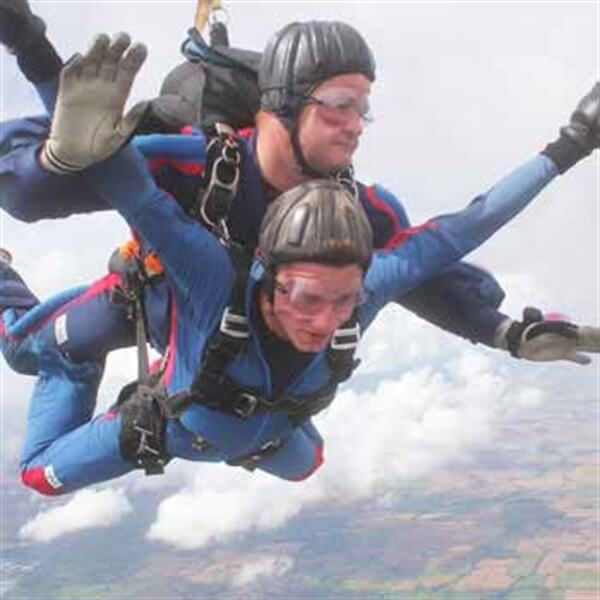 What's Included
Enjoy a tandem jump at Headcorn
A training session lasting 30-40 minutes precedes your jump
You will be securely harnessed to an experiences skydive instructor
The jump is made from approx. 12'000ft and includes a freefall of 30-40 seconds
Your instructor will open the parachute at approx 5,000ft 
You will be given an opportunity to steer however te instructor remains in control at all times
A video and photographs of your jump, can be booked in advance directly with the school (payable locally)
Provisional membership to 'British Skydiving is included
A jumpsuit, hat, gloves and goggles are provided
Complimentary premium gift packaging from Into The Blue
What Can I Expect
Go for our Headcorn skydive experience - it'll be the adventure of a lifetime! This renowned centre for skydiving, established in Kent in 1979, has already allowed over 70,000 people to realise their dream of a tandem skydive over Headcorn and the breathtaking Kentish countryside. You could be next!
Take that first leap into the unknown from heights of up to 12,000ft, strapped securely to your BPA (British Parachute Association) qualified instructor; then freefall in a wild rush of exhilaration before your parachute is deployed at 5,000ft and lets you go soaring, gliding and even steering your own way gently earthwards, taking in the awe-inspiring 'Garden of Kent' landscape below.
Situated at Headcorn Airfield, this skydive experience will give you all the adrenaline rushes you could ever wish for. This full day skydiving package in Kent allows you to appreciate the full beauty of the south-eastern countryside from a whole new perspective. In addition, not only does the centre have many years of experience in performing tandem and solo skydives, but Headcorn enjoys some of the best skydiving conditions in the UK, meaning you'll get the best possible experience, whatever the time of year.
Upon arrival, you'll have a short briefing session before meeting your instructor, who'll explain the full details of your individual skydive. All the instructors are BPA skydiving accredited, so you can be sure you're in safe hands for the entire day.
Also, you can opt for a professional freefall photographer to accompany you on your skydive, capturing all the best moments of your daring display to create a lasting memory to take home and cherish.
A Headcorn skydive session is not for the faint hearted as you will be jumping out of the aircraft at nearly two miles above the ground - but it will be one of the best things you've ever done! If if you're not sure whether a tandem skydive (at Headcorn in Kent or elsewhere) is your thing, then why not consider it for a daredevil in the family?
Availability
Jumps are available on weekdays throughout the year
All dates are subject to availability and weather conditions 
Please see our main parachute section for more info on other Skydiving and parachuting activities.
Location
Headcorn Airfield, Ashford, Kent
Suitable For
For safety reasons the general weight limit (fully clothed) is 13.7 stone (86kg) 
This limit is however proportional to height
A lower weight limit of 80kg (12st 9lbs) applies to those 1.57m (5ft 2ins) or shorter
If you are 1.72m (5ft 7ins) or taller; the limit is 92kg (14.7 stone)
You may be weighed during registration and your jump refused if you exceed these limits
Maximum weight 14.5 stone for men and 13.5 stone for women
Minimum age is 16 years (Under 18s require Parental/Guardian Consent)
There is no upper age limit for tandems
Participants must sign a Tandem Student Parachutist Medical Information & Declaration form (BS form 115A)
If unable to sign this jumps may still be possible by seeking qualified medical advise and certification (BS form 115B)
Spectators
This Kent Skydiving club has extensive facilities and equipment including two aircraft
There is a full time canteen serving hot and cold food during the day
Basic accommodation, camping area, toilets and showers are available on site. Pets are not allowed on the airfield
Anything Else
A HD video of your jump can be filmed by a professional skydiving photographer and includes 30-50 digital photographs (payable direct for £150)
Reviews
Average Rating 4
Total Reviews 7
Recommend to Friend 7

Amazing experience. My instructor Janos was brilliant and reassured me the whole way . My only issue was the waiting for the jump. My booking was at 10am and only jump at 13h30.
Linda Naude
Amazing experience. Well organised and executed! Would do it again anyway!!
Priya Rasalam
Great experience. Everyone was very helpful and made my day fantastic
Theresa omara
I cannot rate it highly enough! The whole day from beginning to end was professional, informative and enjoyable. My tandem skydive instructor was Si who was very reassuring and ensured I got the best out of my experience. I had the most incredible time and would do it all again! A big thank you to everyone at Skydive Headcorn, a job well done!
Donna
All of the staff were very professional. My tandem partner Dave was excellant and ensured that I felt safe in his very capable hands.
Julian Chappell
{{reviews.text}}
{{reviews.user.username}}