English
Skip to main content
The Midlander Steam Train Midweek Luncheon
Great Central Railway, Loughborough   
REF:

GCRWD4
Wednesday steam train luncheon trips in Leics
Includes unlimited train GCR travel all day long
Trains depart from Loughborough station at 1pm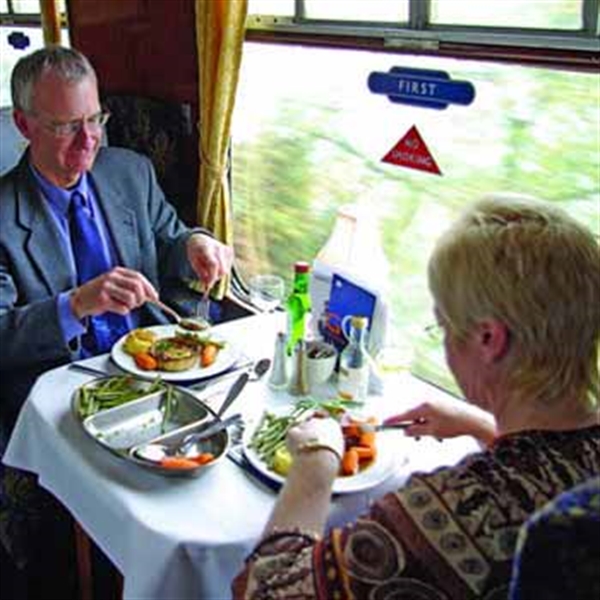 What's Included
Two course lunch served aboard a first class restaurant car
The steam locomotive takes you on a leisurely journey through the Charnwood countryside
Your meal is served during the journey
The train usually pauses on Swithland viaduct with magnificent views across the reservoir to Charnwood Forest
Lunch guests receive a 'runabout ticket' for the day allowing you on as a passenger on any train and to roam around the platform and museum
Your table on the steam train luncheon departure is reserved for you
The journey takes around 1 hour 45 minutes
What Can I Expect
All aboard the Great Central Railway for a delightful midweek steam train luncheon for four! Departing from Loughborough station on selected Wednesdays, these dining car experiences, with a full day runaround ticket included, are the perfect treat for the middle of the week.

The Midlander Lunch excursion is hugely popular. It's a relaxing day out away from the weekend crowds, that allows you to really enjoy these historic railway line in Leicestershire. It's the UK's only main lone heritage railway - and that means you'll see moving trains going in opposite direction passing each other. It's hugely renowned and has featured in many TV shows and films as an authentic filming location.

Your trip out will see you enjoying a return journey on the full length of the line, from the main Great Central Railway station at Loughborough, all the way to Leicester North and back again. During your voyage, luncheon will be served at your table in the first class dining car. It's just as you'd expect in this beautifully restored carriage, with big comfy armchair-style seats and a fully-set table.

The onboard team will welcome you and be there for you from the moment you step onto the train from the platform, to the moment they wave you off at the end of your voyage. It's all very lovely and really rather civilised like rail travel used to be before ticket barriers and guard-less trains.

The food all comes freshly prepared from the onboard galley kitchen car. We can't imagine that it's easy producing meals in such confined conditions on a moving train, but the chefs proudly send out their restaurant-standard food on these midweek steam train luncheons trips to the appreciative passengers.

As well as enjoying your meal, there are all the views to take in too. You'll be able to spot everything from landmarks of the local industrial heritage such as the former Ladybird Books factory in Loughborough, to the working granite quarry at Mountsorrel. Then there's the open countryside which is really stunning too - a highlight of which is the pause on the viaduct over Swithland Reservoir. We think these midweek steam train luncheon vouchers are the ideal Wednesday tranquil treat for you!
Availability
The Midlander runs on selected Wednesdays from February - October
Departures are at 13:00, returning at approximately 14:45
On booking, the operator may ask for you to make your choices in advance
Seating is generally on tables accommodating up to four people
Dates for 2022 are fully booked, 2023 dates will be released early November
Location
The trains depart from the Great Central Station in Loughborough then head south for around 4 miles where the train pauses to take in the beautiful views from the Swithland viaduct, near Rothley
The train continues a further 4 miles to Leicester North and follows follows the same route back to Loughborough Central Station
The Central station has good access from the M1 (J23) and A6
Suitable For
Anyone under the age of 18 must be accompanied by an adult
Minimum age 5
Spectators
There are full facilities on board the trains and at the stations
Spectators wanting to see off the train will need to buy a platform ticket which allows access to the museums
There are disabled facilities available on site
Children aged 5 and over are welcome on these lunchtime trips
The operator can also assist and advise on local accommodation in the area
The dining car is not suitable for wheelchairs
Menu
Sample Menu
Main
Homemade Chicken & Mushroom Pie with Creamy White Wine Sauce
Or
Pork Loin with a Sage and White Pudding Stuffing and Honey Mustard Sauce
Or
Pan-fried Seabass in a Lemon and Garlic Sauce
Chef's selection of Vegetables
Dessert
Chocolate & Raspberry Tart
Or
Mandarin Cheesecake
Both Served with Raspberry Coulis
~
Tea and Coffee with Chocolate Mints
* Please note that your menu choices, vegetarian options or special dietary
requirements must be booked at least 7 days in advance. Whilst every effort is
made to ensure that care is taken when dietary requirements are catered for on
their services, they cannot guarantee that the ingredients are completely free from
allergens. There is always a risk of cross contamination due to the nature of the  hazards in their kitchens
Reviews
Average Rating 4
Total Reviews 3
Recommend to Friend 3

Such a love gift to give. Unfortunately our lunch onboard a steam train was curtailed at the last minute through lack of a chef however we were still able to take the train and complementary tea and coffee was served throughout the ride. We have been given vouchers to book another train ride with lunch and the staff at Into The Blue have been amazingly helpful, we were even able to book lunch on a different train! As this is booked for June, we are unable to comment on it but we are grateful for the service we have received to date.
Fran
Wonderful experience. First class staff and service. Great treat for all the family
Mrs S McGregor
Wonderful experience. First class staff and service from start to finish. I would thoroughly recommend this to all ages as it's a great family treat.
Mrs S McGregor
{{reviews.text}}
{{reviews.user.username}}