English
Skip to main content
Saturday Steam Luncheon in Leicestershire
Loughborough, Great Central Station   
REF:

STSYL1
A 'runabout ticket' for the day
Roam around the platform, workshops and museums
A delicious steam train luncheon
From Great Central Station in Loughborough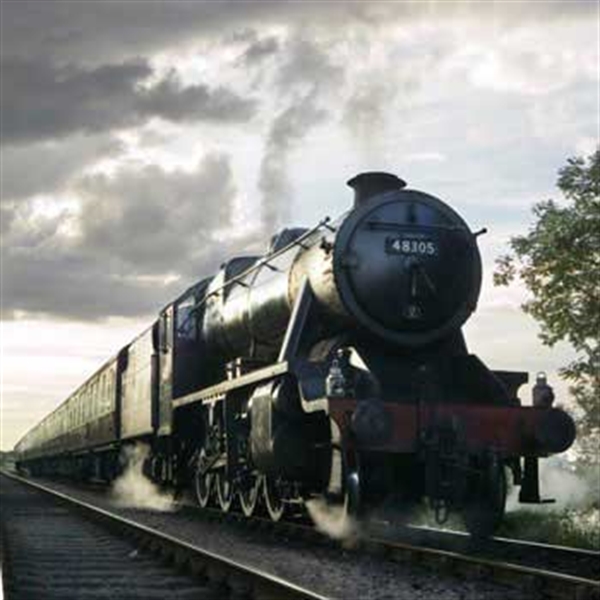 What's Included
Three-course lunch with coffee and mints served aboard The South Yorkshireman
Enjoy a leisurely steam train journey through Charnwood's countryside
Your meal is served during the journey aboard the first class restaurant cars
There is generally a pause on Swithland viaduct with views across the reservoir to Charnwood Forest
A 'runabout ticket' allowing unlimited rail travel for the day
Opportunity to roam around the platform and museums
Your table on the steam train luncheon departure is reserved for you
The train journey lasts approximately one and a half hours
What Can I Expect
All aboard the South Yorkshireman for a superb steam train lunch in Loughborough! This year round Saturday service runs on the renowned and much-loved Great Central Railway line and departs from the main base at Loughborough Central station. It's also one of our most popular of all our experiences!
The beautifully restored carriages of the South Yorkshireman immediately transport you back to the truly golden age of steam trains. Unlike modern rail services, these Loughborough luncheon departures ensure you will definitely get a seat (and it's a large, armchair-style comfy one at that) and a table (fully set for dining with proper cutlery and crockery), when you book for these first class restaurant cars.
As you roll gently out of Loughborough, you can sit back in your seat, watch the plumes of steam billowing from the train's locomotive and enjoy the stunning vistas of the unspoilt countryside. Your three course meal will be served at your table by the courteous and smartly dressed service team and includes a choice of main dishes in a classic British cuisine style, with vegetarian options too. What you might not realise is that there is a kitchen car onboard, where all the food is prepared and plated - quite a feat!
Midway through your steam adventure, the train will glide to a halt, whilst you are eating your lunch, on one of the loveliest spots in the Loughborough area - the viaduct that spans the Swithland Reservoir. Chances are you'll see wildfowl enjoying the tranquility of the water and we think there is no better way to spend a Saturday lunch time than this!
Once you arrive at the end of the line in Leicester North, your plates will have been collected and you'll most likely fancy a little refreshing walk, so here's where you can get off the train, have a look around the station and then hop back onboard for your return journey and your coffee and mints.
Every diner booked on the steam train lunch from Loughborough also has a first class 'runabout' ticket giving you unlimited travel for the day of your experience, so you can make the most of it and see all the attractions on the eight miles of mainline track and three other stations. Other steam train trips are available.
Availability
Most Saturday lunchtimes from January through to mid-November
Departures are at 13:00, returning at approximately 14:45
On booking, the operator may ask for you to make your menu choices in advance
Current 2022 Availability:
Tables for 4 are available in September / October / November

Tables for 2 are available in November
Location
The trains depart from and returns to Great Central Station in Loughborough
Head south, for around 4 miles where the train pauses to take in the beautiful views from the Swithland viaduct, near Rothley
The train follows the same route North back to Great Central Station
The Central station has good access from the M1 (J23) and A6
Suitable For
Minimum age 5
Under 18s must be accompanied by a participating adult
There are disabled facilities available on site
The dining car is not suitable for wheelchairs
Spectators
Spectators wanting to see off the train will need to buy a platform ticket which allows access to the museums
Anything Else
There are full facilities on board the trains and at the stations
The operator can also assist and advise on local accommodation in the area
Please note: There may be additional dates available outside of the listed dates, however runabout tickets will not be available due to pre-booked seasonal events
Menu
Sample Menu
Starter
Soup of the Day with Bread Roll (V/GF)
Main
Parmesan & Black Pepper Crusted Chicken Breast served with a Wild Mushroom Sauce (GF)
Or
Loin of Beef, Parsnip & Horseradish Puree and a Port & Shallot Jus (GF)
Served with the chef's selection of Vegetables
Dessert
Lemon & Blueberry Cheesecake
Tea and Coffee with Chocolate Mints
* Vegetarian options available for the Main course are: Brie & beetroot tart (v), Mushroom
risotto(v) or Cumin, Butternut squash and lentil wellington (ve)
* Please note that your menu choices, vegetarian options or special dietary
requirements must be booked at least 7 days in advance.
Whilst every effort is made to ensure that care is taken when dietary requirements are
catered for on their services, they cannot guarantee that the ingredients are completely
free from allergens. There is always a risk of cross contamination due to the nature of the hazards in their kitchens
Reviews
Average Rating 4
Total Reviews 117
Recommend to Friend 109

everything was well organised even when little blips arose which where no fault of the staff. excellent.
margaret moore
We had a great day, excellent food and service. Friendly, helpful staff and the train was spotless.
Lynda
we had a brilliant day on Great Central Railway the meal was superb and the staff brilliant. train was spotless as was the station at Loughborourgh. All together a great day out
colin
Lovely relaxing day, the food was tasty and the dining experience great. The staff were friendly and helpful.
Clare
This was the first day back for luncheon on The Great Central Railway so not everything went as they planned. However, this is no way spoiled our experience. Staff were very friendly and food was excellent.
Nigel Wharton
{{reviews.text}}
{{reviews.user.username}}