English
Skip to main content
Sailing Day in Dorset
Poole Harbour   
REF:

DNGOFF
• The 'Have a Go' sailing day for beginners
• Sail on Europe's largest natural harbour at Poole
• Fleet of Wayfarers, Laser Bahia & Pico dinghies
• Training school has an excellent reputation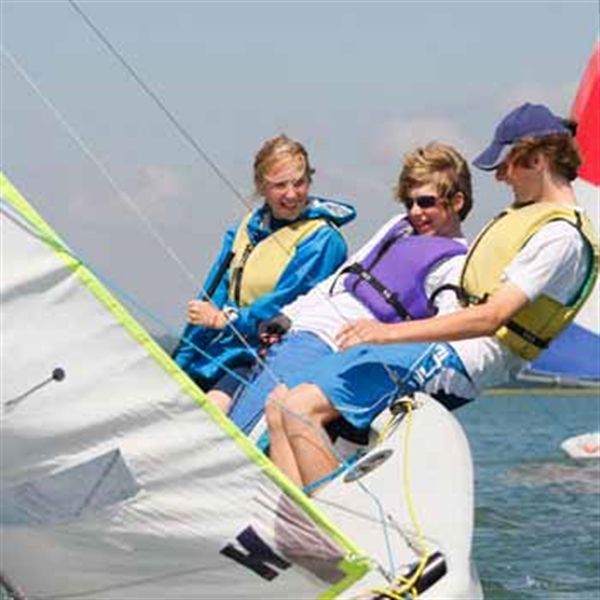 What's Included
Full Day Dinghy Sailing Course
• Sessions run from 9.30am to 5pm
• One instructor per three participants
• You will be sailing in Wayfarer dinghy or equivalent
• Alternative
sailing courses
are available on our main sailing and RYA section and are bookable online.
What Can I Expect
When it comes to dinghy sailing there is lots to learn before you can be let loose on the water by yourself in a boat. That's where this day course in Dorset comes in. It gives you an excellent introduction to what sailing a small dinghy vessel is all about - with lots of hands on time at the helm.

The training centre in Poole hosts hundreds of courses every year and has an excellent set up for total beginners, which is why we've selected to offer the 'Have A Go' sailing day.

Based in the middle of one of the most stunning boating areas in the country, it doesn't get much better than this, as you sail in one of the school's dinghies around what is Europe's largest natural harbour.

Thanks to the natural layout of the land, these are some of the UK's safest sailing waters and are ideal for getting to grips with a dinghy. This Poole-based school has a fleet of Wayfarer, Pico and Laser dinghies to sail and for the uninitiated, these boats are popular for both training and racing in.

All instructors are fully qualified and will spend time with you throughout your course, so you learn and progress in your sailing. After mastering launching techniques, the next test is to get sailing your dinghy in a straight line. With factors like the wind direction, tides, currents and other craft out on the water, this is quite a nautical challenge for novices.

You'll be given some excellent sailing tips, such as keeping focused on a fixed point in the direction you want to go, like a rock on the beach. Now you've got the basics, you'll continue to learn and progress out on the water throughout your full day of tuition.

Enough of our tips and hints, the best way to discover dinghy sailing for yourself is to buy a voucher and get booked on to this full day session. Dates are offered from spring until the end of the autumn and everything you need is included in the price. All you have to do is turn up ready to learn your starboard from your port and get acquainted with wind directions and main sails.
Availability
• Saturdays between March and November
Location
• Poole Harbour, Dorset
Suitable For
Full Day Sailing
• Minimum age 18
• If you can get in the dinghy, you can sail it
Spectators
• Spectators are welcome to watch, but may not be able to see all the action at sea • There is plenty to do around the sailing centre and in Poole itself
Reviews
Average Rating 5
Total Reviews 4
Recommend to Friend 4

Superb, whole day was fabulous, learnt so much, couldnt recommend it enough!
Andrew
Paid extra to upgrade to RYA Level 1, which we both passed. Really enjoyed the experience and would recommend them to anyone.
Paul Mather
The instructor was great, the enclosed harbour in Poole was good to do the sailing too. It was great fun, a little harder than I thought it would be but I loved being out on the water. It was 20 deg Celsius outside yet the water was surprising warm( you do get a bit wet when the wind picks up and the waves get bigger!) The sandwich for lunch was fresh and nice considering I'm veggie. The only thing I would say that although 6 hours is what you need to get somewhat capable in the first stage of sailing, a 3 hour option would have been nice for this trip.
Clare Anderson
{{reviews.text}}
{{reviews.user.username}} Sailing Day in Dorset
Have a Go Sailing Day
Total Price
£
99.00