English
Skip to main content
Jurassic Coast Helicopter Tours
Near Honiton   
REF:

DEVHEL
• Heli tours near Honiton from Dunkeswell
• Swoop over the dramatic Jurassic Coast in a heli
• Follow the River Otter & see the stunning shoreline
• Choose between a 20 or extended 30 minute ride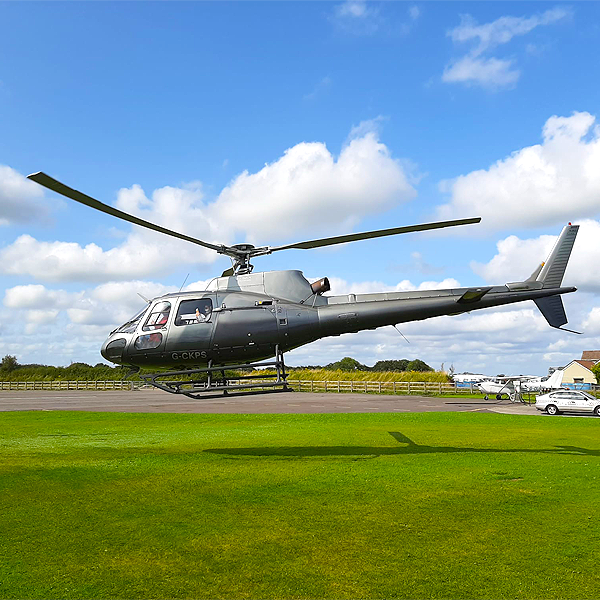 What's Included
• A Helicopter Sightseeing Flight
• Welcome, safety briefing and introduction by your helicopter pilot
• Amazing views over the South Devon Coastline
• You may be with two other participants if flying in the Robinson R44 and four other passengers if flying in the AS350 Single Squirrel helicopter

Jurassic Coast Sightseeing Tour
• 20 Minute Flight (34 miles)
• Fly over Honiton following the River Sid to Sidmouth. Fly along the spectacular red cliffs to Budleigh Salperton for views over Exmouth. Then follow the Otter River to Ottery St Mary

Lyme Regis & Jurassic Coast Tour
• 30 Minute Flight (50 miles)
• In addition to the above you will also fly the extended route along the red cliffs and over the beautiful Devon countryside to take in views of Lyme Regis
What Can I Expect
Discover the dramatic Devon cliffs on this Jurassic Coast Helicopter Tour! Stretching from Orcombe in East Devon to Old Harry Rocks in East Dorset, the Jurassic coast covers 95 miles, so seeing some of it by helicopter is much easier than walking the route!
The helicopter is based near Honiton and its from here you'll head out on your seaside tour. If you opt for the 20 minute Jurassic Coast trip you'll head straight out towards towards the coast, following the winding River Otter, until it meets the sea at Budleigh Salterton.
Designated an Area of Outstanding Natural Beauty, Budleigh boasts red cliffs and marshlands that are a haven for bird and wildlife. You'll then carry on in the helicopter following the Jurassic coastline towards Exmouth, so you can gaze down on the amazing cliff formations and the stunning shoreline, before turning in-land at Exmouth to follow the meandering Otter River to the delightful Ottery St Mary before heading back to base.
Those on the 30 minute tour will see all those Jurassic coast wonders, as well as some of the most well-known parts of South Devon too. After take off in your executive chopper, your flight path will take you to Lyme Regis, famous for its Cobb - the curved harbour as seen in French Lieutenant's Woman. After that you'll turn and soar along the line of the beaches starting with Monmouth fossil beach and passing over Seaton and Sidmouth where those red cliffs of the Jurassic coastline start. From this point, your flight path follows the 20 minute version of the tour.
Your Jurassic coast helicopter tour will last either 20 or 30 minute, depending on which voucher you choose and as well as seeing all the coastline sights, you will also enjoy the thrill of being in a luxury helicopter flying as low as 1000ft to be able to get a really good look at the amazing Devon coast and all those most picturesque beaches, coves and cliffs. One little piece of advice - don't forget your camera to capture those wonderful aerial vistas!
Availability
• Selected days of the month usually at weekends, throughout the year
• Sightseeing flights are subject to availability and weather conditions
Location
• Faraway Common, EX10 0QW
• Dunkeswell, EX14 4PQ
Suitable For
• Under 10's must accompanied in the helicopter by a fare paying adult
• Maximum weight 18 stone
• There is a maximum weight of 14 stone for the co-pilot seat
Spectators
• Spectators are welcome to view take off and landing
• There is a cafeteria at Dunkeswell airfield and seating and hot drinks are usually available at Faraway Common
Anything Else
• Passengers must arrive 20 minutes prior to their flight time
• Tour routes can vary due to change due to weather conditions and air traffic control
• Upgrades to a co-pilot experience are available for an additional fee when booking your date (subject to availability)
Reviews
Average Rating 4
Total Reviews 11
Recommend to Friend 11

We had an amazing helicopter flight. The staff made our morning by greeting us with a friendly smile and explaining exactly what would be happing with times etc. Thank you for making my 50th birthday treat so wonderful!!!
Tina Sanders
Fabulous experience and would definitely recommend
Jenny
The whole experience exceeded my expectations! Staff were exceptional with keeping us up to speed with timings etc. and were friendly and approachable... The only thing I would have liked was some explanation of where we were flying over...minor detail!! thank you all for great experience D Huggons
Deborah Huggons
Not being very tall I found it hard to climb the high steps into the helicopter, but once inside everything was good. A wonderful flight, such an experience. Wearing hearing aids I missed most of the commentary but it didn't spoil the adventure. The ground staff were so helpful and we took advantage of the shelter of the café before the flight.
Pamela Gould
Amazing experience, well worth it. Friendly staff when we arrived for our flight. It was difficult though at times getting through to someone to actually book the flight itself.
Donna Norwell
{{reviews.text}}
{{reviews.user.username}} Jurassic Coast Helicopter Tours
Jurassic Coast Tour
Total Price
£
145.00