English
Skip to main content
Flying Lessons Surrey
Blackbushe Airport, Camberley   
REF:

BUS230
• Flying out of Blackbushe Airport, Surrey
• An airfield steeped in WW2 history
• Spectators can watch from the Bushe Cafe
• 30 & 60-minute two-seater Cessna lessons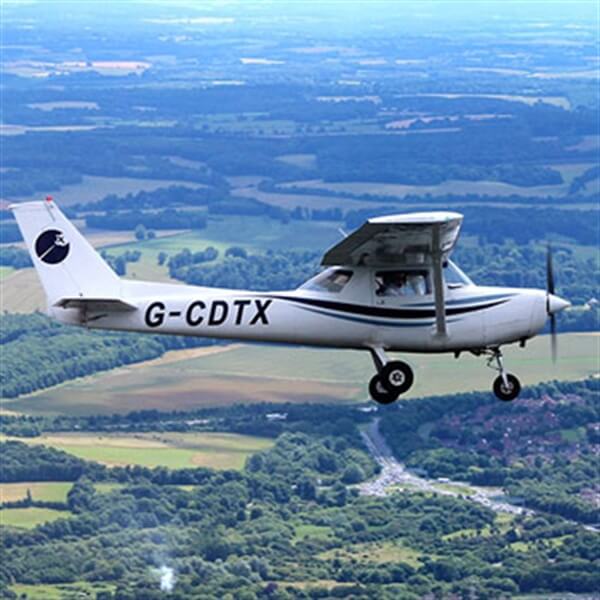 What's Included
Trial flying lesson in a 2 seater Cessna 152/Piper Tomahawk aircraft
30 and 60 minute flights are available
All experiences include a welcome and pre-flight briefing
Once airborne you will get the chance to take control yourself
All flight times are quoted 'chock to chock'
All participants will receive a certificate
What Can I Expect
Their motto is 'Learn to fly with the friendly experts' and that's what makes flying lessons in Surrey just that little bit memorable. Great fun with a great team! You'll be getting airborne over the Surrey skies with top notch tuition and plenty of 'hands on time' included too.
This Surrey-based flying school is offering 30 and 60-minute trial flights for you. All training is geared to you, so whether it's the very first time you'll step aboard a light aircraft, or you've already had a trial flight before, you will love your time in the air.
Flights are usually operated by the club-owned Cessna 152s, well-known for being agile, robust and easy to fly (even if to you it all seems far too complicated at first glance!). The instructors at Blackbushe are all highly experienced and, if you're keen, they will get you on the controls for the maximum amount of time during your lesson.
And for those of you who don't know Blackbushe Airport in Surrey, it has a very rich history. It played a huge part in WW2 as RAF Hartford Bridge, which meant the main A30 had to be closed, as it crossed the southern perimeter of the runway. Can you imagine the chaos that'd cause today? Post-war, Blackbushe welcomed the first commercial jet airliners of the 1950s.
Nowadays, Blackbushe is a small and friendly executive and private aviation airport, with good facilities and an excellent weather record, making it the perfect choice for flying lessons in Surrey. Buy a voucher for your 30 or 60-minute flight over Surrey online with us.
Availability
Lessons are available throughout the year, seven days a week
Flights are subject to weather conditions and availability
Location
Blackbushe Airport, Camberley
On the Surrey, Hampshire and Berkshire border with easy access from the M3
Suitable For
Minimum age 14
Minimum height of 4ft 6ins and maximum of 6ft 2ins
Maximum weight limit is 14 stone
Customers may be asked to show a photographic form of ID on the day
Spectators
Spectators are very welcome at this flying school
The Bushe Cafe on the airfield offers great views of the runway allowing you to see participants depart and land
Reviews
Average Rating 4
Total Reviews 8
Recommend to Friend 8

Easy to book, a very helpful lady from Blackbush Aviation booked me in and answered all of my questions. My instructor was Gus and he gave me an excellent time. Many thanks to all involved. Brilliant!
Sean Clarke
Easy to book. Fantastic reception at the flying school. Thank you so much.
Maxyne McGinley
The instructor was really nice and supportive. I definitely will come back and do lessons
Reuben Barber
Good experience. More flying time than I expected.
Mark Hardy
I enjoyed it, thank you. It was an experience. A bit shorter than i expected, but then the day was coming to an end and the light was fading.
charles skidmore
{{reviews.text}}
{{reviews.user.username}} Flying Lessons Surrey
2 Seater-30 Minute Lesson
Total Price
£
159.00