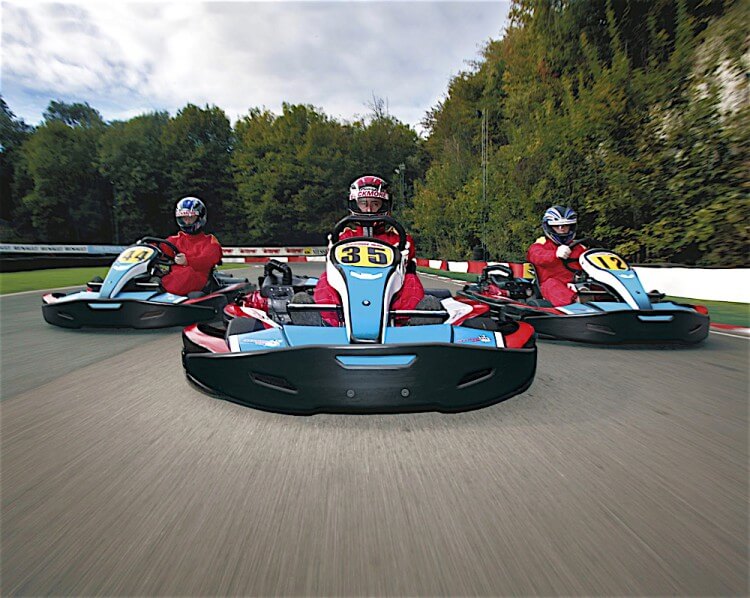 Indoor, outdoor, floodlit, multilevel – what set up makes for the best karting tracks in the UK? We've powered our way around the chicanes and hairpins to bring you our guide to what makes for the best go karting tracks in the country – and you can drive at all of them!
Are the best karting tracks indoor or outdoor?
Indoor go karting tracks are great because they are generally located on the edge of big towns and cities, making them easily accessible for karters. And of course, it means rain doesn't stop play, so you can book an indoor karting sessions with confidence.
However, outdoor karting is considered the next step up technically and competitively from indoor, as the tracks generally cover a larger surface area and they're tarmac, just like an F1 motor racing circuit. Many offer karting sessions all year round and lots are equipped with floodlights, so you can kart into the night.
Is it all about track length?
Indoor tracks are generally between 200 and 400m, whilst many outdoor tracks are at least 800m long. Longer tracks make for a bigger challenge for the driver, whilst shorter tracks are intense and fun.
Oulton Park in Cheshire, with tracks ranging from 2.6 to 4.3km and featuring blind crests and ever-changing gradients, offers the longest and one of the best karting tracks. It is more geared towards Superkarts though and indeed, it is one of the favourite dates on the Superkart race calendar. Superkarts are the next step up from your usual go kart, being larger, with more power and more aerodynamic body styling to reach speeds of over 110mph.
And does circuit layout make for the best karting track?
Despite being limited to space inside warehouse-style buildings, indoor go karting tracks can still pack in the corners and straights. The UKs longest indoor go karting track in Barking is 1050m-long and boasts 23 corners and an 80m straight. No wonder Capital Karts won best indoor karting track of the year in 2015 and 2016.
The other advantage of indoor karting is that you can create multilevel track layouts. One of the best multilevel karting tracks is at TeamSport Cardiff, where you can race 200cc karts over flyovers at speeds of up to 40mph.
Outdoor kart tracks have a more traditional motor racing feel and often incorporate seriously challenging circuit features. One of the best outdoor karting tracks for layout is Rye House at Hoddesdon, Hertfordshire. An intense track full of tight turns and hairpins, it's where an eight year old Lewis Hamilton started karting.
Are the best karting tracks MSA approved or not?
The Motor Sports Association is the governing body of motor sport in the UK, including karting. The MSA works with ABkC, the Association of British Karting Clubs to put on race series and championships. If you want to kart competitively, you'll need to get your MSA Karting Licence from an ARKS (Association of Racing Kart Schools) centre.
So, if you go to an MSA approved kart school or track, a certain standard is assured in terms of karts, training and the actual track. It's a good thing to look out for when choosing where to go karting if you're serious about the sport.
For example, Larkhall is home to the only ARKS/MSA-approved karting school in Scotland. This well-known 850m track not far from Glasgow is MSA Licensed and offers excellent tuition and great on-site facilities. It's considered to be one of the best karting tracks in the country.
Are they any other long-established 'classic' karting tracks to look out for?
Yes. Buckmore Park go karting track in Chatham, Kent is one of the most popular tracks – and it's also been going the longest. The track, set into the woodland, was first created in 1963 and has been offering go-karting on a ever-evolving circuit ever since.
The Three Sisters Go Karting centre is a founder member of ARKS and boasts a highly-respected 1.5km outdoor circuit. This centre near Wigan strives to open karting up to all, with 120cc karts for 8-11 year olds, 160cc karts for 12-15 yrs and Honda Le Mans Twin 200GX karts for adults.
Wherever you go for your karting, be it indoor, outdoor, MSA approved or not, your sure to have the best time racing your mates, or trying to beat your personal best lap time!