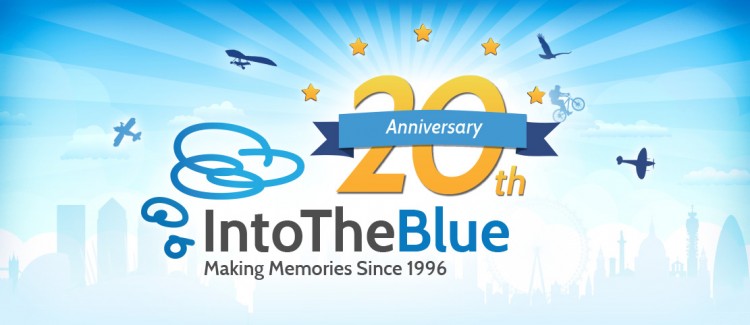 Happy 20th birthday to us! Celebrating 20 years of experience days and activity gift vouchers in 2016, we thought we'd take a little look at those early days of Into The Blue and what else was happening at the time in 1996.
Think back to 1996. As Sally Best was buying the very first Into The Blue gift voucher (a trial flying lesson at Biggin Hill, as it happens), the Spice Girls were number one in the charts with their first single 'Wannabe'. This was the soundtrack to the sizzling summer of 1996, along with Peter Andre who showed us his six pack and sang about his 'Mysterious Girl'.
The very first vouchers we produced were hand-written, but before you think that sounds really antiquated, this is at a time when just 4% of the population had internet access. And Japan had just launched the world's very first new-fangled DVDs.
And to put prices at the time into perspective, the average cost of a house was £69,000 and a litre of petrol at the pumps was just 59p. At this point we'd like to say that in 2016 we're pretty sure our experience days haven't doubled in price!
As we all watched those work hard, party harder lawyers in TV's 'This Life', danced the Macarena, read Bridget Jones's Diary, played on the Nintendo 64 and tried to keep those silly Tamagotchi things alive, we were forging our way into the experience day market, specialising in flying activities.
As 1996 continued, we all worried about Mad Cow Disease and stared agog at pictures of Dolly the Sheep in the news – the world's first cloned mammal. England hosted the UEFA Euro Championships and despite Baddiel & Skinner and the Lightning Seeds coming up with the storming 'Three Lions' anthem, the host nation went out in the semi-finals against Germany…on penalties (Gareth Southgate's shot was saved). Some things never change do they?
But at Into The Blue things were evolving nicely, with the additions of driving, water, outdoor and gourmet sections of the website. And you'll be pleased to hear, we moved from those handwritten vouchers to computer generated ones in 1998.
This was a pre-cursor to the launch of the intotheblue.co.uk website in 1999. We stopped printing the mail order catalogue in 2002 and it was full steam ahead with expanding the product range. By 2005 we could count over 500 experiences on the books.
Fast forward to 2016 and we've launched the responsive website and we have a gift portfolio of over 1500 experiences and activities from a network of over 650 different suppliers (including the very same Biggin Hill flying school for whom we sold that very first voucher!). We can count a team of 20 full and part-time staff, producing over 50,000 vouchers a year. Not bad for a family-owned and run company that started as an off shoot of the famous Biggin Hill International Air Fairs!
If you want to read more about how we developed from putting on world-class air shows to making memories for thousands of you every year, take a look at the 'About us' page on our website for the full low-down that's steeped in aviation history at Biggin Hill.