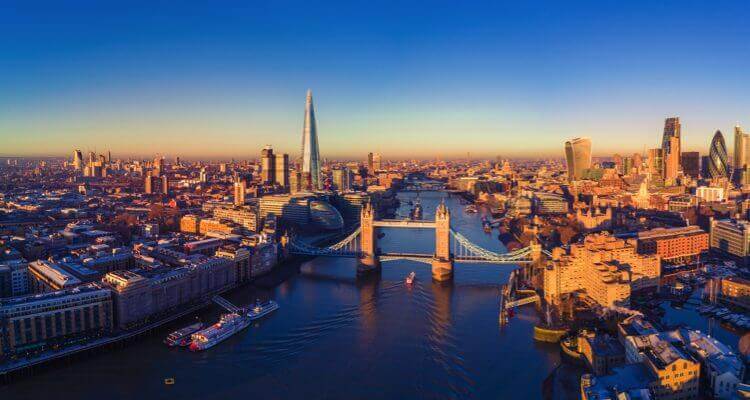 Ideas for adventurous dates in London
Our best experiences with a taste of adventure for your date night (or day) in London
Be more adventurous on your dates in London! Why do the classic 'out-for-a-drink-after-work' date when London has so much more to offer? Make your next date night (or day) an altogether more unusual one with our experience ideas for adventurous dates in London.
Sporting adventure dates
Come on Londoners, it's not all about workworkwork. Despite being a busy, built-up capital city, there are ways to enjoy London in the great outdoors and maybe show your sporty side too. Nothing too much mind, this is a date after all, not hard work!
Paddle adventures together on the Thames
At some point in your dating career you will have taken a romantic stroll along the Thames. How about adding an extra element of adventure to your riverside wanderings? You can't beat a little paddle along the water.
No need to be a kayaking expert, these Thames canoe experiences are open to all. Our favourite sets off from Richmond, so you can perhaps add on a visit to Kew Gardens afterwards. Book a canoe for two and get paddling for a whole new perspective on London from the water – all done at your pace.
Make a date to adventure up and over the 02
As a Londoner you may well have been to a gig or an event at the 02 Arena, but did you know you can actually walk up and over it too?
Doing this on a date divides opinion, because (a bit like ten pin bowling), you get special shoes to wear! They're kind of big and clumpy grippy walking boots, so if you're all glammed up for your date, this sort of adventure is best avoided.
Those who do have the bottle to walk up over the actual roof of the 02, will be rewarded with sweeping views of the capital and your partner is sure to be impressed with your adventurous spirit!
Slide and ride adventure date
Not all that far away from the 02 is the ArcelorMittal Orbit sculptural (is that a word?) observation tower at the Queen Elizabeth Olympic Park. Taking the two lifts (or the 500 stairs) to the top of the Orbit is a great place for a date, as you gaze out across the 2012 Olympic Park and the East London skyline. Very nice.
However, coming down is where the real adventure starts. It's going to be a wild ride on The Slide at the Orbit. It's a twisting, turning metal tube affair attached to the tower, with bits that are near vertical. If you're both up for it, it's a great way to get back down to earth.
Date adventures in geekland
There's a little bit of geek in all of us. And if you can't let your inner geek out when you're with your loved one when can you? These experiences will appeal to your nerdy side, but with just a little hint of adventure added in for good measure.
Ally Pally Segway adventure
Take your date to lovely Alexandra Palace on the hill. It's a great place for a day out with great views over central London.
Why not add an extra little bit of geeky adventure to your date with a Segway tour around Alexandra Palace? These gyroscopic personal transporters are, to be honest, pretty eccentric, but that doesn't stop them being total fun to ride. They're a great way for you both to discover all the hidden paths of Alexandra Palace.
History lovers heritage hangar adventures
If you're partial to a bit of history, you and your date should think about a visit to the Biggin Hill Heritage Hangar. Based at London's Biggin Hill Airport, this is a fascinating place to explore.
And whilst we agree that in itself it might not seen to be the most adventurous thing to do, actually getting the chance to sit in the cockpit of a Spitfire will certainly be an emotional moment. Just imagine all those young pilots heading into the unknown, as the Battle of Britain raged in the southern skies. We defy you not to feel emotional!
Our top tip : buy a voucher for two for your Grandparents – they will absolutely LOVE it..and oldies are still allowed to go on dates you know!
High rising adventurous dates
OK, so we've done geeky, wild and whacky adventure dates, so we'd thought finish off with some high-rise adventure., These are thrilling, really quite swanky and special at the same time. If you want to splash the cash and impress on your date in London, this is the way to go about it.
Shard and Champers
You'll need a head for heights when you sip Champers with your loved one on the 72nd floor of The Shard, London's tallest skyscraper!
Don't worry your high-altitude adventure doesn't start with a dash up the stairs. Two high-speed lifts whisk you to the viewing decks on the upper floors of this iconic building. From there it's incredible views with sounds of the city below from the open-topped roof as you sip on the bubbles.
Helicopter flights from Battersea
Quite simply the most adventurous high-flying date over London ever. Setting off from the waterside helipad at Battersea, these helicopter tours over London are incredible.
If you've never been in a helicopter before, just the sensation of rotary flight is an adventure in itself. Impossibly romantic. If you offered this to your date we reckon you'd be a keeper!
With such a great list of experiences for an adventurous date in London, we're off to try and find someone to go on a date in the Capital with!