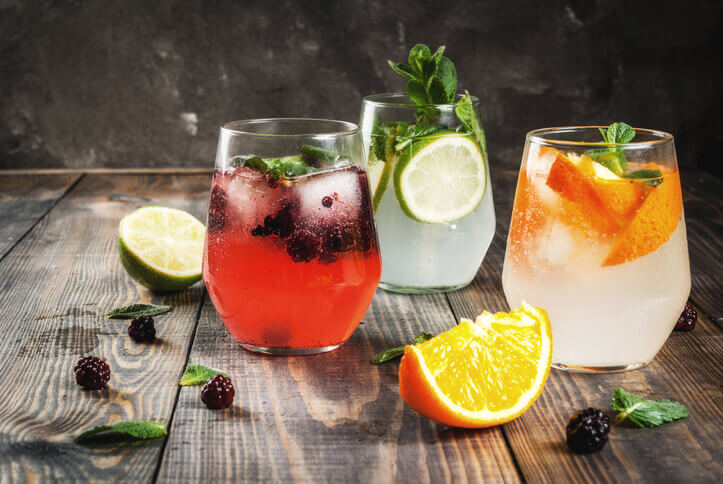 5 Ways to Serve Your G&T
Are you partial to a nice G&T? Here are five ways to serve your G&T that'll turn your usual gin and tonic tipple into a right Bobby Dazzler of a drink just by changing the tonics that you use.
Gin at the ready? Here we go…
– Lemon tonic
A lemon-flavoured tonic served in your G&T gives it a really zingy zesty flavour. Any cocktail mixologist worth their salt will tell you Sicilian lemons are the best. Add lemon tonic to your favourite gin and finish off with a flourish, by adding a generous slice of lemon in the glass.
– Elderflower tonic
The distinctive floral flavour of elderflower works really well with gin and makes for a nice twist to the usual gin with Indian tonic. Add a slice of lime to balance the flora botanicals of the elderflower tonic and the juniper in the gin and you've got a delicious drink.
– Cucumber tonic
Containing fewer calories than your usual tonic waters, cucumber flavoured tonics give a delicate and fresh flavour to your gin drink. Perfect on long, hot summer days as an aperitif in the garden whilst you're waiting for the BBQ to heat up.
– Herb tonics
Buy a tonic water pre-infused with herbs, or make your own syrup by adding fresh leaves to sugared water. Rosemary is a favourite (perhaps because juniper berries used in gin also impart a slight rosemary flavour) and thyme works well too. You might not think it, but basil is also a really good accompaniment for gin.
– Spicy tonics
Something like Fever Tree's Aromatic Tonic Water is the ideal mixer for pink gin. The tonic water contains South American Angostura bark, which gives the mixer a gentle bitterness. Add to that flavours like cardamon, pimento beans and ginger and you've got a racy little pink G&T!
Learn more about serving your G&Ts
Using different tonics with different gins makes for a different G&T with every combination. We've given you just five suggestions of ways to spice up your standard gin, but there are lots more. If you're keen to discover more ways of serving different gins with different tonics, book in to Dr Hardwicke's Gin Emporium in the West Midlands for a G&T workshop, with mixing and tasting galore.