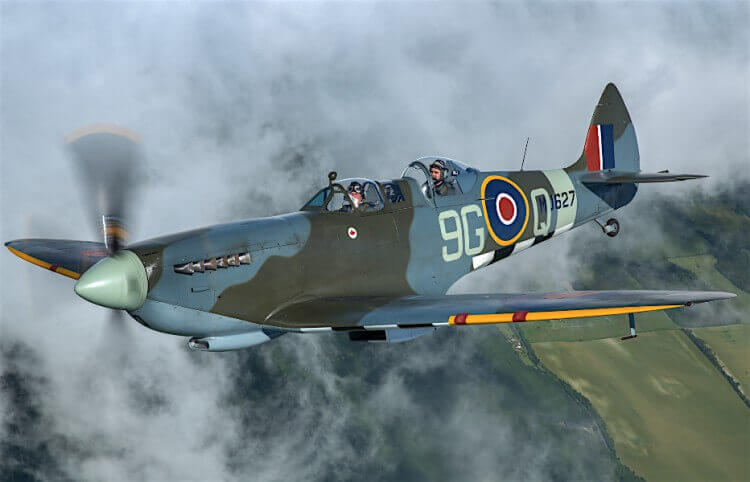 Saluting RAF100 – Spitfires at Biggin Hill
Saluting RAF100. Don't be surprised if you hear the glorious sound of Merlin engines filling the skies above Biggin Hill Airport on Sunday 1st April 2018. This is the day the Royal Air Force turns 100 years old. The RAF Benevolent Fund along with the Biggin Hill Heritage Hangar, will be hosting its own private memorial event at the airport.
Formation flying WW2 classics in the skies above Biggin
A trio of Spitfires will be flying formation at Biggin Hill on the 1st April. Leading will be Spitfire TR9 MJ627, which regularly operates two seater Spitfire flights out of historic Biggin Hill for aviation enthusiasts. Onboard for this very special memorial flight, will be Squadron Leader Allan Scott DFM. Allan flew Spitfires out of Biggin Hill as a young, 19 year old fighter pilot.
Escorting MJ627 will be Spitfire IXe TA805, known as 'The Kent Spitfire' and the MkI Hurricane AE977. The very rare Hurricane will be flying in the colours of Flt Lt Pete Brothers when he was based at Biggin Hill with 32 Squadron in 1940.
First Officer Mary Ellis is the other VIP veteran guest of the day for this RAF100 event. Mary took her first flying lesson in 1938 and flew for pleasure until 1941, when she joined the Air Transport Auxiliary. As part of a small band of female pilots, her job was to deliver aircraft from the factories directly to the Squadrons. Over the years Mary flew hundreds of aircraft solo; from Hurricanes and Swordfish, to Lancaster and Stirling bombers – and with no navigational aids other than a map and good eyesight.
Now 101 years young and still as enthusiastic as ever about aviation, and having delivered over 400 Spitfires, the iconic fighter is still her favourite. Mary Ellis is an inspiration for young women today and it's a real honour that Mary will be special guest at Biggin Hill. And as you can see from her recent interview on BBC London recorded at the Biggin Hill Heritage Hangar, she has some classic anecdotes to tell. We love the story about 'shooing' away a German plane!
UPDATE: Mary Ellis passed away at the age of 101 on 24th July 2018. From all at IntotheBlue.co.uk we salute Mary and wish her 'Blue skies'.
Official RAF100 events around the country
From the 1st April to November 2018, the Royal Air Force is hosting events around Great Britain. The aim is to reflect on its history of achievements and celebrate the work of the air force now in the future. To commemorate, celebrate and inspire, whilst marking the RAF's centenary year.
Whilst this Heritage Hangar event to commemorate RAF100 is by invitation only, there will be a whole host of public events. These include everything from countrywide aircraft tours and air shows, to memorial parades and concerts. The full programme of official RAF events can be found on the RAF100 website.