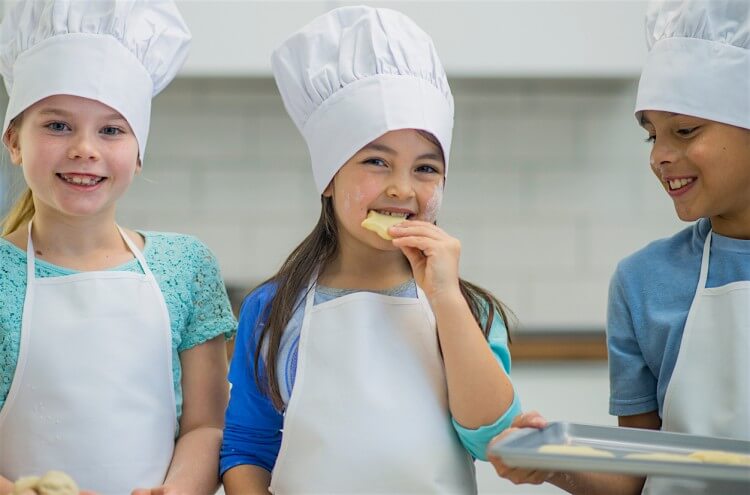 Kids cookery lessons – kitchen disaster or culinary delight?
Is it a good idea for your children to do kids cookery lessons? Cooking and baking are great rainy-day activities at home, but before you start kneading and mixing, there are some useful lessons to remember when it comes to kids cooking. We've got the lowdown on little ones being in the kitchen.
– Prepare your kitchen by moving dangerous items like knives and gadgets out of arm's reach
– Make sure you've got a sturdy set of steps if your little baker is too small to comfortably work at the worktop. No sitting on the work surfaces or standing on wobbly chairs!
– It helps to set out the ingredients and utensils you'll need before you start, so you're not constantly hunting in cupboards
– Get the kids to wash their hands (and properly!) before that start cooking
Our top tips on what sort of kids cookery lessons work best
– Choose a recipe with not many ingredients/steps so little minds don't get bored
– Choose recipes that allow them to get stuck in with mixing, rolling, kneading, rubbing in and so on – literally getting their hands in the bowl is all part of the fun
– Don't be tempted to just do sweet stuff (delicious though it all might be) there are lots of easy savoury dishes you can make with youngsters too
– Knife skills – there's no set age when it's advised to let a child help with the prepping. Younger children might get on OK with a peeler, but of course there's no specific rule on age and they must be supervised at all times when peeling, chopping and dicing.
– The oven – similarly, there's no set age advised for kids to start using the oven. Even if they are old enough to follow series of fairly complex cooking instructions (say around 11yrs old), they may not know what to do if something goes awry. It's up to you to assess if you think your child is ready, but they should be supervised at all times.
– The stove – if your recipe involves using the hob make sure saucepan handles are turned in, be extra careful if you use a gas stove with the naked flame
And finally, our top tip is to choose something that doesn't take too long to cook, because once it's gone in the oven, the kids will be desperate to taste what they've made. Don't forget, oven gloves at the ready when they come out and make sure they cool down a bit before your miniature cooks take a bite!
If you're still not feeling confident that you can cook in your own kitchen with the kids, why not take a look a booking some kids cookery lessons? They run in school holidays, at weekends and after school too. Some are specifically for children aged between 8 and 16, whilst others are a mixed group, with children accompanied by parents. And of course, the great thing is  that lessons are in a professional kitchen, so there's no mess, clearing up or washing up to deal with!