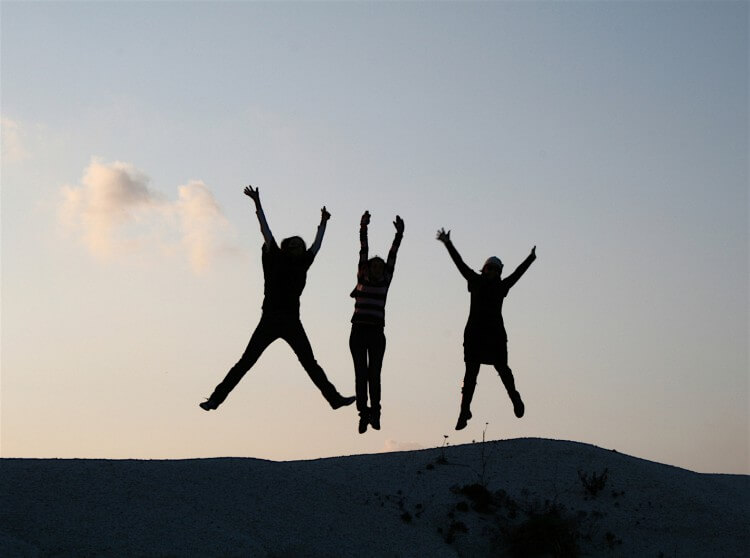 Jump into 2018 with your New Year's Resolutions!
It's time for those new year's resolutions – IntotheBlue style. Forget diets, fitness and chastising yourself for overindulging during the festive period, we're all about firing up your zest for life and jumping into 2018 with a new year's resolution to be more adventurous!
Here's our pick of the most exciting ways to kick start your adventurous new year's resolution ideas for 2018…
Throw yourself into 2018
How about putting parachute jumping at the top of your new year's resolution list? We've got tandem skydives from £175 (this is the quickest and easiest way for you to get that freefall feeling).
Then there are Static Line courses, which allow you to steer yourself in the sky as you take a little solo jump, with the canopy opening automatically. Serious new year 'resolutionaries' should consider the Accelerated Free Fall option; a one or two day course, culminating in you throwing yourself out the plane at around 13000ft, with skydiving chaperones at your side.
If the actual thought of jumping out of an actual aeroplane is all a bit too adrenaline-filled for your liking, you can still throw yourself wholeheartedly into 2018 with a new year's resolution to go indoor skydiving. We've got various packages for iFly indoor skydiving fun at Milton Keynes, Manchester and Basingstoke.
Jump for joy in 2018
Make your new year's resolution a leap of faith with an all-action adventure activity such as canyoning, coasteering and gorge walking. They all involve leaping, climbing scrambling and swimming in the great outdoors. So much more fun than a walk in the park.
And don't forget aqua parks – the sensation of the summer in 2017, these inflatable water parks are set to continue and grow in popularity for 2018. Swim out to the floating modules and try your hand at superslides, bridges, jumps and more. Now that's what we call making a splash with your new years resolutions!
Hang on tight in 2018
If all this talk of jumping and leaping is making you feel giddy, there's another way to get your adventurous new year's resolutions going in 2018. Normally being a passenger means just sitting there and taking in the views, but with these full-on rides you will be hanging on for dear life, but in a good way.
Just imagine standing on the top wing of a vintage bi-plane and hanging out there whilst the pilot takes off, does some sweeping turns and high-speed, low-level flypasts to amaze your friends and family watching. Wing walking certainly brings new meaning to the expression 'head in the clouds'!
If you prefer to keep your feet on the ground, but still want have a serious dose of adventure in the new year, consider hopping into the co-pilots seat of a vehicle for a high-revs thrill. We've got everything from drifting duels and monster truck madness, to water-up-to-the-door-handles 4x4ing in the biggest and best collection of white-knuckle, seat-gripping passenger rides out there.
Kick start 2018 with adventurous new year's resolutions
So go on, grab 2018 with both hands and get as adventurous as you dare with your new year's resolutions!
Pix copyright Facebook Aerobatic Tactics, IFly MK, Ride Leisure