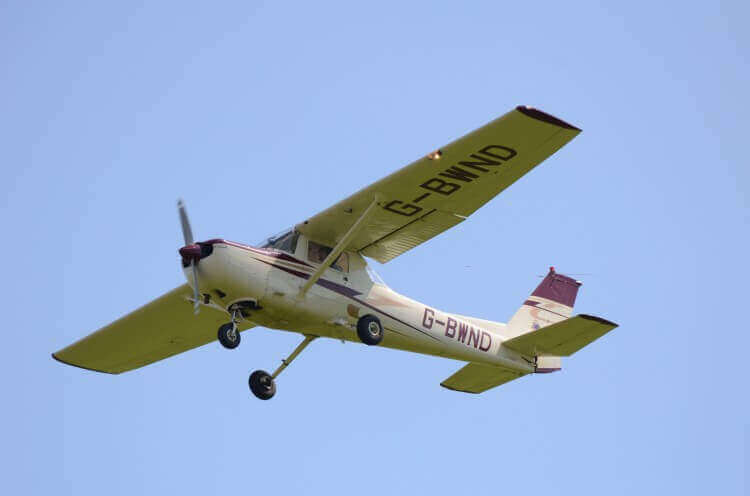 So how much do flying lessons cost?
Forget the pilot jargon and aviation babble, we've come up with a guide to flying lessons costs written in good old layman terms so you can work out the best way for you to get airborne, with all the relevant information you could ever need.
Aren't flying lessons really expensive? Well, that depends…
If you're just looking to have a go at flying, you can buy taster lesson experiences that are often called Trial Flying Lessons from as little as £50. Flying Lessons Taster Clicking this link will take you to our own page, which offers the joint cheapest light aircraft flying lessons in the industry, with the added extra that we are the best at it. (Not being biased at all, but we have been doing this since 1996!)
The other question budding aviators often ask is how many lessons are needed and how much it will cost to get a flying licence? Of course, this can depend on the type of pilot's licence, but the most common of all, the Private Pilot's Licence (PPL), is the one at the core of this article. Again depending on your location, studying capabilities and price of accessories, we've estimated the cost is between £6000 and £7000.
Quick summary
Single lesson – from £50 for a 20 minute lesson
For a licence to fly solo – Private Pilot's Licence (PPL) we estimate between £6000 and £7000
What you need to know
Flying schools often charge for their time in two different ways. If you've been to our site before you might have come across the expression 'chock to chock' (usually under the heading "what's included in this experience?"). This means your lesson time runs from when the aircraft starts up, to when the engine is switched off and therefore includes taxiing time.
The other common form is charging by "tacho" hour, which is similar to tacho disks in the logistics industry. This system also counts the engine running time, but is dependent on RPMs, so if you are stationary in a queue to take off with the engine running, the slower the disk will be used up. And similarly, 10 minutes in the air at full throttle will 'cost' more than a gentle 10 minute cruise at slower engine speeds with lower RPMs. All this means you can have a slightly varying durations, depending on your run.
Note: It's important to know how you're charged for your lessons, because the minimum number of hours to obtain your PPL licence is 45 hours of actual flight time in the air.
IntotheBlue.co.uk also does Pilot Lesson Packs
Yes, we're not just a one-off experience company! So you've had a taster and you'd like to start logging hours that will contribute to gaining your very own Private Pilots Licence. We charge £495 for the initial three hours of your PPL licence training and you can find out more here: Become a Pilot
Is there much studying involved for a PPL? And what are the other costs involved?
To obtain your Private Pilot Licence so you can fly a light aircraft by yourself, you must sit nine exams that cover many bases, including aircraft specifics, navigation, environment/conditions and meteorology to name a few. Each costs roughly £25 per exam, along with textbooks and a navigation pack that can set you back another £100. Obviously we recommend you to shop around eBay and Amazon for good deals on these flight training essentials, however if we had to recommend a specific site, Afeonline.com is one we have used many times before. Their range is excellent and they do the whole PPL series for £89.95!
The beauty of studying for your PPL is it's like driving a car; you learn whilst actually flying and most aspects of the curriculum will pop up throughout the classes. In addition you'll need to take into account your miscellaneous expenses, as you'll also need to pass a medical (which may require payment), buy a headset (some schools will supply them, if not prices vary from £69.74 to £850 – Adamaviation.com offers all the major brands), insure yourself throughout the whole process (via your flying school) and pay for the final test (usually £150). Finally once the ash settles, you'll need to pay the Civil Aviation Authority to issue your Private Pilot Licence.
I have my UK PPL but I'm not sure what I can do with it?
The Private Pilot's Licence allows any British-registered single-engine aircraft to be flown ANYWHERE in the world, as long as the weather and flight conditions pass the Visual Flight Rules (which you'll have learnt are to do with time of day, visibility and distance from the ground). The current guidelines can be found listed on this latest link.
OK, but can I take passengers up on a Private Pilot Licence?
Yes you can! So you've worked hard to get your licence it's now the time reap the benefits. There's no better way of impressing someone than inviting them to come fly with you, so start racking up those air miles. The common single engine aircrafts flown and hired out by flying clubs are no different to the ones we offer in our experiences, that's to say Cessna 152s and Piper PA-28.
What is the minimum age you have to be to hold a Flying Licence?
Again, this depends on the type, but rule of thumb is that a 16 year old can hold a licence for hot air balloons or gliders, whereas you need to be 17 or older to hold a licence for aeroplanes and other general aircraft.
I want to become an Airline Pilot. How do I go about doing this?
Well, first of all, before you go down this route you'll need to have at least tried to fly a plane before. It's a big commitment. You can't just get the idea if you favourite film is 'Catch Me If You Can' or 'Topgun'. Assuming you're interested in a Commercial Pilots licence, please refer to the following link – Flight Crew Licensing this will provide all the ins and outs what you need to do.
I'm interested, but where can I do these flying lessons?
Ah, this is where we shine as we have locations up and down the UK and the following map (which is part of our very own interactive map feature on our website) shows you flying school locations simply by clicking on it.
Conclusion
In conclusion, there are obviously quite a few areas to consider when you ask how much flying lessons cost, depending on your intentions; be it your desire to be a fully licenced pilot, or just having the one-off chance to cut through the clouds at altitude, viewing the United Kingdom in all it's glory. Please visit the home of flying IntotheBlue.co.uk.
If you have found this helpful please share via one of the social medias to your friends and family. If you have any advice or would like us to cover any other areas of interest in depth please contact [email protected].
*All information in this article is correct and up to date as of June 2017*