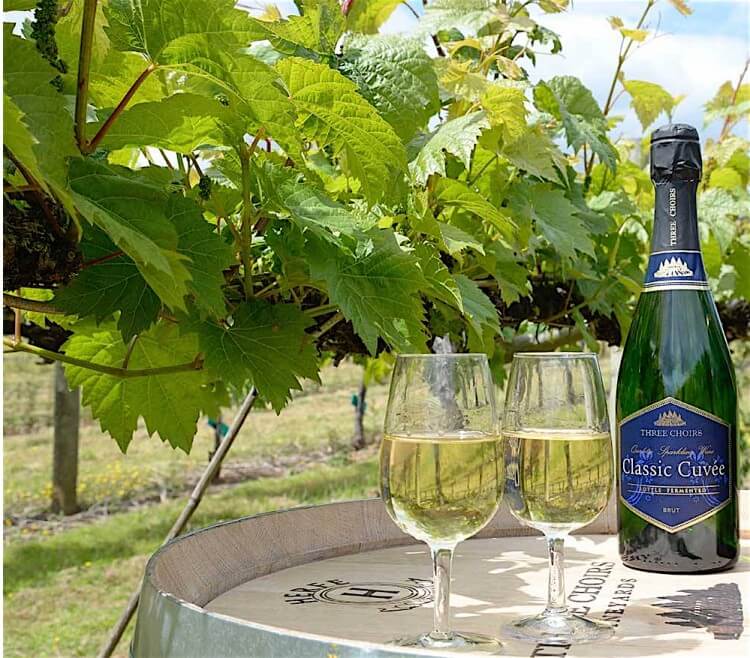 Grape Expectations: Is English wine any good?
Is English wine any good? Let's crack open a bottle and take a look at the English wine industry…
Is there really such a thing as English wine?
Oh yes, there definitely is! English wine is bubbling with confidence right now. In the last 10 years, the English and Welsh wine industry has grown +135%.
The Wine Standards Branch of the Government's Food Standards Agency  is the body that governs wine making in this country. According to the UK Vineyard Registry they compile, there were 674 commercial vineyards in England and Wales in 2018. And 164 of those produced their own wines in their on-site wineries.
So where are these English vineyards?
The heaviest concentration of vines is in the South East, specifically Kent, East and West Sussex, Surrey, Hampshire and the Isle of Wight. 
At the Three Choirs in Hants, they'll tell you the area is ideal for growing grapes thanks to the limestone (chalk) soil and temperate climate. After all, it's only 150miles from Reims and Epernay in France, where Champagne is produced!
A fact which, it would seem, hasn't gone unnoticed by a certain Taittinger, one of France's most famous Champagne producers. The winery has planted 30 hectares of Chardonnay, Pinot Noir and  Meunier near Canterbury in the heart of Kent. The first bottles of English Taittinger is expected to be on sale in 2024. 
This is a major coup for the English wine industry. As wine expert Oz Clarke put it: 'The French are finally admitting they like our wines'. And Monsieur Pierre Taittinger himself says: 'We believe we can produce a high quality English sparkling wine drawing upon our 80 years of winemaking expertise. The chalky soil and south-facing slopes of Kent create the ideal terroir to plant and grow high-quality grapes for sparkling wine'.
The cynical amongst you could say that this is a very shrewd move in a market where British fans of bubbles are discovering the likes of the cheaper Cava and Prosecco. Indeed, finding more hectares for vines in the official Champagne region is pretty much impossible. And when you do find them, they cost £1.5million per hectare. This is compared to Kent's more modest £60-70,000 per hectare.
What grapes grow best in the English vineyards?
Well, if you're a fan of Chardonnay or Pinot Noir you're in luck. These are by far the two most popular varieties of grapes, with 975 and 925 hectares being grown respectively in 2020. Together these two varieties make up over 54% of all grapes grown in the country.
So what wines are made out of those grapes?
As you might suspect, Chardonnay and Pinot Noir are perfect for making sparkling wines. Sparkling is by far the most popular wine produced by English vineyards. When you consider that the market for sparkling wines from consumers in the UK has grown 41% recently, it's little wonder this is where many English producers concentrate their efforts.
But surely we can't beat the French at their own game?
English sparkling wine is winning in 2021! Pierpaolo Detrassi, head of trading for beers, wines and spirits at Waitrose, said Sparkling wine growth was being fuelled by Prosecco (from Italy) and English sparkling wine.
We've just taken a look at the Waitrose website. Out of 42 sparkling wines on sale, 11 of them were English, equalling the 11 Proseccos from Italy. France is in third place with eight Champagnes on the shelves, closely followed by Spain with seven Cavas. There are even New World sparklers from Australia and South Africa. Just a decade ago this would have been unimaginable.
And indeed, someone who would agree with that is Frazer Thompson, chief executive of England's largest wine producer, Chapel Down. He arrived at the Kentish vineyard in the early 00s, when the business was not far from being insolvent. And this despite, as Frazer says, 'a delicious product'. His job was to convince wine lovers everywhere that Chapel Downs' still and sparkling wines were worth drinking.
So are these English wines any good?
We'll let Frazer himself answer that one. 'At least once a fortnight I'll see someone ordering a bottle of champagne in a bar or restaurant and I butt in. I buy them a bottle of our (Chapel Down) wine. I make them try both, without knowing which is which, then ask which they like best. It nearly always works'. We like his style and confidence.
Many of the British vineyards welcome visitors, so you can try the taste test for yourself on a guided wine tasting and tour!
The proof is indeed in the drinking though – and English wines are regularly winning awards. Chapel Down wines won two Platinum Awards (the highest possible level) at the Decanter World Wine Awards in 2020. And that's the world's largest and most prestigious wine award show. 
Indeed, Chapel Down wines are regular fixtures on the wine list at Ascot Racecourse, the Royal Opera House and the Oxford & Cambridge boat race event. If you ever end up having dinner at 10 Downing Street, you will be served Chapel Down wines.
Is English wine more expensive?
A nice bottle of English sparkling can be picked up from around £10. Premium vintages come in at anything up to £35, whilst a bottle of Veuve Clicquot or Pommery Champers will set you back £40 to £50 these days.
What should I look for if I want to buy a good English wine?
Look out for the quality labels. If stringent standards are met, English and Welsh wines can be marketed as an English Quality Wine (PDO – Protected Designation of Origin), or an English Regional Wine (PGI – Protected Geographical Indication). Successful applications are published on the UK Vineyard Association website.
Isn't England's wine production still just a drop in the ocean of French wine though?
Well, yes. A total of 3500 hectares are dedicated to growing vines in the UK in 2020. This is compared to top-of-the-list  Spain with 961,000 hectares, followed by France with 797,000 hectares.
In terms of wine production, all those hectares of nature's finest grapes translates to 43million hectolitres (one hectolitre = 100 litres) of wine from France. But the winner in 2020 was Italy, with 47 million, followed by Spain with 37.5 million hectolitres. English wine producers clocked up 78000 hectolitres.
But with the UK fifth on the list of world consumers of wine, we are definitely a nation of wine lovers. With the momentum in the English wine industry continuing, wine lovers are starting to automatically reach for an English wine on the shelves in the confidence that it is indeed a good wine!