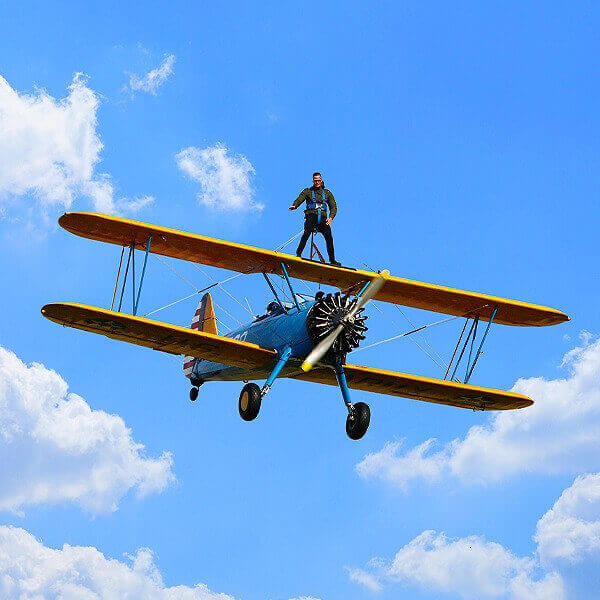 Can you do a charity Wing Walk?
Is it possible to wing walk for charity?
Yes – you can go wing walking for charity! Fancy standing on the top wing of a vintage bi-plane? Ready to fly through the air at speeds of around 135mph all to raise money for charity? You've come to the right place to read all about wing walking for charity.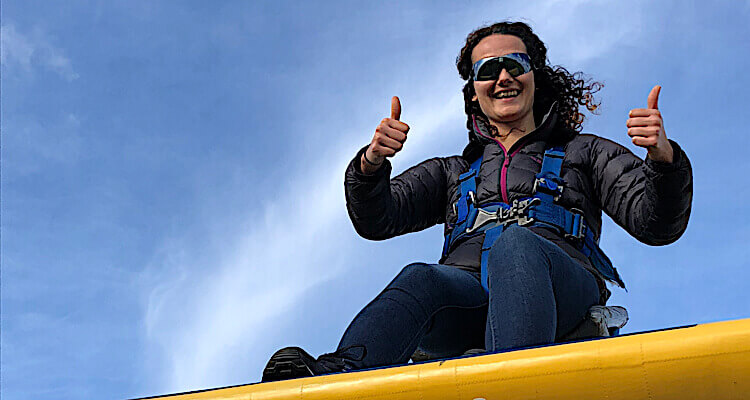 Getting ready to wing walk for charity – this could be you!
Is wing walking legal?
Thanks to a change in CAA rulings a few years ago concerning wing walking for non-professionals, it is now well and truly legal and possible for us mere mortals to do a wing walk for charity!
Our Essex-based wing walking operator was the first to receive full Civil Aviation Authority approval in October 2013. They, and several other companies, now regularly operates wing walking days. Many of the wing walkers taking part are doing it for charity. And in Essex, you can invite up to 50 people to watch you, making it one big aerial celebration that's sure to raise loads of cash for deserving causes.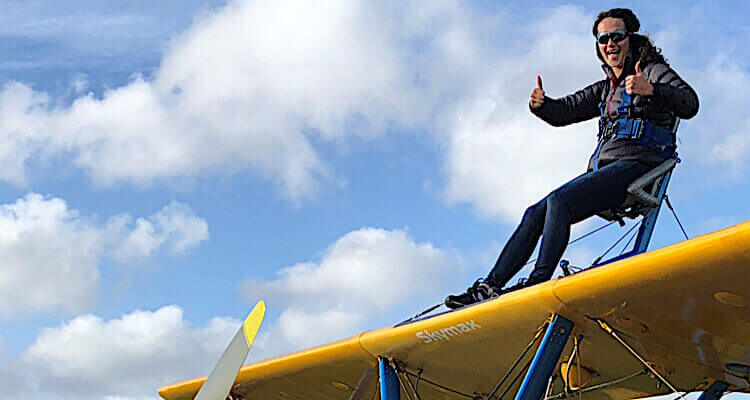 Ready for take off on the wing of the vintage Boeing Stearman biplane
But what is like doing a wing walk?
After taking off you'll be cruising at around 500ft.  You will be carrying off some pretty low fly pasts during your 10 minute aerial escapade and maybe even some more aerobatic moves.
Your friends and family on the ground will be able to see you grinning (or gurning) and waving like mad. Well, when we say waving like mad, never underestimate the force of the wind when you're up there on the wing. Think dog-with-their-face-out-of-the-window-of-a -fast-moving-car, multiply the speed by at least two and you've got an idea of the look!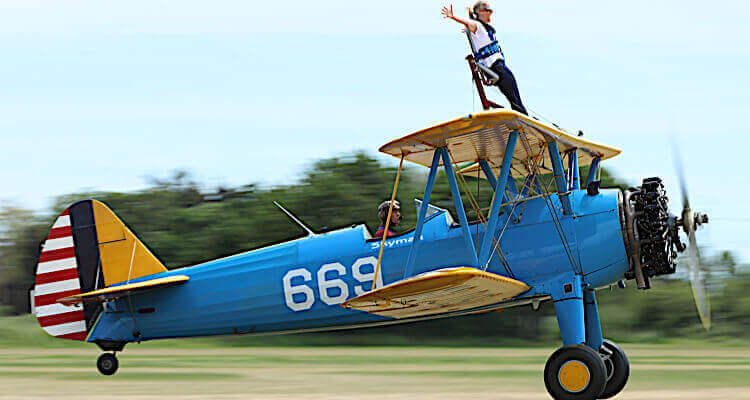 May the force (of the wind) be with you when you wing walk!
Is the force of the wind that strong when you wing walk?
Yes! Many wing walkers find it near impossible to wave, such is the effect of the wind. And don't even think about moving a leg out sideways! Oh and as one recent charity wing walker put it, it will be 'a snot-fest' up there. Goodness knows how the professional wing walkers seem to look so glamorous with those unwavering smiles at all times…
But will I enjoy it?
100%. There's nothing as utterly thrilling as 'walking the wing'. It's not easy to describe the sensation of what it's like up there. Some say it's a bit like the feeling of free falling, but rather than it being over in a matter of seconds (as it is on a parachute jump), you get 10 minutes to soak up all that adrenaline and atmosphere. Put simply, a wing walk is exhilaration all the way.
So where can I do a wing walking day for charity near me?
We've got several venues around the country offering wing walking. Whether you're planning to wing walk for charity or not, simply buy the voucher from us in just a few clicks. After that, it's over to you if you want to raise money.
When the big day comes around, just remember that wing walking is an experience like no other and if you can have fun and raise money for a good cause, then even better!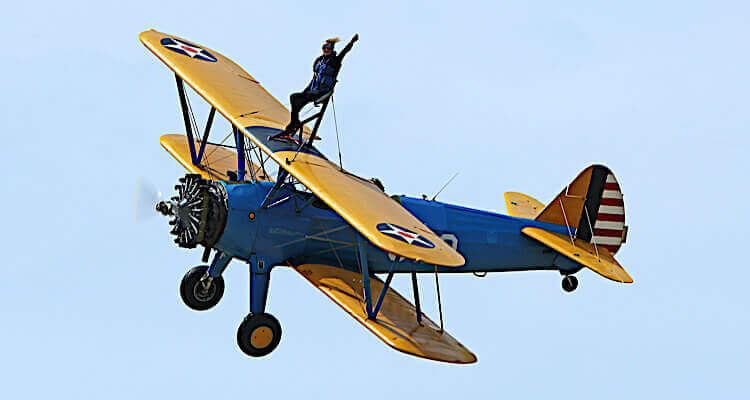 Wing walking and raising money for charity – that's how you do it!