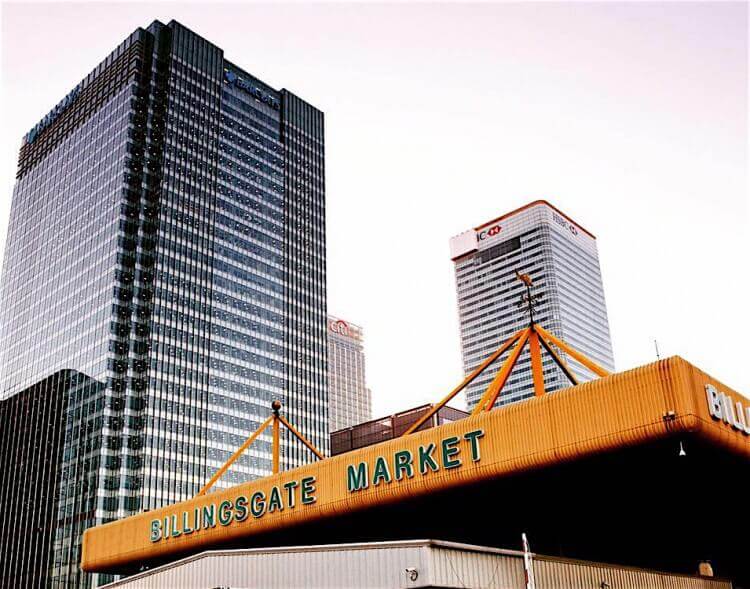 Billingsgate Fish Market – Our definitive guide for visitors
All you need to know to go on a visit to Billingsgate Fish Market
Whether you love eating fish, or just want to see a slice of the 'real' East End market trader lifestyle, nothing can beat a visit to Billingsgate Fish Market in London. Billingsgate is the country's largest in-land fish market, with nearly 100 stalls, 30 shops, a cafe and an array of cold rooms and freezers spread over the 13-acre site at West Poplar, in the shadow of the Canary Wharf skyscrapers.
Billingsgate is a wholesale fish market for fishmongers, restaurant owners and the like, but it is actually open to the public. If it's your first time it can perhaps be a little daunting if you don't know the ins and outs, so here's our definitive guide to visiting Billingsgate Fish Market.
What are the opening hours of Billingsgate fish market?
It's up with the larks to catch the best fish! The market opens at 4am and runs until 8am, Tuesday to Saturday. If you want to get the biggest choice of the freshest fish, you have to get their at the crack of dawn, where the place is bustling with the big buyers. It's a little calmer between 5-6am, with some traders start packing up as early as 6.30am. Having said that, there's another school of thought that if you want those end of trading bargains, 7am is a good time to arrive.
When can the public go to Billingsgate?
It's open the professionals the public at all times and there is no charge to get in. However, Saturdays have become the most popular 'public day', where tourists and locals are the main customers. The market often stays open later on Saturdays to around 9am.
How do you get to Billingsgate Market?
First of all, Billingsgate Market isn't actually in Billingsgate. It moved to its current location with it's distinctive yellow roof at West India Docks in Poplar in 1982. If you're coming on public transport, get off the DLR at Blackwall (not Poplar) and it's an easy 5 minute walk to the main, gated (and only) entrance to Billingsgate.
If you're going in the car, there is parking at the market. Be warned, spaces fill up quickly. Follow the signs for the public parking and it's a pay and display system, so remember to take coins with you for the machine. It's £2 for up to two hours and you can check the up to date details on Billingsgate Market car parking page.
What should you wear?
Not such as daft question as it sounds. Forget heels and even forget trainers, you'll need non-slip, sturdy footwear. This is a fish market, so there's lots of water around, not mention porters with their pallet trucks and trolleys. With all the cold storage and freezers, it can be pretty cool in there too, so remember a jacket and don't bother putting your glad rags on, it can get all rather fishy!
Are children allowed?
No. Children under the age of 12 years old are not allowed into the trading areas of Billingsgate Market. If you want to visit for a bite to eat, they are allowed into Piggy's Cafe on the periphery of the market, just not on the market floor.
Can the public buy fish or is it trade only?
Yes! Just remember cash is still king at Billingsgate. Also, this is wholesale, bulk buying, so it's by the kilo or box, which can be a lot of fish. Don't expect to be able to buy a couple of cod fillets here, you'll be buying a whole box full of them – and traders very rarely do what they call 'breaking', that's to say splitting a full box down to sell smaller quantities.
What sort of fish can I expect to see at Billingsgate?
Pretty much every type of fish and crustacean you can think of! There are live, fresh, frozen, salted fish, as well as fish-based products all available. There are around 150 different species of fish from all over the world sold at Billingsgate. You might see live lobsters and crabs, then there's salmon, plaice, scallops, clams, mussels, squid, octopus, oysters, prawns, mackerel, sardines, halibut, swordfish, turbot and herring to name but a few. Exotic fish like mahi mahi, barramundi and blue shark are often sold and then there's the transformed fish products like cockles and the traditional jellied eels too.
Do the traders gut fish for you?
No. Billingsgate is purely a fish market and traders don't cut, descale, clean, gut or fillet fish for you. If buying something like a whole salmon or trout complete with head, scales and tail strikes a little bit of fear in your heart, you can sign up for a fish course at the in-house Billingsgate Seafood School. It's run as a charitable organisation with the aim of promoting the inclusion of fresh fish in a healthy diet and to help promote the market and keep fishmongery alive. The school, which is on the first floor of Billingsgate, offers a wide range of courses including Sushi making at Billingsgate which show you how to prepare fresh fish.
What's the best fish to buy from Billingsgate?
Those in the know only buy what's 'in season'. For example, in winter many say the best to fish to go for are the likes of cod, haddock, lemon sole, turbot and monkfish. Others go one step further and only buy line-caught fish, whilst others swear by only purchasing stocks from day-boats, with the theory being that the fish is as fresh as possible as it's been hauled in and brought back to port within a day. You can even find hand-dived Scottish scallops – the sort of thing you'd only find on Michelin-starred restaurant menus at five star hotels!
Can visitors to Billingsgate take photos?
Even if you want to take photos for non-commercial use, it's best to get a permit. These are easy to get, just email [email protected] The use of tripods is forbidden and you musn't impede the running of the market.
Once you've been granted your permit, remember to take the slip with you when you're filming or photographing and you are supposed to ask the merchant's permission before taking pictures of the goods for sale on their stands.
Is there anywhere to eat at Billingsgate Market?
Piggy's Cafe is legendary. This is where you can tuck into a mouthwatering bacon and scallops, or sit down to a delicious haddock and poached egg breakfast over a tea or coffee. The walls are filled with black and white portraits capturing the atmosphere of Billingsgate and the characters who work on the market.
Does anyone offer guided tours of Billingsgate?
The City of London corporation owns and manages Billingsgate Market, but doesn't offer guided tours. The Seafood School at Billingsgate includes guided tours as part of their fish cookery classes, where you'll learn all about buying the best fish, how to prepare and cook it.
Billingsgate Fish Market is an institution. Porters and traders have serious banter, (and even their own language), with successive generations running family stalls. It's steeped in tradition and is a truly fascinating market to not only visit, but also enjoy a bite to eat and buy some fresh fish to cook at home too.