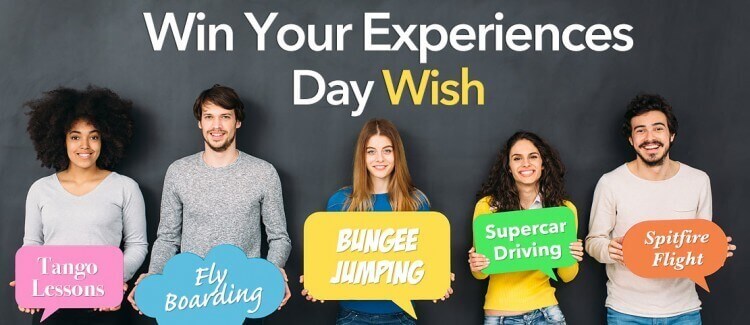 National Experience Week competition – the winners are announced
The curtain has come down on the 2017 edition of National Experience Week, so it's time to announce the winners of our fabulous National Experience Week giveaway!
Now closed: Our competition for National Experience Week 2017
This year we asked you to create your dream WishList of IntotheBlue activities, filled with all the experience days you'd love to go on. One lucky winner is about to win their entire WishList, up to the value of £1000.
Then we asked you to tell us on social media how you've been celebrating National Experience Week. After all, the whole idea behind National Experience Week is to give you the green light to go out and give something new a go. One lucky go-getter on Twitter and one from Facebook will also be receiving a runners up prize a £100 activity gift token each to be spent on any IntotheBlue experience.
We salute your brilliant National Experience Week competition entries!
But before we actually announce the winners, we have to applaud all the entries you sent us for both competitions. Your WishLists show just how much a bunch of daredevils you all are, with lots of high-adrenaline experiences making your selections. And no surprise for guessing that fast cars and aeroplanes were by far the most popular categories to be included, but gourmet experiences like afternoon teas and dining out weren't far behind.
As for how you all spent National Experience Week, your Tweets and posts on Facebook made us laugh, made us feel just a little bit emotional and some, well, just made us wonder (in a good, if slightly puzzled way) what you all like getting up to in your spare time!
From spending the weekend like Adam pretending to be a super hero in the full lycra gear (see what we mean!), to taking the kids on a forest den-building mission, we loved hearing what National Experience Week means to you.
Loads of you love to lol around at the seaside, with everything from a bracing clifftop walk, to just chilling on the sand. Some of the more unusual experiences you did included Clare's visit with her kids to the Durham Oriental Museum, where the kids had great fun dressing up in Kimonos, to another IntotheBlue fan giving traditional Cypriot dancing a go at a raucous party in Cyprus.
Our favourite entries were from those of you who clocked a 'first' during National Experience Week. That's to say anything from simply trying a newly-opened local restaurant for the first time, to conquering your fear of heights with your very first attempt at a high ropes aerial adventure park.
The competition winners…
But enough of all our chatter, if you've got this far in our blog you'll be dying to find out who won. So here goes:
The winner of our National Experience Week 2017 IntotheBlue WishList competition is Max Feehely. After visiting the tulip display at Dunsborough Park for the first time during National Experience Week, she was inspired to put together a great selection of experiences to share with friends and family. Well done Max and we particularly look forward to hearing how your day out in Paris goes!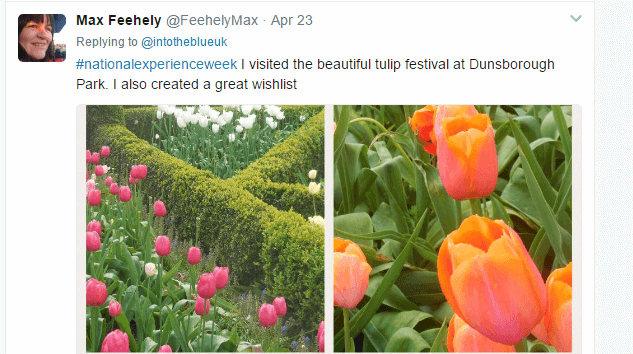 Max's winning wishlist
And the runners up…
The winner of our £100 Twitter runners up prize for National Experience Week is Katie. She took baby daughter Alice for her first visit to Chester Zoo and as you can see from the pic, Alice seems very chilled out about it all!
The winner of our Facebook runners up prize of £100 IntotheBlue activity token is Susan. She's going to use her £100 activity token winnings on  rock and roll dance lessons, so she can jive like a pro the next time she sees the Rockafellas playing live! Brilliant stuff.
Goodbye from National Experience Week…until 2018
So that's it for another year. Thank you once again to all who entered, these competitions wouldn't work without your continued support and enthusiam, and we'll see you again in 2018 for more big time National Experience Week giveaways. If you can't wait until then for the next amazing ITB competition, then fear not! Our next one is just around the corner…..so stay tuned!