English
Skip to main content
Microlights West Midlands
Halfpenny Green Airport, Stourbridge   
REF:

HADMC3
• Microlight flights from Halfpenny Green Airport
• Choose between flex & fixed wing microlights
• Long-established school with a great reputation
• Chance to fly the microlight yourself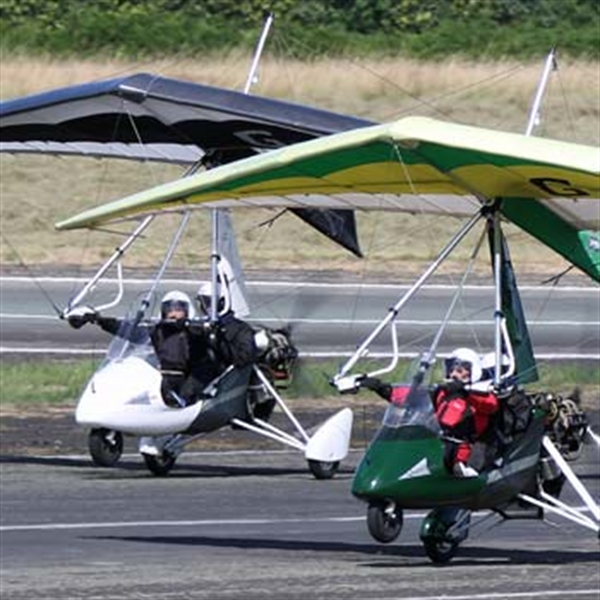 What's Included
• Take a lesson in a fixed wing or flex wing microlight
• Ground briefing and explanation of the aircraft
• Learn how the controls influence the flight of the aircraft
• Opportunity to take the controls and fly the microlight for part of the flight
• Choose from a 30, 40 or 60 minute lessons
What Can I Expect
Browse the online reviews for this microlight school based at Wolverhampton Airfield and you'll read comments like 'proper airmen', 'a friendly bunch' and 'experienced and capable', all of which bodes very well if you're going on your very first microlight flight out of Halfpenny Green.
And indeed, microlights have been flying at this Wolverhampton airfield with its trio of runways for a great many years. Chief Flying Instructor Steve Wilkes is passionate about his microlighting and has flown more hours in them than he'd care to admit, so you're in safe hands with Steve and his team.
If you're feeling a little bit nervous before going up (and that's completely normal), all the encouragement you need with the patient and kind words will be there too. The emphasis at Wolverhampton's Halfpenny Green Airport is most definitely on fun, with safety paramount at all times.
We are offering 30, 40 and 60 minute flights in your choice of microlight; that's to say a fixed-wing or a flex-wing. Both will take you on a brilliant aerial adventure and with each having its own character, every flight is different, with lots to see too.
Halfpenny Green is a fabulous place to explore the West Midlands from the air in a microlight. Get a bird's eye view of the golf clubs and parks, swoop along the wonderful Severn Valley or soar over the neighbouring Shropshire Hills. But it's not all about the view, you'll have the chance to have a go at this microlight flying lark too, when you're invited to take the controls during your flight if you fancy it.
So whether you're chasing sunsets over the Severn Valley in a fixed wing, or climbing into the big blue of a midday sky over Halfpenny Green in a flexi, you'll love your chance to be at the controls of a microlight out of Wolverhampton Airport. 
Availability
• Weekdays and weekend dates throughout the year
• Dates and session times are subject to availability and weather conditions
Location
• Halfpenny Green Airport, Stourbridge
Suitable For
• Minimum age 14
• Under 18s must be accompanied on the airfield by an adult
• Maximum weight 14.5 stone for flexwing and 15.5 stone for fixed wing
Spectators
• Spectators are welcome to come along and watch from the viewing area
Anything Else
• Refreshments can be purchased from the onsite cafe
• Suitable outdoor clothing and sensible footwear should be worn
• Participants must call on the day of their flight for an assessment of weather conditions
Reviews
Average Rating 5
Total Reviews 20
Recommend to Friend 20

Really good experience. Communication was really good and the whole experience on the day was excellent.
Jane Barker
Amazing experience! Would definitely do it again!
Laura Jones
From start to finish I absolutely loved it and can't wait to do it again!! Had an amazing time. Thank you very much!
Takita
Very exhilarating experience with truly amazing views from the sky. Steve was exceptional. His pre flight preparation, instruction and explanation were second to none. What a nice friendly and personable man he is!! Once we were airborne he was calm and reassuring throughout and very informative. He took time to explain where we were all the time and any interesting landmarks as we flew over them. He also took a number of great photographs throughout, which I received on the same day. Overall I can't recommend the the whole experience highly enough..
Steve Worrall
Superb experience -thanks so much Steve
Bryan
{{reviews.text}}
{{reviews.user.username}} Microlights West Midlands
30 Minute Air Experience
Total Price
£
85.00