English
Skip to main content
Behind the Scenes Steam Day
Tenterden in Kent    
REF:

TRNBTS
• Access all areas day at Kent & East Sussex railway
• Guided tours of engine sheds, workshops etc
• Visit the signal box, watch locos taking on water
• Includes lunch at Tenterden station restaurant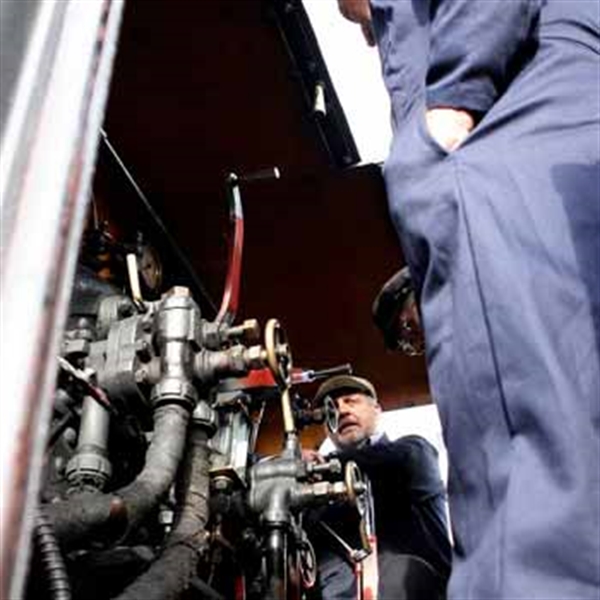 What's Included
• See behind the scenes of an active steam railway line
• Meet, greet and safety brief with your fellow guests and guide for the day
• Tour the Tenterden carriage and wagon workshops and see the current restoration projects
• Travel by train to Rolvenden Station and heavy engineering facility
• Tour of the loco yard and working signal box
• Observe the watering of a returning Bodiam steam service
• Return travel to Tenterden Station and visit the Colonel Stephens museum
• Lunch in Tenterden restaurant
• Experience the whole 21 mile round trip onboard the 2.20pm passenger service
• Beverages in Tenterden restaurant upon your return with a review of your day
• You'll usually be joining a group of 5 other participants
What Can I Expect
Immerse yourself in the golden age of the railways on this fantastic steam train day that'll see you being shown just what goes on behind the scenes at this popular heritage railway in Kent known as the 'Jewel in the Weald' that covers 21 miles of the countryside from Tenterden to Bodiam.
Lifting the lid on this rural light railway starts in the best way possible - with introductions to your fellow tour guests and guide, along with a nice cup of tea. Then it's off to have a good look around the carriage and wagon workshop, where you'll see skilled craftspersons who work day in, day out to renovate the rolling stock that are coupled to the steam trains. It really is a labour of love and the team's passion for their work certainly comes across.
Your access all areas day then steps up a gear as you climb aboard the first steam train departure of the day from Tenterden to the intermediary Rolvenden station. On arrival at Rolvenden you'll be shown around the locomotive shed where all the heavy engineering takes place to keep these magnificent locos running smoothly on the tracks. And look for the spanners on the wall - some of them are enormous and look like they'd weigh a ton!
You'll then move across the station to have a tour of the fully working signal box to see what all those levers do and then you will be able to watch from the side of tracks as the steam train which departed from Bodiam stops to be filled up with water. Having witnessed this impressive 'refuelling' of the steam train, your day continues when you step aboard that train to head back to Tenterden Station for a visit to the Colonel Stephen museum before lunch.
The afternoon of your exclusive day out with the steam trains starts with you hopping aboard an afternoon service to experience and enjoy the full 21 mile round trip on the Kent and East Sussex line. Once back at Tenterden, your fabulous steam train day comes to a close with a farewell drink and the opportunity to ask any remaining burning questions you may have to the experts. At the end of the day, it's all about the wonder of travel by steam train and we think this experience gives you the perfect blend of a guided tour and steam train travel.
Availability
• Selected weekdays and weekend dates from February to October
• The day begins at 9:30 am and finishes at around 4.45 pm
Availability for 2021 is very limited, vouchers will be honoured for 2022  
Location
• Tenterden Station, 12 miles Southwest of Ashford
Suitable For
• There are no age restrictions however under 16's must be accompanied by a participating adult

Please be aware that you do not drive any of the trains however Steam Train Driving experiences can be found on our main Train Experiences page.
Spectators
• Unfortunately this experience is not suitable for spectators however the railway encourages family and friends to come and spend the day
• Visitors can purchase a ticket allowing them to travel along the 10.5 mile line, exploring the local area - £17.00 for adults and £11.50 for children
Anything Else
• Tenterden station offers a railway museum (small entry fee applies), display wagons, restaurant, gift shop, picnic area and a play area for children
• Please be aware that you do not drive any of the trains however Steam Train Driving experiences can be found on our main Train Experiences page
• Hi-vis vests are issued and must be worn as directed
Reviews
Average Rating 5
Total Reviews 3
Recommend to Friend 3

Well thought out and managed. A wealth of information and lots to see as well as rides with both diesel and steam traction and a free lunch in the excellent cafeteria.
M Barton
Having Visited the Kent and East Sussex Railway last year with my Railway Club, I was not sure that I would, get much more out of this visit, which was a Christmas present from my family. I needn't have worried, the day was really good, well planned and timed, meaning that you had time to visit everything available, and take in all the information that the knowledgeable staff told you, which was not only about the railway and stock, but local history as you passed through an area. Everybody on the railway were really pleasant, and made you feel really welcome, and I would certainly visit again, and recommend them to all my friends
Nigel Smith
Went on 21 March 2016. Superb experience. Very well organised. All the staff very knowledgeable and very friendly. Behind the scenes steam day organisers had struck a perfect balance of being interesting to steam lovers of moderate experience to those who are experts. The whole event was a perfect balance of interesting and informative items conducted at a pace that was was perfect for all of us in our group of four. Five is the maximum for the experience. We were asked if we would have liked any changes and we all agreed the balance was correct. Would recommend without reservation to any steam railway enthusiast at whatever level. Well done all at Tenterden Steam Railway.
Chris Parkin
{{reviews.text}}
{{reviews.user.username}}