English
Skip to main content
Traditional Barber Shaves in London
Mayfair, London   
REF:

WETFAC
• Expert barbers and traditional cut throat shaves
• Central London Mayfair Location
• Facial and haircut options available
• Sit back, relax and enjoy some luxury grooming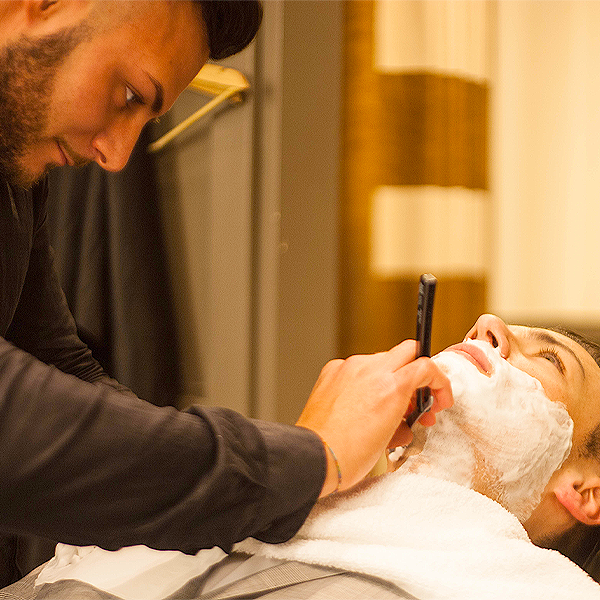 What's Included
All treatments are performed by expert traditional barbers
A wet shave including the use of hot towels and a variety of exclusive products (beard trim is available instead of the wet shave if prefered)
Wet Shave and Prep Facial
The Wet Shave includes the use of hot towels and a variety of exclusive products.

The prep facial cleanses, tones, soothes and hydrates the skin before you have your cut throat shave.

Allow 40 minutes for this experience
Wet Shave and Haircut
In addition to the shave you will also receive shampoo and conditioning, a scalp massage and cut
Allow 70 minutes for this experience
What Can I Expect
Enjoy a top-class cut throat shave in London at one of capital's finest male grooming establishments and the ladies will be more than happy to get up close and examine your baby soft skin without the fear of getting stubble rash, thanks to your ultimate close-cut shaving session that will leave your skin sleek and smooth.
The expert barber team can accommodate you in their Mayfair or salon, where you can enjoy one of London's finest cut throat shaves and a selection of additional treatments and indulgences to make you look and feel irresistible. We have two packages for your to choose from, namely the standard wet shave and facial or shave and haircut, depending on your time constraints, budget and the occasion.
With the traditional cut throat shave, you'll be treated to the same authentic experience as generations of men before you, reclining in the chair of this London salon surrounded by plush towels, lathered in top-quality shaving foam and then delicately sheared by a razor-sharp blade wielded in the professional and skilful hands of a top barber.
If you choose to add the facial prep treatment, you'll be given a pre-shave mini facial, applying cleansers (essential for clogged up London pores!) and toners to brighten, soothe and hydrate your skin before that pesky stubble is artfully removed to reveal the youthful, silky-smooth skin beneath.
Combining a haircut and cut throat shave at this, one of London's top barbershops, makes for a suave and sophisticated experience to give you that complete look. You'll benefit from a superb shave and luxurious hair styling session, including shampooing, conditioning, shaping and drying, as well as a relaxing head massage alongside your regular wet shave.
Either of our grooming options will make the man in your life feel a million dollars and a cut throat shave from this London salon is a great way to treat your hardworking hero to some quality me-time in an elegant and classic way. Move over, Gillette - we couldn't say whether this clean-shaven experience will be the best a man can get, but it sure comes close!
Availability
• Treatments are available seven days a week by appointment only
Location
• Mayfair, London
Suitable For
• There is a minimum age of 18 years old
Spectators
• Spectators are not permitted however there are many attractions surrounding the barbers including department stores, shops, restaurants and bars