English
Skip to main content
Single Seater Racing - Scotland
Near Fife   
REF:

KHRACW
• Racing car driving at Knockhill race circuit Fife
• Coaching laps, demo laps and solo driving laps
• Drive a single seater just inches off the ground
• Excellent on-site facilities at this pro circuit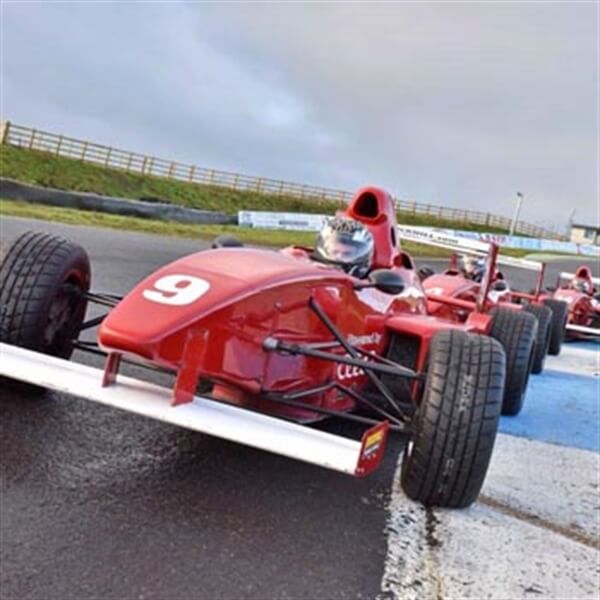 What's Included
Racing Car Experience
• Group welcome and track briefing
• 4 coaching laps at the wheel of the Honda Civic Type R
• Demonstration drive by your instructor
• 10 solo driving laps in a F1 style racing car
• Debrief with driver assessment, awards and certificates
• Please allow approximately 2 hours for this experience
What Can I Expect
Here's your chance to experience the thrills of sports car driving and single seater racing on this professional circuit in Scotland, on either weekday or weekend sessions. Your experience starts with a trackcraft talk with professional drivers explaining the art of how to drive the cars around the circuit - it's nothing like negotiating normal roads!
Once kitted out and ready to go, you will drive four laps in a sporty saloon car. This session offers you one to one instruction and coaching to prepare you for your solo outing in the single seater. There follows two high-speed demo laps driven by your instructor in the saloon car - hang on tight, this is going to be impressive!
The climax of the day is next - the freedom of being out on the track, driving on your own in a proper single seater racing car. Strapped in and ready to go, just leaving the pit lane and heading for the main circuit will have your heart beating pretty fast! Sitting merely centimetres from the tarmac, the noise of the engine is incredible as you drive ten laps of the famous circuit. Your experience ends with a driver debrief and presentation of assessments and certificates.
Availability
• Experiences run throughout the year at various start times
• Choose from voucher valid for weekdays only or any anytime voucher to include weekend sessions
•
Racing car gift
vouchers are available on a range of racing experiences
Location
• Knockhill Racing Circuit, Dunfermline, Fife
Suitable For
• All drivers must hold a full UK or European driving licence and be able to drive a manual car.
• Drivers should dress for comfort and the outdoors - such as jeans and trainers.
Spectators
• Spectators to this Scottish racing circuit are welcome for no charge
• There are good views of the track used for the single seater & sporty saloon experience.
Anything Else
• As a renowned race circuit Knockhill has very good facilities with toilets and refreshments on site during experience days Single Seater Racing - Scotland
Weekday Single Seater
Total Price
£
175.00