English
Skip to main content
Quad Biking West London
Northolt, West London   
REF:

QDBH31
• Quad biking near West London at Northolt
• Various experience durations to choose from
• Ride a Kymco 150cc quad bike
• Tackle woodland, fields and man made obstacles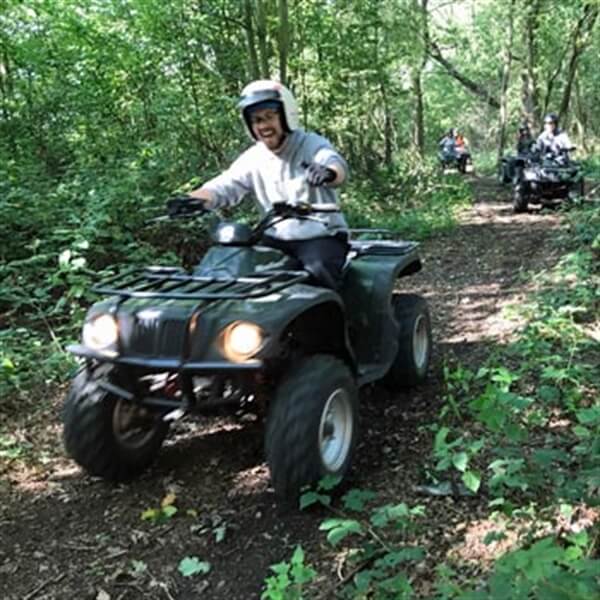 What's Included
• 'Trek' experiences lasts around 1.5 hours in total, with one hour of driving time on the bikes
• 'Taster' experiences last around an hour in total with 30 minutes of ride time
• Sessions include a safety briefing, familiarisation of the quad and its controls
• Your will learn how to safely handle the bike on the off-road track with hill climbs and descents
• Each driver has their own bike and there are a maximum of five bikes per trek
What Can I Expect
Quad Biking West London - ideally located in Northolt in the heart of the Middlesex countryside and easily accessible, this is a quad biking experience you and your friends will love. The instructors are friendly, the bikes are easy to handle and the terrain throws up a whole host of challenges for you and your quad - brilliant fun!
Your experience, which will see you weaving in and out of the Northolt countryside on a funky utility quad bike, starts with a welcome, registration and safety briefing. Then it's time to meet up with the quad bike that will be your motorised friend for the session, which is a Kymco 150cc automatic bike, so no gears to worry about!
Before you head off, you'll have a chance to get to know your bike and get comfortable with controls. Part one of the session is to negotiate your way around a short coned course, including positioning the bike in between cones and then around a slalom section. A couple of loops around this and you'll be ready to head off the fields, hills and woods around Northolt!
There may 'only' be 30 acres to play with at this West London set up, but the way the trails interweave through varying surfaces, there is plenty to keep even seasoned quad biking fans entertained (and without a guide, you would get lost!). As you whizz along, the gravel paths turn into grassy hillside tracks, then you'll attack seriously rutted sections that will try and put you off balance, before picking your way through tight woodland paths, where you'll be ducking under branches and batting off twigs.
Not all the obstacles are natural. On more than one occasion on your trek, you'll come across metal seesaws to test your accuracy and balance. Ride on carefully, wait for the seesaw to swing and then accelerate (gently!) off the ramp. If all goes well, the last part of the trek will see you and your fellow quad biking comrades in Northolt taking on some grassy hilltop drops with steep inclines on the other side, to really test your quad biking skills to the max.
For a fun and friendly trek, this quad biking activity is hard to beat. Easy to get to from West London and the home counties, you'll be swapping traffic jams for freedom on the greenery around Northolt on your very own fully automatic quad bike!
Availability
• Selected Saturdays between February and November
Location
• Northolt, Middlesex
Suitable For
• The minimum age is 16 years old and maximum weight is 18 stone
Spectators
• Due to the off road nature of this activity and the fact it is a trek it is not possible to view very much of the action, but visitors are welcome to wait on site, although there are no visitor facilities
Anything Else
• Participants should wear sturdy footwear covering the ankle eg. Wellington boots, builders boots or hiking books
• Trainers are not suitable
• Customers may wish to wear a change of clothing if it is particularly wet
Reviews
Average Rating 4
Total Reviews 1
Recommend to Friend 1

The quad bike trek was good fun. The terrain was varied and the instruction given was good. Having been on a quad bike before I would've appreciated an opportunity to push the performance of the bike or the difficulty of the terrain. The group was a mix of people who had never been on a quad compared to people who had. Perhaps they could ask this before arranging the groups for each trek? Overall I really enjoyed it however.
Richard
{{reviews.text}}
{{reviews.user.username}} Quad Biking West London
30 Min Quad Bike Taster for One
Total Price
£
39.00