English
Skip to main content
Quads at Eastwell Park Estate
Eastwell Park Estate, Ashford, Kent   
REF:

TGQD2H
• Agile 350cc Yamaha Grizzly Quads
• 2 or 3 hour sessions available
• Explore the 3000 acre Eastwell Park Estate
• Small group sizes with loads of riding time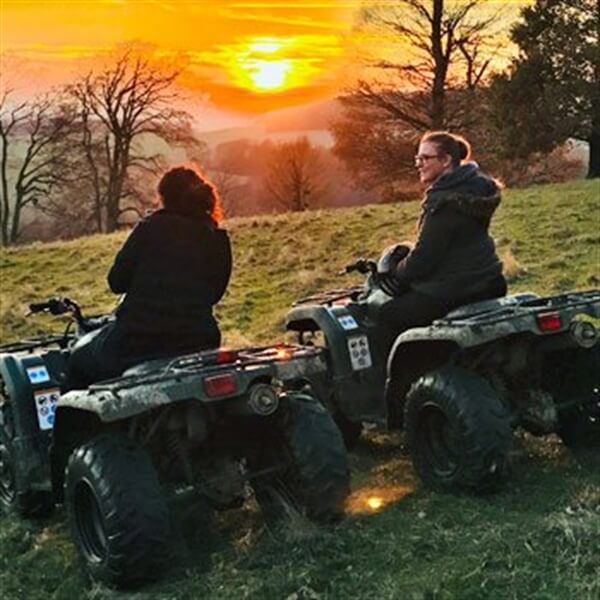 What's Included
• A Quad Biking session at Eastwell Park Estate
• Welcome introduction and safety briefing
• A qualified instructor on hand throughout the experience
• You will have exclusive use of a 350cc Yamaha Grizzly quad bike for your session

Two Hour Quad Session
• Around 50 minutes drive time
• Allow up to 2 hours at the venue
• You will form part of a group of 4 on the day

Three Hour Quad Adventure
• Around 2 hours drive time
• Allow up to 3 hours at the venue
• You will form part of a group of 4 on the day

Exclusive Quad Sessions for Two
• An exclusive quad session for just the two of you!
• You will have exclusive use of a 350cc Yamaha Grizzly quad bike each
• Two hour quad sessions provide 50 minutes drive time with three hour adventures giving you 2 hours on the quads
What Can I Expect
Looking for a quad adventure like no other? This Yamaha quad experience at Eastwell Park just outside Ashford has got exhilaration written all over it! With a stand-out location, top notch bikes and massively enthusiastic instructors on-site, you can't go wrong.
Word has it that when the team took delivery of their shiny new fleet of Yamaha Grizzlys, fully grown mature adults suddenly started behaving like excitable teenagers again as they tried their very hardest to get the quad bikes as muddy as possible on their first outing around Eastwell. Needless to say, they succeeded.
Now it's your turn to see just what you and your Grizzly can do. These are serious quad bikes, with 350cc engines (so they don't half shift if you let them), bull bars and two or four wheel drives. Add to that some fancy blue and green paintwork that'll you'll probably only see at the start of your session (seeing as most quads come back after a round in Eastwell Park caked in dust and mud) and you've got yourself a fab adventure on a quad.
And yes, it is sure to be a rather adventurous experience with the Yamaha as your trusty hill-munching, dirt-busting, slope-sliding buddy. Mark our words, this a proper off road circuit that's a managed site with everything from the chalk pit to the more leisurely forest trails to tackle.
What's more, there'll be no hanging around here in Ashford waiting your turn, as you all have your own Yamaha for the duration of the event. Group sizes are kept to just four quad riders, with one instructor leading the trio, so it's very much an adventure outing rather than some kind of procession with a long line of bikes trundling along in first gear.
And did we mention the stunning location? Once home to Richard Plantagenet, the beautiful Eastwell Estate still covers around 3000 acres in total, with the beautiful manor now a hotel and wedding venue and the rest divided into working farms, a golf course and, of course, a brilliant quad terrain. There's even a mile-long shallow water lake to admire too.
Not that you'll be taking much interest in the surroundings, as you'll be spending all your time on this quad adventure trying to master the machine that is the Yamaha Grizzly and keep every single one of those 350ccs on side. Frankly, you'll be amazed at what these quads can do, conquering anything this estate near Ashford can throw at you!
Availability
Selected weekday and weekend dates from February to September, subject to availability
The site is closed Christmas Day, Boxing Day and New Years Day
Location
Eastwell Park Estate near Ashford
A stunning country house estate set within 3,000 aces of woodland, fields and lawns.
Suitable For
Minimum age 16
Under 18's must be accompanied by a participating adult
Maximum weight 24 stone
The site is exposed and conditions underfoot can be wet and muddy, so appropriate outdoor clothing and sturdy footwear is recommended
Spectators
Non participating spectators are welcome to come along however there are no views of the driving area
Anything Else
• There is an indoor guest area with tables and seating and toilet facilities
• Tea and coffee is available to purchase
• You are welcome to bring your own food
• Eastwell Park Estate offers accommodation, bars and restaurant facilities, the 4x4 centre can often arrange special deals and discounts
Reviews
Average Rating 4
Total Reviews 4
Recommend to Friend 4

Great way to spend a morning. The guys were super friendly and the facilities were good. The course was quality and the terrains were wet and slippery even in midsummer. So they've obviously thought it through for a year round experience. Great fun and learnt a bit too.
Carl
Great fun and always safe. A mix of terrain in beautiful surroundings.
Andrew
Quad bike adventure I got for True Grip was absolutely amazing. We had loads of fun and will definitely do it again.
Esme
Had so much fun, would totally recommend!
chelsie
{{reviews.text}}
{{reviews.user.username}} Quads at Eastwell Park Estate
Two Hour Quad Session
Total Price
£
79.00