English
Skip to main content
Piglets Pantry Afternoon Tea - Home Delivered
UK-Wide Home Delivery   
REF:

PPDAT2
Afternoon teas by award-winning Piglet's Pantry
Hampers delivered direct to your door
Delivered fresh, never frozen 
Prosecco add-on available for that extra fizz!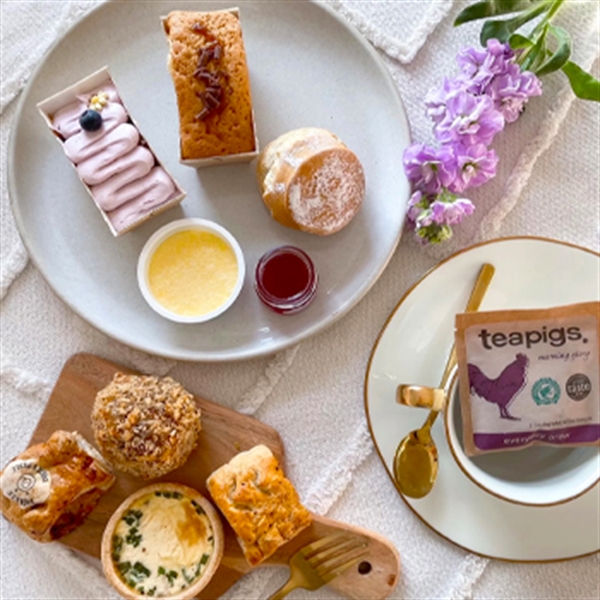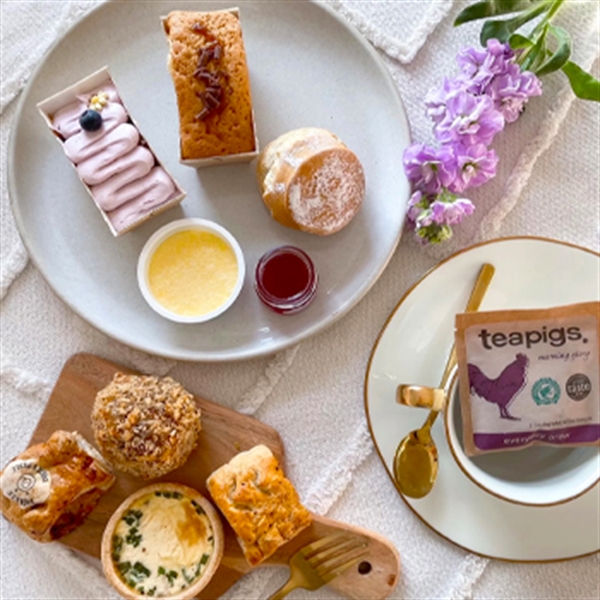 What's Included
Delicious afternoon tea delivered to your home
Vouchers available for 2 or 4 people
Receive a selection of savoury and sweet afternoon tea treats along with tea bags
Choose the Boozy Brunch option for the addition of bubbles
Please refer to the 'Menu' section to see a list of what is included in your afternoon tea delivery
What Can I Expect
Oink oink here come the Piglet's Pantry afternoon teas! Delivered direct to your door, we're pleased to offer these hand-crafted savoury and sweet treat hampers from the award-winning and very lovely Piglet's Pantry.
Based in Worthing, Piglet's Pantry was created by Jo, who had always dreamed of setting up her own bakery. Her delicious pies won the contract at Brighton & Hove Albion football club and since then, her savoury pastry goodies and cakes have won fans at sporting and other large events around the UK.
We're delighted to tell you that you can now have your very own taste of Piglet's Pantry at home with these lovely afternoon tea hampers. You can order tea for two or four people. And if you fancy a little fizz with your food, go for the Boozy Brunch option, which gives you a stylish bottle of Prosecco to sip with your scrummy food.
And we have to say, you'll love the goodies in your afternoon tea. Piglet's Pantry have put together the perfect combination of classic savoury and sweet bites for you. From Scotch eggs and mini quiches, to carrot cakes and caramel drizzles, all accompanied by tea sachets from Tea Pigs. Of course, no afternoon tea would be complete without the scones, the cream (Roddas) and the jam (Tiptree), only from the best.
As you can tell, Piglet's Pantry refuses to compromise on quality and strives to use the best British products out there. They've also thought very carefully about how to deliver your afternoon tea, right down to the packaging, which includes dry ice bags, so everything arrives fresh (never frozen) and ready to eat.
Quite frankly, it's making our mouth water just writing about these Piglet's Pantry afternoon teas. Order yours now and get those award-winning pastries, cakes and scones and more, all delivered for you to enjoy at home.
Availability
Once registered and redeemed delivery is 5-7 days (or on your chosen date)
A delivery date will be confirmed once your order has been processed
Location
Delivered to mainland UK via courier is included with some exceptions for parts of Scotland
If you would like delivery to Scotland please enquire before purchasing a voucher
Suitable For
If you have any special dietary requirements or require any information regarding allergens please make this known when placing your order
Menu
Classic Afternoon Tea for Two
~
2 x Cheese and Chive Quiches
2 x Traditional Scotch Eggs
2 x Mini Traditional Sausage Rolls
2 x Mini Sausage Rolls with Cheese and Pickle
2 x Scones
2 x Rodda's Clotted Cream
Tiptree Strawberry Jam
2 x Carrot Cakes
1 x Blueberry, Banana and Lemon Curd Cake
1 x Chocolate Chip and Caramel Drizzle Cake
2 x Tea Pigs Tea Bags
~
Classic Afternoon Tea for Four
~
4 x Cheese and Chive Quiches
4 x Traditional Scotch Eggs
4 x Mini Traditional Sausage Rolls
4 x Mini Sausage Rolls with Cheese and Pickle
4 x Scones with Clotted Cream & Strawberry Conserve
A selection of 8 cakes: Either Carrot Cake with Cream Cheese Icing, Blueberry, Banana with Lemon Curd Icing and Chocolate and Caramel Drizzle Cake
Afternoon Tea and Earl Grey Tea Bags
~
Boozy Brunch Afternoon Tea for Two
~
2 x Cheese and Chive Quiches
2 x Traditional Scotch Eggs
2 x Mini Traditional Sausage Rolls
2 x Mini Sausage Rolls with Cheese and Pickle
2 x Scones
2 x Rodda's Clotted Cream
Tiptree Strawberry Jam
2 x Carrot Cakes
1 x Blueberry, Banana and Lemon Curd Cake
1 x Chocolate Chip and Caramel Drizzle Cake
2 x Tea Pigs Tea Bags
1 x Bottle of Prosecco 75CL
~
Ingredients, allergens and nutritional date will be included in your delivery box
Please note that all products contain gluten and milk Piglets Pantry Afternoon Tea - Home Delivered
Classic Afternoon Tea for Two
Total Price
£
36.00