English
Skip to main content
Optimus Prime Truck Driving
Nationwide Locations   
REF:

P17OPT
Drive an Optimus Prime-style American truck
Peterbilt 379 - just like in the live action films
Take your drive at your choice of circuit
Step up to the cab and drive this massive monster!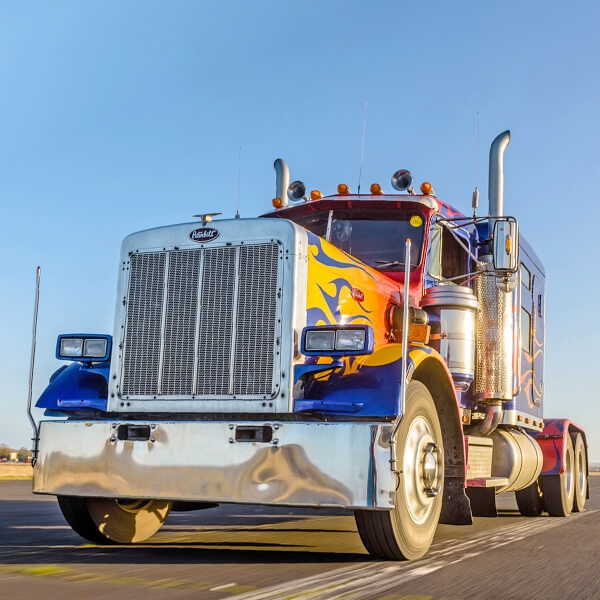 What's Included
Drive an authentic Peterbilt 379 styled on 'Optimus Prime'
Complete a lap of the lorry driving course with obstacles and reversing challenge
Briefing and tuition from a professional lorry driver
Approximately 15-20 minutes at the controls including a short in cab briefing
You may form part of a small group of 3 and may ride as a passenger when not driving
Please allow approximately one hour on site for this experience
Truck & Supercar Combo
In addition to your truck driving experience you will also drive one supercar of your choice for 3 miles
Please allow between 3-5 hours on site for this experience
The Cars
Aston Martin
Nissan GTR
Audi R8
Toyota Supra
Nissan Skyline
Chevrolet Camaro ZL1
Mustang GT
Ariel Atom
What Can I Expect
'Autobots…Roll out!' the Optimus Prime truck driving experience is now here! This Transformers truck driving extravaganza takes place at a race track near you and gives you the chance to pilot a behemoth of an American truck that has an uncanny resemblance to Optimus Prime when he's in vehicle mode.

Optimus Prime is the enigmatic and inspirational leader of the Autobots. He's a brilliant tactician and a shrewd decision-maker, as well as possessing superb leadership qualifies and displaying incredible martial arts skills. Not bad for a giant-sized truck with a fancy paint job!

Throughout the live action Transformers films, he's been portrayed by several different rigs. Apart from the first generation Optimus Prime who was a short-nose Wentworth, he has always been an impressive long-nose truck. In Transformers, Transformers: Revenge of the Fallen and Dark of the Moon he was a Peterbilt 379.

The Optimus Prime-a-like you'll be driving is indeed a celebrated Peterbilt 379, complete with gleaming chrome everywhere on the cab, that distinctive aggressive grille and the obligatory long nose bonnet. And of course, he's dressed for serious Decepticon-fighting Autobot business, with that wonderful flame-inspired metallic livery, just like in the live-action Transformer films you know and love.

Inside the high-rise cab it's all pretty spacious. In America the 3 series from Texas-based Peterbilt is still very much the truck of choice for owner-operator hauliers and some of the interiors are seriously impressive. Rather than transforming into an Autobot, many are decked out to be comfortable living spaces, complete with integrated TVs, microwaves and fold down tables. All very civilised if you're away for days at a time driving on the ice trucking routes of the Northwest Territories in that 18 Wheels of Steel Extreme Trucker style.

Our Optimus Prime truck driving sessions give you the chance to take a 600bhp, 18-gear (!) Peterbilt 379 for a spin around your choice of circuit from several around the UK. With a typical Transformers-style war cry of 'Charge!' it's time for you to lead the next Autobot offensive at the wheel of this American beauty.
Availability
Juggernaut Experience: Selected weekday and weekend dates throughout the year
Truck & Supercar Combo: Selected weekdays only
All dates and session times are subject to availability
Sessions operate between 08:30 and 15:30
This is a popular experience which may need to be be booked well in advance
Location
Cornwall  Perranporth Airfield (bi-annual event)
Ipswich

 

Wattisham Airfield
Lincolnshire  Blyton Park
Northampton  Sywell Aerodrome
Norwich  Tibenham Circuit
Oxfordshire  Abingdon Airfield
Oxfordshire  Bicester Circuit
Oxfordshire  Bicester Heritage (limited dates)
Staffordshire  Lichfield Race Track
Warwickshire  NAEC Stoneleigh
Wigan  Three Sisters Circuit
York  Tockwith Circuit 
Premium circuit upgrade available for a supplement (payable directly when booking)
Wiltshire  Castle Combe Circuit - £25 (full driving licence required)
Surrey  Dunsfold Airfield - £35
Most venues are airfield style circuits with large run off areas
All locations are subject to change and are updated regularly
Suitable For
Minimum age 17
Under 18's must be accompanied by an adult
Minimum height 4ft 5ins
Drivers must hold a full manual UK driving licence
This is not suitable if you have suffered from back, neck or knee problems
Spectators
Spectators are welcome however viewing may be limited at some venues
Anything Else
The truck you'll drive is an authentic Peterbilt 379 styled on 'Optimus Prime' from the movie Transformers. This particular vehicle was not used in the movie
Optional Damage waiver insurance and extra laps are usually available to purchase when booking with the supplier
Once you have booked your date with the supplier should you need to to cancel within 7 days of your booking, a charge of £29 per car to re-book will apply.  This also applies to cancellations due to Covid.
Cancellation cover is available at the time of booking your date for £20 which would cover any last minute cancellation.
Reviews
Average Rating 4
Total Reviews 5
Recommend to Friend 5

This experience was given as a 60th birthday present, I have always been interested in American trucks and it was great to get the opportunity to drive a Kenworth. The experience was well organised by Car Chase Hero's, the instructor was informative and friendly making it a great day and certainly one to remember.
Paul Vass
I was booked onto the Optimus Prime (American Truck driving) but unfortunately it had broken an injector the previous evening and was awaiting repairs. I should have been informed by email but no email arrived. Car Chase Heroes offered me a drive of the Volvo articulated truck, a passenger run in the Arial Atom and waived the £25 insurance. waiver, all which I accepted. The artic driving was very good and the Atom was incredible so all-in-all I had a great day. I still want to drive the American truck though.
Frank
This was a delightful birthday present. It was a simple booking process, with a friendly registration and a clear, calm and encouraging instructor. For someone who normally drives an automatic, driving Optimus was a bit scary but the whole experience was absolutely fantastic. I thoroughly enjoyed every minute and want to do it all again - soon!
Barbara Martin
brought as Christmas present for hubby who does lorry driving for a living. He had a great experience in the American truck (Optimus prime). We took our 1year old and sadly we couldn't watch him enjoy his experience as the truck driving area was no-where near the spectating area, nor would health and safety allow my 1year old to be transported to the truck driving area.
sam bedford
Surprise belated Christmas/ early birthday present for my husband. He's wanted to drive a Kenworth for over 40 years, he's got a classic American car so was used to driving a left hand drive and he's an ex have driver so was used to larger vehicles. The grin on his face was an absolute delight to behold. So pleased that I was able to find the experience for him. Only down point was no in cab video. We asked about it after the drive as we'd seen the camera in the cab and assumed that video would be offered afterwards as it was to the drivers on the super car experience (they had photos too, we didn't). No. You have to request it at the time of the drive. No-one told us! Disappointed about that but otherwise a good time.
Debbie Faulkner
{{reviews.text}}
{{reviews.user.username}} Optimus Prime Truck Driving
Truck Driving Session
Total Price
£
79.00