English
Skip to main content
Murder Mystery on the Belmond British Pullman
London, Victoria   
REF:

OEMURD
Travel on the Belmond British Pullman
Enjoy a five-course lunch served at your table
Intriguing murder mystery entertainment on board
A day of luxury rail travel and entertainment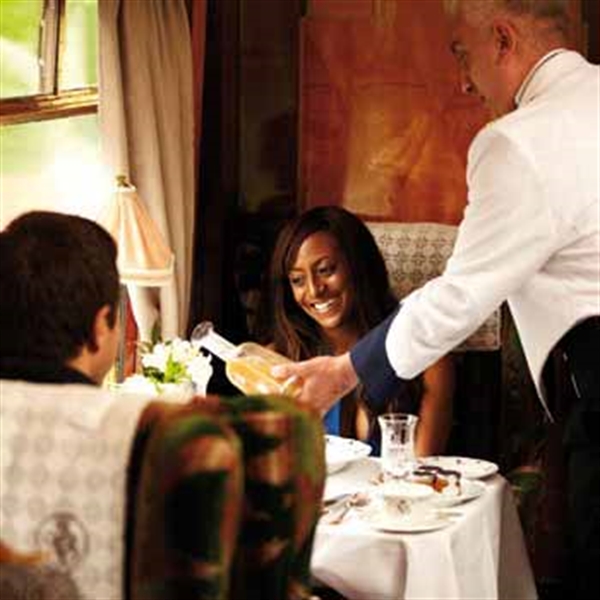 What's Included
Round-trip travel on the Belmond British Pullman luxury train
Welcome and check in at the private lounge at Victoria Station
Champagne reception on board
Five-course lunch and half a bottle of house wine per person
Coffee, tea and petit fours
Murder Mystery entertainment
Prizes for the best detectives
Journeys last approximately five hours
What Can I Expect
Witness the drama of your very own Agatha Christie adventure with this Murder Mystery on the Orient Express-inspired experience! You will be boarding the lavish Belmond British Pullman from London Victoria train station for an afternoon of excitement, elegance and epicurean delights. What begins as an unsuspecting five course lunch quickly turns into something much more sinister…

Step back in time as you and a loved one take your seats in one of the plush Belmond British Pullman carriages, all lovingly and faithfully restored to their pre-WWII glory. Being the sister train to the renowned Venice Simplon-Orient-Express service, this murder mystery guarantees an unparalleled dining and detecting experience. As you pull away from the cityscape, your murder mystery starts to unfold.

Whilst enjoying your sumptuous meal, keep your eyes and ears peeled, as some of your fellow diners seem to be getting themselves caught up in some kind of trouble. Is there romance involved? Or perhaps something darker? Come to think of it, there do seem to be some rather odd passengers on board this train…

As the elegant Pullman carriages glide effortlessly through the British countryside, it's up to you and your fellow passengers to unearth the secrets behind this most intriguing of murder mysteries. In fiction, the Orient-Express has long been associated with dastardly and dirty deeds, in juxtaposition to the sparkling glamour of the train's rich and famous clientele - but can you shine a light on events and illuminate the killer?

Even if you don't solve this most delectable of whodunits, our luncheon extravaganza is guaranteed to keep you on your toes. The perfect gift experience for Poirot fans everywhere, this murder mystery aboard the sister train to the Venice Simplon-Orient-Express is sure to get those 'little grey cells' working and with five courses of delicious food to sustain your sharp detective's mind, this truly is a rail journey to remember.
Availability
Selected dates between February and November, generally with one date per month
All dates are subject to availability
Due to popularity, please book well in advance to avoid disappointment
Vouchers are valid for trips up to the voucher value. Prices for experiences may vary in line with demand. You may need to look further ahead for a date of equal value or if you wish to travel on a date that does not correspond with your voucher or upgrade to an alternative experience, you may pay a supplementary fee. No refunds will be made for bookings that have dropped in price.
Location
The train Departs from London Victoria and usually follows a non stop round trip through Kent
Suitable For
Smart day wear is requested to be worn on board the Belmond British Pullman - please do not wear jeans or trainers, men may wish to wear a jacket and tie
The journey may be suitable for passengers with special access needs - please check before booking
Wheelchairs can not be accommodated on board due to the aisle width. Guests should be able to climb 2 steps to board the train as no ramp is available
For the comfort of all, this is a non-smoking train throughout and passengers are asked to turn off their mobile telephones whilst on board
If you have any special dietary requirements, please advise us when booking and we will do our best to comply. We are, however, unable to provide meals requiring strict religious observance in their preparation.
Please note that for these experiences, the train is not steam hauled
Anything Else
There are four different styles of Pullman carriage, seating between 20 and 26 passengers with various seating combinations made up of tables for one, two or three and private compartments seating four. Please note that at busy times, parties of two may be seated sharing with another party of two. Parties larger than four will be seated at a combination of tables
The value of this voucher can be exchanged or used as part payment for other journeys at the time of booking with Belmond
Vouchers are valid for trips up to the voucher value. Prices for experiences may vary in line with demand. You may need to look further ahead for a date of equal value or if you wish to travel on a date that does not correspond with your voucher or upgrade to an alternative experience, you may pay a supplementary fee. No refunds will be made for bookings that have dropped in price Murder Mystery on the Belmond British Pullman
Murder Mystery on the Belmond British Pullman
Total Price
£
449.00