English
Skip to main content
Medieval Longbow Experience
Maldon, Essex   
REF:

NSAMLE
Go back in time to play the role of a soldier in 1346
Learn to shoot Medieval longbow weapons
Re-enact battle tactics & shoot for silver coins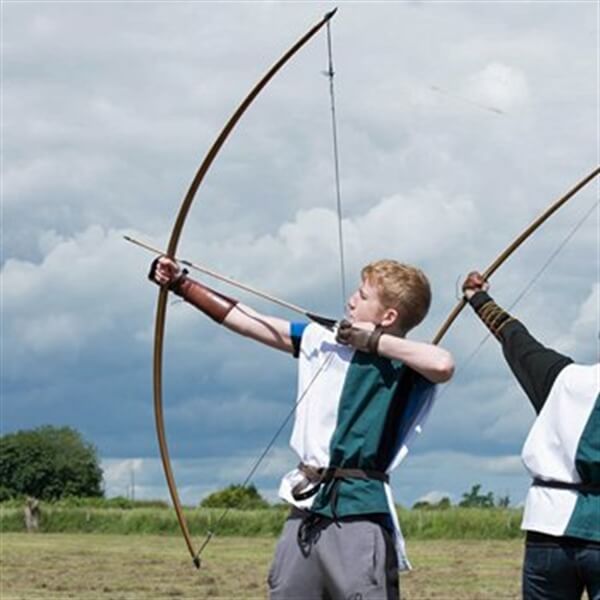 What's Included
Fully immersive experience taking you back to the 14th Century
Learn how to use an authentic longbow and the history behind it
Wear the uniform of a military archer as you compete for handmade silver coins
Embrace the life of a 14th Century soldier as you are guided through the true story of a major campaign
Shoot accurately at both short and long distances
Please allow up to 5 hours on site
Use handmade longbows and arrows crafted by talented bowyers and fletchers
What Can I Expect
The year is 1346 and this is your archery experience day! You'll be welcomed to the 14th century with this fun, hands-on and fascinating Medieval archer day, where you'll be learning how Medieval soldiers lived.

Your encampment for the duration of the experience is nestled in tranquil farmland Maldon in Essex. Here you'll be met by friendly archers in their authentic 14th century archery clothes. Before you know it, it's tabards and tunics for you too, as you prepare to immerse yourself in the world Medieval archery.

Standard raised and garrison ready, it's time to earn your keep just as soldiers would have done in 1346. You'll be shooting to win hand-made silver coins, which you'll need to keep very carefully, as they secure your passage through the day. Your weapon will be a hand-crafted Medieval longbow, loaded with arrows skilfully made using traditional methods and materials.

Fear not if this is your first time with a long bow. All novice Medieval recruits will be taught how to handle, load and release arrows. As your aim improves, you'll be shooting at targets pitched at longer distances, showing you just how powerful these Medieval weapons were.

And indeed, Medieval soldiers of 1346 would have been trained to go into battle. Fierce and bloody to the death, the very best archers made formidable opponents on the battlefield. Thankfully there's no such call to arms today, but you will go through a re-enactment of a typical military campaign to show you just how a Medieval battle would unfold - including firing arrows at the pesky 'enemy'.

These 1346 archery experience days are highly recommended for anyone who is curious about Medieval life. You'll learn lots, be entertained and have plenty of Medieval archery target practice too.
Availability
Available on selected dates during Spring, Summer and Autumn, subject to availability
Book early to avoid disappointment, we recommend booking at least 4 to 6 weeks in advance
Location
Maldon, Essex

Conveniently located 25 minutes from Chelmsford
Suitable For
Minimum age 8
Under 16s must be accompanied by a participating adult
Participants should have a good, general level of fitness
Anything Else
You may form a group of up to 12 people
This is an outdoor activity so please dress appropriately for the time of year and weather conditions. Be prepared to be exposed to the great British weather
All equipment and necessary PPE is provided Medieval Longbow Experience
1346 Longbow Experience
Total Price
£
149.00