English
Skip to main content
Light Sport Aircraft Headcorn
Headcorn Aerodrome, near Ashford   
REF:

FSAHMH
• Flights from Headcorn in light sports aircraft
• A choice of themed flight itineraries
• See Kent's countryside and coastline
• Operated by modern closed-cockpit microlights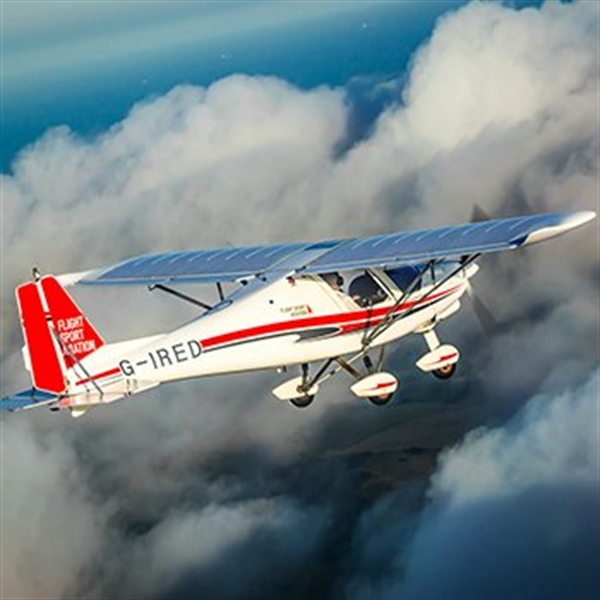 What's Included
• Trial flying lesson in a light sport aircraft
• Welcome introduction and safety briefing
• Once airborne you will be given the option to take the controls and fly the aircraft yourself
• Time flown can be counted towards a qualification

Mile High Flight
• Fly to an altitude of 5,280 feet
• Arrive at the base of controlled airspace (looking out for airliners heading for Gatwick)
• Once you've reached that mile height its back down to Headcorn at a controlled descent
• Allow one hour for this experience with a flight time of around 30 minutes

Kent Castles Flight
• This circular route takes in Leeds Castle, Bodium Castle and Dover Castle
• Enjoy spectacular views of the Kent Countryside
• Visit the White Cliffs and busy ports of Folkestone and Dover
• On a clear day you can see across the channel to the French coast
• Allow two hours for this experience with a flight time of approximately one hour

Landaway Experience
• A return flight to Deanland Airfield with a total flight time of approximately one hour
• Pass the Cranbrook Windmills, Bewl Water and Heathfield Mast with excellent views of the Kent countryside
• Experience joining air traffic control, radio calls and airfield procedures
• A cup of tea and quick walk around at Deanland with your instructor
• Opportunity to be in charge of the take-off on your return flight to Headcorn and experience some more advanced manouvres
• Allow two and a half hours for this experience
What Can I Expect
Thrilling light sports aircraft experiences out of Headcorn! All flights in these modern closed cockpit microlights have one thing in common: great views. Book your cross country touring flight from Headcorn and enjoy the wonderful vistas in a fabulous light sports aircraft.

You'll be flying in a modern lights sports aircraft such as the Ikarus C42. They might look like your typical small aircraft, but technically-speaking they're still microlights - it's just all been stepped up a gear and they're now called light sport aircraft, to reflect the comfort and performance of these aircraft.

That's also why this training centre can offer the Mile High Experience. These light sports machines are easily capable of reaching the magic altitude of 5280ft. Once you're a whole mile above the Kentish countryside, it's like a whole new world up there, where the airliners heading for Gatwick fly, so don't be surprised if you see the odd 737 or A320 flying over your head!

If you want to see the best bits of Kent from the air, we can highly recommend the Kent Castles Flight. Taking off from Headcorn, you're never very far from a nice castle. On this well-planned circular tour, your flight path will take you over not one, but three of the best castles in Kent. Soar over Leeds Castle, known as the loveliest castle in Kent, Bodiam Castle with it's good looks and impressive moat and Dover Castle standing proud in its imposing position over that busy port.

We can also highly recommend the landaway experience, especially if you're into aviation and want to immerse yourself in the protocols of flying. You take off from Headcorn, join the air traffic control circuit and radio calls, following airfield procedures to land at nearby Deanland Airfield. There's time for a cuppa and a chat, before taking off again to head back to base at Headcorn.

Whichever experience you choose, heading off in a light sports aircraft from Headcorn is going to give you the very best views of the Kentish countryside and coastline. And what's more, if you're up for it, you will be able to have a go at the controls of the aircraft too. Yep, that means you will be flying it! Pick your flight path and get your slot booked.
Availability
• Flights take place on selected weekday and weekends, subject to availability
• Please note all flights are weather dependent
Location
• Headcorn Aerodrome, near Ashford, Kent
Suitable For
• Minimum age 14
• Under 18's must be accompanied by an adult on the airfield
• Maximum weight is 110kg (around 17 stone)
Spectators
• Spectators are welcome to come and watch the flight
• There is an outside seating area and onsite cafe
• Please note dogs are not permitted on the airfield
Anything Else
• Please note that fixed wing, closed cockpit aircraft are used for flights, due to the lightweight nature of these modern sport aircraft they're actually classed as microlights
• Flexwing microlight flights are not currently available at this location Light Sport Aircraft Headcorn
Mile High Flight
Total Price
£
99.00