English
Skip to main content
Historic Belmond British Pullman Day Trip
London, Victoria   
REF:

BMHDAY
• Day trips onboard the Belmond British Pullman
• Visit historic locations on these round trips
• Country houses, palaces & historic towns to explore
• Full onboard service, drinks, brunch & dinner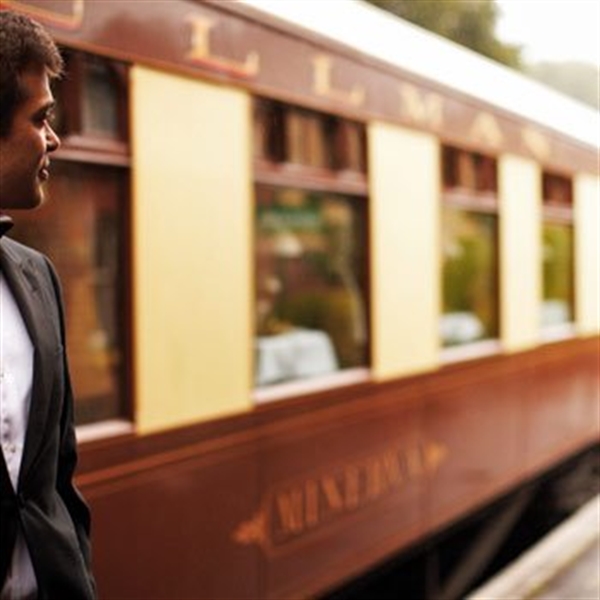 What's Included
All Historic Belmond British Pullman Day Trips include:
• Round-trip travel aboard the Belmond British Pullman luxury train
• Welcome sparkling Bellini
• Fine-dining with silver service
• Delicious three-course brunch on the outward journey
• Morning tea and coffee
• Champagne reception back on board
• Sumptuous four-course dinner, with half a bottle of wine per person
• Coffee, tea and petits fours
Historic Bath
• Visit to Bath, including guided coach tour and admission to the ancient Roman Baths
• Free time for shopping and sightseeing

Longleat
• Visit to Longleat, including guided coach transfers ad admission to Longleat House and the Safari Park

Leeds Castle
• Visit to Leeds Castle, including guided coach transfers, admission and free time to explore the grounds

Sandringham
• Visit to Sandringham House, including coach transfers, admission and free time to explore

Cambridge & Ely
• Walking tour of Cambridge and Kings College, Visit to Ely, including coach transfers and cathedral tour

Blenheim Palace


• Visit to Blenheim Palace, including coach transfers, guided tour and free time to explore the grounds




What Can I Expect
Visit lovely locations steeped in history on these Belmond British Pullman train trips! Spend the day luxuriating in the splendour of the Belmond British Pullman, as you embark on a round trip to some really rather splendid places.

Departing from London Victoria train station, you'll have all day to enjoy the service and comfort of the Belmond British Pullman. All day trips are offered on a full-service basis and, usually arriving around midday, you will have time to explore your destination.

The day starts off as it means to go on for these trips - with a Bellini cocktail being handed to you as you board the train. Having been shown to your reserved seat by your steward, all you will be required to do from here on in is relax and enjoy yourself.

By the time you've finished your three-course brunch and freshly brewed mid-morning coffee, there's just enough time to do some gazing out of the picture window of your Pullman carriage before you arrive at your destination.

Disembarking around midday, you will have plenty of time to discover the historic location you'll be visiting. In most cases you'll be taken directly there by coach. On arrival there may be a walking tour, a commented coach tour, or free time for you to explore. From country houses and Royal palaces, to Roman cities and market towns, we've got the very best of historic England for you.

After your visit, it's time to head back to the British Belmond Pullman for your return journey. The elevated levels of customer service and care for passengers continues, with a four-course dinner served at your table. Your supper onboard includes wine carefully selected by the sommelier, as well as delicate petits fours served with tea and coffee.

These historic Belmond British Pullman day trips are the perfect voyage for anyone who loves a little bit of luxury when they travel. And your day out isn't just about the journey, your destination will be a fascinating insight into some of the country's finest places to visit.

As you might imagine, Belmond British Pullman day trips are hugely popular, so we highly recommend booking well in advance to avoid disappointment. These historic day trips usually operate between February and November and can be booked up to a year in advance, so if you've got something special to celebrate, you can get the date in the diary now.
Availability
• All dates are subject to availability and generally operate between February and November
• As these train journeys are very popular please allow plenty of time to book
• Departures vary and a confirmed schedule will be supplied upon booking
• Vouchers are valid for trips up to the voucher value. Prices for experiences may vary in line with demand. You may need to look further ahead for a date of equal value or if you wish to travel on a date that does not correspond with your voucher or upgrade to an alternative experience, you may pay a supplementary fee. No refunds will be made for bookings that have dropped in price.
Location
• Departing from London Victoria
Suitable For
• Smart day wear is requested to be worn on board the British Pullman - please do not wear jeans, men may wish to wear a jacket and tie
• Because of the vintage nature of the train wheel chair access is not possible onboard, help is available for passengers with disabilities, with facilities to stow folding wheelchairs.
• For the comfort of all, this is a non-smoking train throughout and passengers are asked to turn off their mobile telephones whilst on board
• If you have any special dietary requirements, please advise us when booking and we will do our best to comply. We are, however, unable to provide meals requiring strict religious observance in their preparation.
Anything Else
There are four different styles of Pullman carriage, seating between 20 and 26 passengers with various seating combinations made up of tables for one, two or three and private compartments seating four. Please note that at busy times, parties of two may be seated sharing with another party of two. Parties larger than four will be seated at a combination of tables
The value of this voucher can be exchanged or used as part payment for other journeys at the time of booking with Belmond
Vouchers are valid for trips up to the voucher value. Prices for experiences may vary in line with demand. You may need to look further ahead for a date of equal value or if you wish to travel on a date that does not correspond with your voucher or upgrade to an alternative experience, you may pay a supplementary fee. No refunds will be made for bookings that have dropped in price Historic Belmond British Pullman Day Trip
Belmond Historic Day Trip
Total Price
£
499.00