English
Skip to main content
Helicopter Lessons Cotswold Airport
Cirencester, Gloucestershire   
REF:

VASC20
• Helicopter lessons from Cotswold Airport
• Fly out of this historic airfield near Cirencester
• 20, 30 and 60-minute lesson slots available
• A bustling airfield with a great cafe on-site too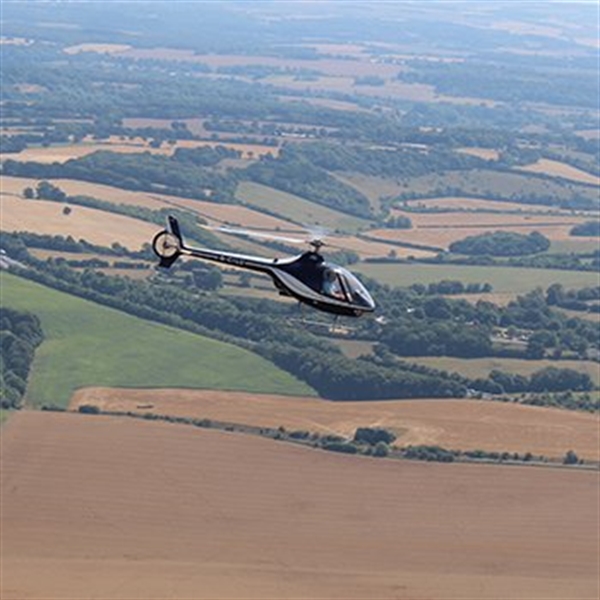 What's Included
• A helicopter flying lesson in a two-seater Cabri G2 helicopter
• Pre-flight briefing with your instructor
• Learn about the effects of controls and the basics of how to fly the helicopter
• 1:1 flying time with your instructor, which counts towards your PPL-H (private pilot's licence)
What Can I Expect
Cotswold Airport helicopter lessons - your chance to fly a helicopter! Take control of a Cabri G2 helicopter over the beautiful Cotswolds. We are offering 20, 30 or 60 minute lessons from this historic airfield between Cirencester and Tetbury. Thrill seeker or aviation enthusiast, it's the perfect gift!
All lessons start with a full briefing on what each control does and includes all the safety information about operating around and in the helicopter. When it comes to flying a helicopter, it's all about coordination and understanding how the helicopter reacts to your input controls. We think you'll love the challenge of having a go yourself.
The modern, high-tech Cabri G22 is the primary trainer helicopter at Cotswolds Airport. This two seater heli is easy to handle, reliable and (most of all) fun to fly, making the Cabri a popular choice for lessons and training.
Taught on a one-to-one basis, all sessions are tailored to you, with the aim of giving you maximum 'hands on' time at the controls. You might want to get to grips with the basics. You may fancy trying a bit of hovering (totally brilliant!). Or even get technical to see just what a chopper can do. In essence, your pilot instructor will ensure your lesson covers what you want to do.
We have to mention where you'll be flying from on these helicopter lessons. Cotswold Airport has been home to aviation since 1937, when RAF Kemble was created as an aircraft service, maintenance and handling facility. Today Cotswold Airport is a bustling General Aviation airfield. It's great seeing various planes and helicopters flying in and out, with the stunning backdrop of the Cotswolds - and a great cafe and restaurant in the former airport fire station too!
And of course, if you get the flying bug and want to work towards your own helicopter licence, your trial lesson will count towards it. Head to Cotswold Airport for your first helicopter lesson and see where it takes you!  
Availability
• Weekdays and weekends throughout the year
• Dates and session times are subject to weather, aircraft and instructor availability
Location
• Cotswold Airport, Cirencester, Gloucestershire
Suitable For
• Minimum age 14
• Under 18s must be accompanied on the airfield by an adult
• Maximum weight 18 stone (114kg)
• Maximum height 6ft 4ins (1.96m)
Spectators
• Spectators are welcome to come and watch (subject to current Covid-19 operating procedures)
Anything Else
• Food and drink are available to purchase on the airfield
• Cotswold Airport is a busy airfield with plenty to see Helicopter Lessons Cotswold Airport
20 Minute Cabri Helicopter Lesson plus Briefing
Total Price
£
209.00