English
Skip to main content
Nissan Circuit Drive
Nationwide Locations   
REF:

X19NSB
• Power and performance - it's the Nissan GTR
• 3 or 6 miles of driving this amazing supercar
• Hot Lap options available on the day
• A choice of tracks to choose from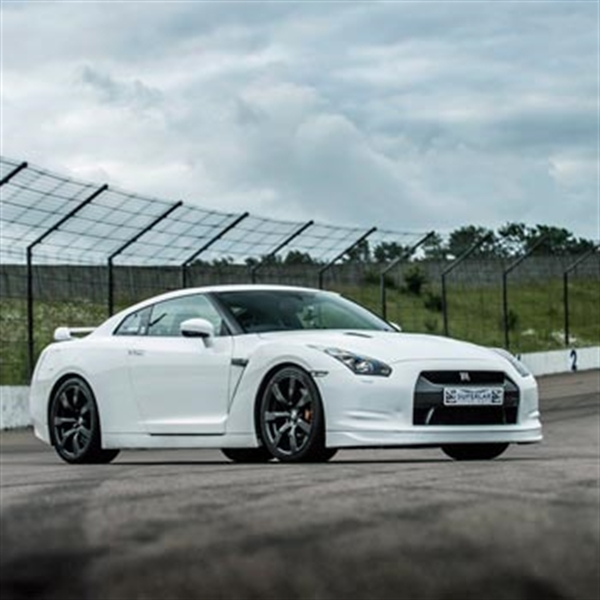 What's Included
• A Nissan GTR driving experience
• Welcome, introduction and safety briefing
• Drive the Nissan for a 3 mile blast or 6 mile thrill of your chosen circuit
• Tuition from a qualified instructor
• Drivers certificate
What Can I Expect
It all goes very Land of the Rising Sun on this Nissan GTR driving day with a car that gives the prestige marques a serious run for their money - at less than half the price! That's not to say the Nissan is cheap, it'll still set you back 75,000 of your finest pounds...
During this day of high speed driving, you'll discover that the GT-R from Nissan is the 'young buck' of the supercar world. Actually, let's be blunt about it. Many driving snobs think the car lacks class and style. OK, it's not got the sensuousness of an Italian stallion, but despite being less powerful and heavier, it is faster on acceleration, with 0-60mph in just 2.7seconds. So how does the Nissan do it?
Well, there's the twin turbocharged engine and the carbon ceramic brakes as standard. Then there's the double clutch (one controlling the even gears and one controlling the odd gears) making gear changes faster, smoother and slicker, along with the paddle shift. Add to that all wheel drive technology that monitors traction and sends power to all four wheels individually to stop spinning. Then, as you'll discover for yourself on your Nissan GTR driving day, the icing on the automotive cake is launch control.
This little onboard gadget is truly ingenious and not the same as featured on other cars, as it is intelligent and learns. Every time every day you drive off in the Nissan GTR from a standing start, the launch control computer number crunches and calculates the influence of temperature and road conditions on grip, to make sure you don't just apply too much throttle and get the wheels spinning, whilst going nowhere fast. It then 'learns' from these, so by the time the third or fourth start you'll be heading off like a very controlled, tarmac-munching rocket. Nice.
So where can you take your Nissan GTR driving day? We have got seven different circuit venues on offer. All have superb tracks that'll allow you to experience this impressive acceleration for yourself in the Nissan, along with some nice curves and corners to test out that all wheel drive.
Availability
Choose a weekday only voucher or to include weekend availability (where available) opt for the anytime voucher
Experiences operate throughout the year (unless stated)
Dates and session times are subject to availability at your chosen location
Location
Current available locations, subject to change 
Essex

 

Carver Barracks (weekends only)
Hampshire

 

Aldershot (weekdays and weekends Mar-Nov)
Lancashire

 

Three Sisters Circuit (weekdays and weekends Mar-Nov)
Leicestershire

 

East Midlands Heritage (weekends)
Lincolnshire

 

Blyton Park (weekdays)
Surrey

 

Cranleigh Circuit (weekdays and weekends)
Surrey

 

Dunsfold Main (weekdays and weekends)
York

 

Tockwith Motorsports Centre (weekdays and weekends)
Premium Circuits (£30 supplement payable when booking your date)
Cheshire

 

Oulton Park (weekdays and weekends Mar-Nov)
Kent

 

Brands Hatch (weekdays Mar-Nov)
Suitable For
• Minimum age 17
• Participants must hold a full, valid driving licence
• Minimum height 5ft
• Maximum height 6ft 6ins
• Maximum weight 19 stone
• Drivers must be able bodied and any medical conditions that may affect driving ability must be disclosed at the time of booking
Spectators
• Spectators are welcome to come and watch at all venues for no additional charge
• Disabled access may vary depending on location
• Children must be supervised at all times
• Pets are not permitted at any circuit
• Toilets, viewing areas and refreshments are available at all venues
Anything Else
Optional extras are offered at the point of booking your date starting from £20 including collision damage waivers and flexible cancellation policies. They are not mandatory, but the waiver is advised due to the high £5000 excess on the vehicles
Specific car availability may be subject to change due to mechanical or operational factors
In cases of extreme weather i.e snow, fog or ice experiences may be re-scheduled for safety reasons
Comfortable shoes with thin soles are recommended
Reviews
Average Rating 5
Total Reviews 1
Recommend to Friend 1

Had a fantastic time. Instructor allowed me to really floor this beautiful machine. Truly thrilling experience. Couldn't stop smiling. Great circuit (Mallory Park). Very well organised.
Ben Spencer
{{reviews.text}}
{{reviews.user.username}} Nissan Circuit Drive
Weekday 3 Mile GTR Blast
Total Price
£
49.00