English
Skip to main content
7 Day Anytime Flights
Nationwide   
REF:

BOB160
• Flexible anytime hot air balloon ride vouchers
• Flights in association with Balloons over Britain
• Launch sites around the country are available
• Cruise up to 4000ft, ride lasts for around 1 hour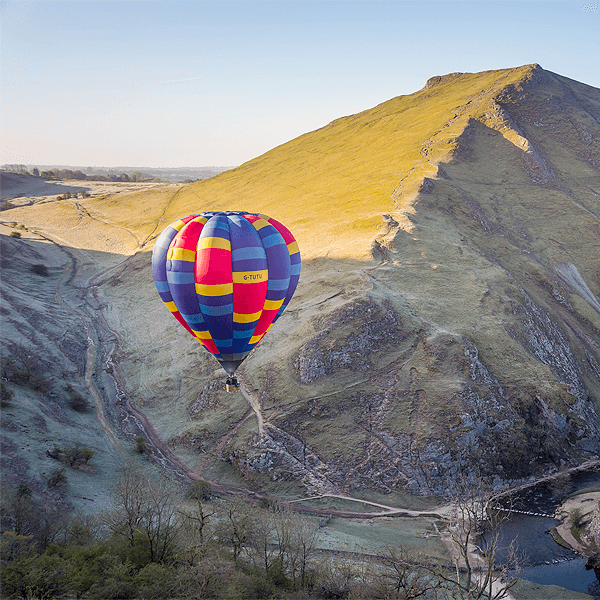 What's Included
A flight in a hot air balloon at heights of up to 4,000 feet
Flights last around one hour but allow 3-4 hours for the whole experience
The opportunity to assist with the inflation and deflation of the balloon
Some locations offer a glass of champagne on landing with others offering slightly longer flights
Presentation of a flight certificate
Return transport back to the launch
Experiences operate with baskets holding between 8 and 16 people
Complimentary premium gift packaging from Into The Blue when purchasing the flight for two
What Can I Expect
Into the Blue unrestricted hot air balloon flights are offered in partnership with Balloons Over Britain; a name synonymous with adventure and flight, who have over 70 balloon launch sites across the UK.
The hot air ballooning vouchers on this page offer the maximum flexibility and convenience, being valid for dawn and dusk flights throughout the week, including weekends, making the perfect present for someone you love. Into the Blue also offers sunrise balloon trips which present excellent value for money.
The experience starts with a passenger greeting, followed by the inflation of the balloon. This is great fun to watch, with passengers and spectators often invited to join in whilst cold air is blown into the balloon and then heated. Just before climbing into the basket, it's time for the pilot briefing and once everyone is settled (and with cameras at the ready) it's time for take off.
Gently, with the hot air lifting the balloon off the ground, you'll will drift skywards and, as you watch the ground slowly drop away, friends and family down below soon look like little ant-sized people. Your familiar towns become toy towns and the rolling countryside becomes a glorious patchwork quilt of seasonal colours as you climb to an altitude of up to 3,000ft.
You will be airborne in the balloon for about an hour, depending on weather conditions and, yes it is true that the pilot never really knows precisely where you will land - but fear not, the ground crew are in radio contact with the pilot and follow the balloon to the safe landing spot! The pilot can control altitude by using the gas burner to control the temperature of the hot air in the balloon and often a change of height can result in a change of direction. Essentially you are being carried by the wind like a dandelion seed!
Once landed, the ground crew will meet you and there's a champagne toast to celebrate your adventure whilst the balloon is being deflated. Your experience ends with the presentation of a commemorative certificate signed by your pilot, before being transported back to the launch site. Make your special day extra special with a gift experience from IntotheBlue.co.uk
Availability
• The main Ballooning season is from March/April to October/November, subject to availability and weather conditions
• Vouchers are valid for morning or evening flights, seven days a week (subject to availability)
• Balloon flights rely on suitable wind speed and weather, if you are unlucky with the weather you can rebook another date with the Balloon operator
* Due to popularity and a backlog of vouchers during lockdown, dates for ballooning experiences are currently limited.  Please be prepared to wait for availability until the backlog is cleared.  Vouchers will be extended free of charge where necessary*
Location
• Specific Launch sites within the areas may vary and will be decided upon by the operator to suit weather conditions on the day
• Locations are subject to change

• Bath - Bath City
• Bristol - Bristol City
• Berkshire - Reading, Padworth
• South Buckinghamshire - Great Missenden and Aylesbury
• Cheshire - Waverton, Nantwich and Whitchurch
• Cornwall - Launceston
• Derbyshire - Rowsley, Tissington Hall and Clover Fields Caravan Park
• Devon - Exeter, Tiverton, Ivybridge
• Dorset - Templecombe, Gillingham
• Gloucestershire - Evesham, Moreton in Marsh
• Hampshire (North) - Basingstoke, Hartley Wintney
• Hampshire (South)* - Micheldever, Alton, West Meon
• Hertfordshire - Tring (back up launch site is Hartwell House Hotel)
• Monmouthshire - Llanarth, Tintern, Monmouth
• Norfolk - Norwich
• Oxfordshire (South)* - Oxford
• Shropshire - Whitchurch, Nantwich
• Somerset - Taunton, Wincanton
• Staffordshire - Shugborough Hall, Trentham, Stone
• Suffolk - Eye (nr Diss)
• Sussex (East) - Ashdown Park Hotel, Hickstead, Patcham , Petworth & Uckfield
• Surrey - Farnham, Godalming, Guildford
• Wiltshire - Tollard Royal
• Yorkshire - York
Suitable For
• You must be a minimum of 4'6" (1.4m) tall and weigh less than 18 stones (114 Kg)
• Minimum age is 8 years
• Under 16's must be accompanied by a responsible adult
• You will need to climb into the basket and stand for the duration of the flight
• The experience is not suitable for pregnant women
Spectators
• Spectators are welcome free of charge to watch, but there are no special or separate facilities for spectators at the launch site
• Once airborne, spectators can follow the balloon if they wish at their own risk, however following the ground crew vehicle is not recommended
• If spectators arrive at the landing site, they must seek permission from the ground crew to enter the site.
Anything Else
• Hot air balloon flights take place at venues throughout the UK and there's no need to specify the venue on buying your voucher
• It is advisable to wear sensible outdoor clothing and sturdy footwear. Bring a hat and remember launch sites may be muddy in Spring and Autumn.
• Balloon flights rely on suitable winds and weather. If your flight is cancelled due to the weather you can rebook another date with the Balloon operator. Should your flight be postponed by the operator on 5 or more occasions in a one year period, they will extend the voucher for 12 months free of charge, if necessary, further extensions will be given on the same basis. If the user has not met this condition but they contact the Operator before the booking expiry date, the Operator will provide the user with the opportunity to fly for a further 12 months from the expiry date at a cost of £50 per person.
Reviews
Average Rating 5
Total Reviews 4
Recommend to Friend 3

Smooth and easy.
Marcus Myers
The balloon company were great, we were lucky and flew the first time we booked as weather was good. The experience was made even more fun as allowed to help inflate the balloon and get involved at the deflation too. Kerry and Jez were great and answered all questioned fired at them, so thank you. Highly recommend this experience.
Kay
The pilot kept us informed about the weather conditions and he also went through the possible things that might go wrong before we took off. However it was a brilliant flight and even the landing was superb. we all enjoyed a glass of 'bubbly' once on 'terra firma' before we were taken back to where our cars were. I will and have been telling people of my wonderful experience.Thank you.
Leigh Welch
My mother had her hot air balloon flight yesterday and absolutely loved every minute of it. It was something she had always wanted to do and now her dream has been fulfilled. Thank you so much for making her dreams come true.
Rebecca Jones
{{reviews.text}}
{{reviews.user.username}} 7 Day Anytime Flights
'Anytime' Balloon Flight
Total Price
£
189.00