English
Skip to main content
Hiver Craft Beer Hampers
UK-wide Delivery   
REF:

HBCBH1
Beer hampers from Hiver brewers
Craft beers & goodies in a box
UK-wide delivery included 
Delicious honey-brewed craft beers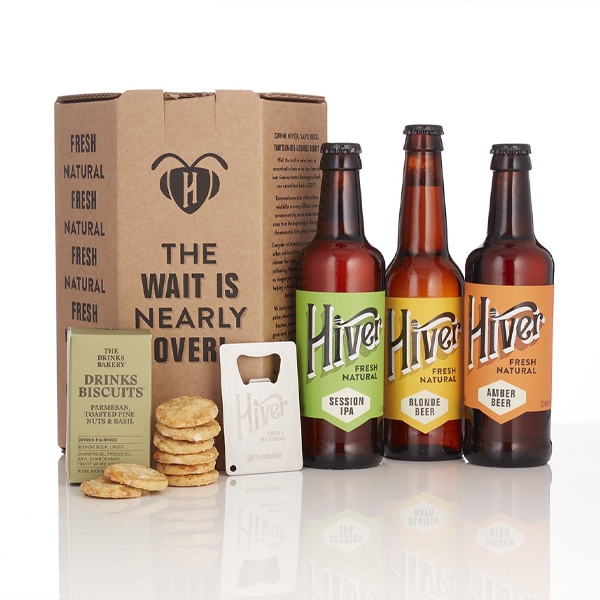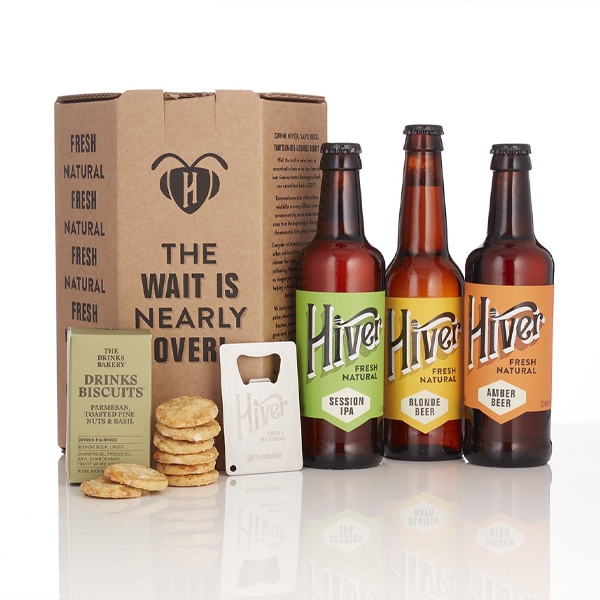 What's Included
Selection of Hiver Craft Beers and gifts
UK-wide delivery is included
Mini Hamper
3 x 330ml beers (one of each fro the Hiver family)
1 x credit card sized bottle opener
The drinks bakery biscuit snack pack (contains nuts)
Choose Classic, Fathers Day or Happy Birthday outer when redeeming your voucher
Large Hamper
9 x 330ml beers
1 x branded pint glass
1 x credit card sized bottle opener
Choose from one of the following: Seeds - a kitchen garden herb set of seeds for bees or Snack - The Drinks bakery biscuits
Fancy sipping on a cool, Continental-style lager instead? Buy the English Lager Gift Box!
What Can I Expect
The craft beer hamper - natural, fresh and thirst-quenching British beers, all neatly packaged and delivered to your door! Great gifts for craft ale fans, these hampers mean you can enjoy a decent beer anytime you want to.
Hiver is a small, independent London brewery that's literally buzzing. They use raw honey from local urban beekeepers in their fermenting process to make their deliciously refreshing beers. The brewers also take great pride in the fact that all ingredients used are British.
Their very first brew was a honey blonde beer. Having won many fans, Hiver busied themselves to come up with a lovely Amber and then a tasty IPA to complete the trio. It's these three signature Hiver craft beers you'll receive in your hamper, along with some nice little beer-themed gifts too.
The Mini Craft Beer Hamper contains a bottle of each of the main Hiver brews, plus a funky credit-card shaped bottle opener and some delicious artisan savoury biscuits that go perfectly with a glass of the honey blonde.
The Large Craft Beer Hamper is packed with three bottles of each of the three types of Hiver brews (enough for a party at yours!) and lots more besides. The handy credit-card bottle opener is in there, accompanied by a rather nice engraved Hiver beer pint glass.
What we love most about the large hamper (apart from the actual beer of course!) is the choice you have of the extra little gift which is for yourself or for the bees. If you pick the box of biscuits, these tasty biccies are sure to give your beer tasting an extra crunch. If you opt for the kitchen herb garden seed packets, by growing the plants you'll be helping to make the bees who make the honey very happy!
All craft beer hampers are delivered to the address of your choice anywhere in the UK. The beers and all the Hiver goodies come neatly packaged in a funky gift hamper box, making them ideal gifts for beer lovers everywhere!
Availability
Register your voucher to request dispatch to a UK address of your choice
Once dispatch is requested delivery will be made in 2-3 days and a tracking link provided
Location
Delivery to a UK address of your choice Hiver Craft Beer Hampers
Mini Craft Beer Hamper
Total Price
£
29.00