English
Skip to main content
MAP Maison Cocktail Making Box for Two with Video Tutorials
Home Delivery   
REF:

MMCVID
Luxurious MAP Lab cocktail kits by post
Prepare & serve cocktails at home
Watch the video tutorials
Listen to the MAP cocktail playlist!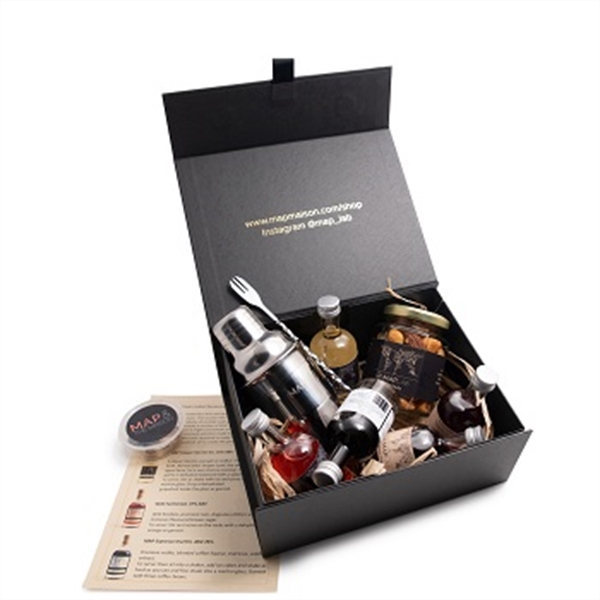 What's Included
Learn how to make delicious cocktails at home
MAP Lab's premium cocktail kit for two delivered to your door in a luxury gift box
Access to online video tutorials from MAP Maison's head bartender on how to prepare and serve each cocktail of your choosing
Access to MAP Maison's exclusive playlist designed to go perfectly with our own private cocktail hour
Luxury Gift Box Contents:
Choose either 1 x 500ml bottle,  2 x 200 ml bottle or 6 x 50ml bottles from MAP Lab's extensive bottled cocktail collection
1 three piece cocktail shaker
1 bar spoon
1 jar of MAP's mixed nuts/ fried corn (V)
What Can I Expect
Cocktail making kits from the MAP Lab! The team behind East London's renowned MAP Maison has concocted these fabulous at-home cocktail gift boxes containing everything you need to have your very own cocktail hour at home.
What makes these kits unique is the fact the cocktails have already been blended and put in a bottle for you. The MAP Lab crew are experts at this. They source the highest quality spirits, bitters and natural flavours to create both classic recipes and cocktails 'with a twist'. They're just like the delicious cocktails served at the bar, but sent directly to you in a bottle.
You have a choice of kit, each one with a jar of MAP snacks and a choice of one x 500ml bottle, two x 200ml bottles or a collection of six x 50ml miniatures if you fancy trying several cocktail mixes. We have to say, we love the names; 'The Smoke Barrel' and the 'Netflicks Original' particularly caught our eye!
All you need is a little ice, maybe a mixer and perhaps a nice slice of  orange to give your home cocktails a bit of a zing and a zest. All kits come with a three-part cocktail shaker and a bartender's spoon, all neatly wrapped up in a stylish gift box.
No worries if you're not sure how to prepare and serve you cocktails at home. Each pack contains all the info you need and you can watch video tutorials online hosted by the MAP Maison head bartender for step-by-step instructions.
And to get that inimitable MAP Maison ambiance going in your own home, you even have access to the carefully curated in-house playlist for those soul-funk-jazz vibes you usually hear in the bar. Stick the music on, get your shaker out and get your very own cocktail hour underway in no time!
These cocktail making kits are available for delivery by post to all mainland UK addresses and provide everything you need to make cocktails at home for two people to enjoy. Martini glasses at the ready, it's time for your cocktail party for two! 
Availability
Once registered and redeemed delivery is 2-3 days
Location
Delivered to mainland UK via courier is included
Shipping outside of mainland UK will incur an extra charge payable direct when placing your order
Suitable For
Minimum age 18
This kit is available for two people in the same household
Menu
MAP Lab Cocktail Choices:

Maison Bourbon Old Fashioned 
MAP Maison's house Bourbon Old Fashioned is pure elegance - Kentucky Bourbon, Angostura Bitters and deep, rich, earthy molasses and flavoured brown sugar
~
Wild Fashioned
Wild Rooibos, premium rum, Angostura Bitters and earthy molasses
~
Maison Negroni
A traditional house classic, with no frills. Gin, Campari and Sweet Vermouth, stirred and served straight up
~
MAP Manhattan
MAP Manhattan is quintessentially the perfect classic. Rye Whiskey, Punt es Mes and Angostura Bitters are precisely mixed together, to create an awless balance in flavour, highlighting sweet, dry and bitter notes
~
MAP Vesper Martini #1
A classic Martini uses gin or vodka – this hybrid combines both.  Named after Vesper Lynd, the seductive double-agent born 'on a very stormy evening', the power of the spirits is delicately balanced with a splash of Lillet
~
MAP Rum Old Fashioned
MAP Maison's Rum Old Fashioned is pure simplicity - Rum from Havana, Angostura Bitters and deep, rich, earthy molasses flavoured brown sugar
~
Netficks Original #1
Netficks Original, is the ultimate date-night drink; Gin, Amaro di Angostura, Maraschino and orange bitters
~
Kanji in the Evening #1
Pomegranate combined perfectly with peppercorn and Chartreuse, all bolstered by the tantalising tones of MAP blended liqueur and Maison Sour Mix and finally c ombined with premium Japanese whisky 
~
MAP Espresso Martini
A much-loved cocktail with just a hint of MAP refinement. Espresso, velvety coffee liqueur and premium vodka and vanilla extract
~
Pink Lady
A blend of pink peppercorn infused gin, whiskey, Aperol, cherry & agave
~
Haibisukasu #1
A cocktail that allows the quality of the Nikka Days Japanese whisky to shine while also allowing the other  elements to tease the senses.  Sweet and floral while also revealing a tantalising tartness, the hibiscus and red berry merges with Maison Sour Mix to  create a stunning symphony of  flavours that does not disappoint
~
The Smoke Barrel #1
Premium Kentucky Bourbon, Cherry Heering and whiskey barrel aged bitters. This cocktail brings depth and an intercontinental luxury, to make cocktail perfection
~
Maison Margarita #1
Premium aged Tequila is mixed with citrussy-sweet MAP blended orange liqueurs and our secret Maison Sour Mix MAP Maison Cocktail Making Box for Two with Video Tutorials
Cocktail Making for Two with Video Tutorials
Total Price
£
99.00