English
Skip to main content
Bournemouth Helicopter Tour
Bournemouth Airport   
REF:

BRNHEL
• Heli tours from Bournemouth International Airport
• Four and six seater executive choppers used
• See Bournemouth and beyond on the extended tour
• Beaches, coastline and Art Deco towns from the air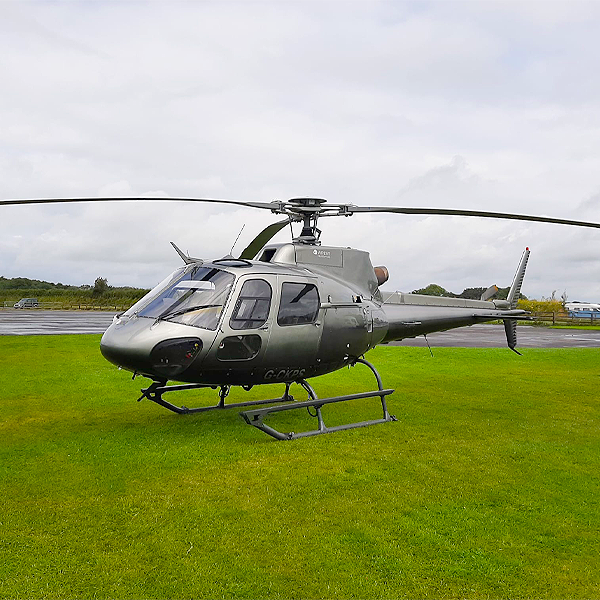 What's Included
• A Dorset Coastline Helicopter Flight
• Welcome, safety briefing and introduction by your helicopter pilot
• You may be with two other participants if flying in the Robinson R44 and four other passengers if flying in the AS350 Single Squirrel helicopter

20 Minute Tour
• A sight seeing flight lasting 20 minutes covering approximately 34 miles
• Amazing views over Boscombe, Bournemouth, Sandbanks and Poole Harbour

30 Minute Tour
• A sight seeing flight lasting 30 minutes covering approximately 50 miles
• In addition to the sights of the 20 minute tour you will also view Corfe Castle, Old Harry Rocks and Studland Bay
What Can I Expect
Get your rotors in a spin with these high-flying helicopter rides over Bournemouth! These 20 minute flights give you an unparalleled view of Bournemouth's beaches and Dorset's beautiful coastline, as well as being a fantastic experience for any chopper enthusiast.
Taking off from the helicopter base at Bournemouth International Airport, these flights will take you up and over the local shoreline and harbour of Poole, and show you the full glory of Art Deco towns like Boscombe and Bournemouth itself. All the helicopter flights are led by experienced pilots and the base itself is fully CAA (Civil Aviation Authority) approved.
The centre offers two models of helicopter for your flight above Bournemouth: a six-seater AS350 single squirrel and a four-seater Robinson R44. The squirrel allows for up to five passengers in addition to the pilot and is one of the most popular turbine engine helicopter models. The Robinson provides seats for three flight participants and is the best-selling helicopter in the world, with a piston engine which can actually outstrip many of its turbine counterparts.
The flight path on the 20 minute excursion covers a surprising distance and is a great way to appreciate the splendour of some of these tourist spa towns from a bygone era and the pilot will be sure to point out key landmarks such as the Winter Gardens, Pavilion Theatre and, of course, the famous pier. These thrilling helicopter flights out of Bournemouth also take in the luxury houses of the Sandbanks peninsula, home to the rich and famous. See if you can spot the multi-million pound boats and cruisers moored in the marina - sadly, you'll be too high up to get a good look at any of the multi-millionaire occupants!
Those on the 30 minute tour will enjoy all these sights, before heading further afield to hover over the likes of Corfe Castle and Studland Bay, both located on the Isle of Purbeck. But the highlight of this extended tour has to be swooping around Old Harry Rocks, to look down on those majestic chalk formations jutting out form the sea. Simply stunning!
This rotary ride is the perfect way for any chopper buff and even if you're not, seeing this unique south coast scenery from the air is an experience not to be missed. Take one of our helicopter flights in Bournemouth and see the south coast like never before, with these whirling airborne excursions.
Availability
• Selected days of the month usually at weekends , throughout the year
Location
• Flights depart from Bournemouth Airport, Christchurch, Dorset
Suitable For
• No minimum or maximum age requirements but all under 10's must accompanied in the helicopter by a fare paying adult
• Maximum weight 18 stone
Spectators
• Spectators are welcome to view take off and landing
• There is a cafeteria on site for refreshments for waiting guests
Anything Else
• Passengers must arrive 20 minutes prior to their flight time
• Tour routes can vary due to change due to weather conditions and air traffic control
• Upgrades to a co-pilot experience are available for an additional fee when booking your date (subject to availability)
Reviews
Average Rating 4
Total Reviews 5
Recommend to Friend 4

Great experience. Good to see different view of familiar scenes! Pilot very informative.
L Turk
Brilliant experience. Professionally done with little waiting time. I would recommend though that you ensure passengers are aware of how to use the headset as we weren't shown how to speak to each other during the flight so we were in total silence for 30 minutes and unable to speak to the pilot. Great though. Definitely recommend.
Alan Jackson
We had an absolutely exhilarating experience! Andy, the pilot was very knowledgeable and competent. We picked a perfect day weatherwise and could see for miles and miles. We would definitely recommend this trip for anyone with a love of heights! Thank you.
Lesley Witts
Unfortunately I had my flight cancelled due to weather, which I knew could happen, I was notified in plenty of time so as I did not have to set off from home, most grateful for that, I am currently waiting for an email with instructions as to how I re-book
Tina Foulds
What could have been a truly wonderful experience turned out to be just average for one simple reason - the pilot didn't interact with the passengers or give too much information about the sights - just saying "to the left is Bournemouth pier / we're above Sandbanks / there's Brownsea Island". I know he had to fly the helicopter and wasn't there as a tour guide, but felt that if he had shown a little more intest and enthusiasm for what was a special day for all the passengers, it would have been an excellent experience. He had 12 tours to do that day - perhaps too many??
Pat McCall
{{reviews.text}}
{{reviews.user.username}} Bournemouth Helicopter Tour
20 Minute Helicopter Tour
Total Price
£
145.00