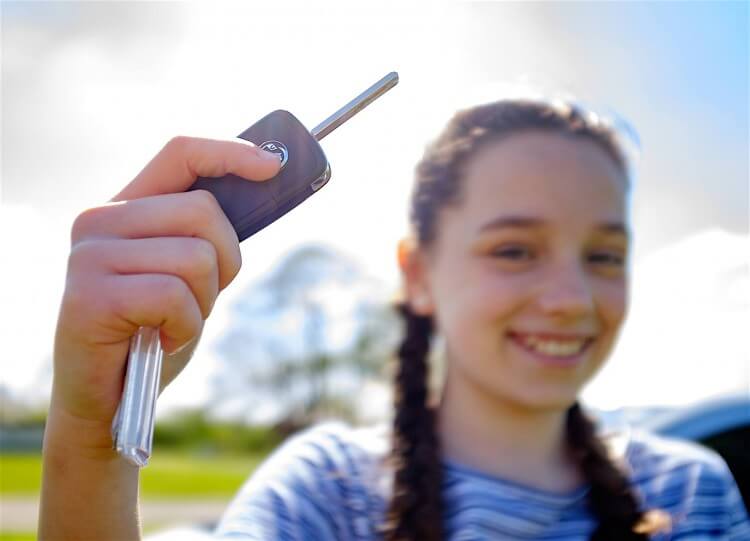 Can you drive under 17? We answer your young driver questions
Can you drive under 17?
The answer to the question of if you can drive under 17 is…yes and no! It all depends on what you're driving and where. Let us tell you more about young drivers in the UK, with a clear rundown of the rules and regulations.
In essence, you need to be 17 years old to drive on public roads. You will need to be in possession of either a full driving licence or a provisional driving licence. In both cases you need to be insured and the car you're driving needs to have a current MoT and road tax. 
However, you can drive on private land at any age. More about that later, but first
What are the rules of driving on a provisional licence?
If you're driving with a provisional licence, you need to:
Be supervised by a registered instructor, or someone who meets the DVLA rules, at all times

Not drive on motorways

Have legal 'L' plates displayed on the car
And it's worth noting that anyone supervising must not use a mobile phone at any point. You can take passengers in the car, up to the number legally allowed in your particular car.
What does 'someone who meets the rules' mean for someone supervising a learner driver?
Those supervising a person driving on a provisional licence must be:
At least 21 years old

Have held their driving licence for at least three years
Full details can be found on the DVLA website.
But on the DVLA website it says I can apply for my provisional licence at the age of 15 years and 9 months?
Yes, that's correct. But, it does not mean you can drive a car on the public roads as soon as you receive it. It does mean you can learn to ride a moped as soon as you turn 16, hence why you can apply for a provisional licence at such an early age. 
You will still need to wait until the day you are 17 before you can go out on the public roads under supervision in a car.
OK, so that's driving on the public roads, what about driving on private land?
If you:
Own the land

Or have permission from the land owner
You can indeed drive (or ride) any motor vehicle on it, regardless of age. You don't need to be insured, have an MoT or any other legal documents. There's no need for an instructor either. 
That sounds great!
Yes, but remember:
The vehicle won't be insured in case of an accident

To seriously consider the fact that you are letting a youngster drive your vehicle with little or no experience 

If you have to use public roads (or even, say, push a motorbike along a grass verge) to get there, you need to adhere to the usual rules and regulations of driving on public roads, that's to say insurance, MoT etc
So it's off down to the supermarket car park when it's closed for a quick lesson?
No. Whilst technically it's private land, the Road Traffic Act extends to places like this, as they are 'accessible to the public'. So to drive around a supermarket, pub or any other car park-type place, all the rules for driving on public roads apply.
Is there way you can get to driving tuition under the age of 17?
Yes! There are lots of driving schools that offer what they call 'First Drive' experiences, which:
Take place at driving centres away from the public roads

Use dual-controlled cars for extra safety

Are hosted by Government-approved expert driving instructors

Some of them even boast full road-style layouts with junctions and roundabouts

Means you're not taking any risks in your family car!
What are the requirements for these 'First Drive' experiences?
In the case of the first driving lessons it's more about height than age. Youngsters will need to be:
Tall enough to be able to reach the pedals

A minimum height of 4ft 6" (or 1.42cm for metric fans

As a guide, most schools say young driver lessons are suitable for ages 10 to 17 years old
Are they just like a proper driving lesson?
Yes. That's exactly the idea. The aim is to give youngsters the chance to experience what it'll be like once they turn 17 and learn to drive on the public roads. 
It's a great confidence builder and will set them on the right road to being an aware and competent driver. You can read more about what learner drivers need to learn on the DVLA Car and Light Van Driving Syllabus.
Check our dedicated section online for more information and online booking for First Drive lessons for 10-17 year olds.