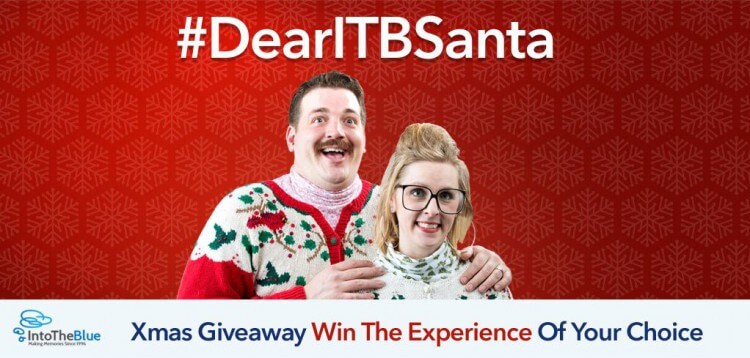 Here Comes Our IntoTheBlue Christmas Giveaway!
That's it, ladies and gentlemen, forget about Christmas puddings and gift wrapping, it's time to participate in our annual IntoTheBlue Christmas Giveaway. This year we've partnered up with our old friend Santa to give you the chance to win the experience of your choice (T&C's apply). And the best part? This year we will have five lucky winners! Want to know how to enter? Keep scrolling down!
How can you enter?
Let's be honest, nobody likes contests and giveaways that ask you to do a bunch of things to be able to win. That's why we decided to go for the easy-peasy route this year.  All you have to do is:
1)      Go to either our Facebook, Twitter or Instagram pages.
2)      Leave us a comment with the hashtag #DearITBSanta telling us which one of our experiences you'd like to win and why.
3)      And that's it!
Who can participate?
Everyone! The only requirement you need to participate is to live in the UK. But remember that only one comment/entry is allowed per person. Want to increase your chances to win? Make sure to share it with your friends and family! Who knows, you can always convince to share it with you if they win, 'tis the season of giving and loving, after all!
When does the giveaway end?
The giveaway will be starting on the 6th December and ending on the 17th December. You will have until 23:59pm GMT on the 17th December to enter the competition.  The five winners will be announced on the 18th December and will be contacted via private message to confirm their prize.
We wish you all the best of luck and here's to hope we made your Christmas just a little bit happier  with our IntoTheBlue Giveaway!