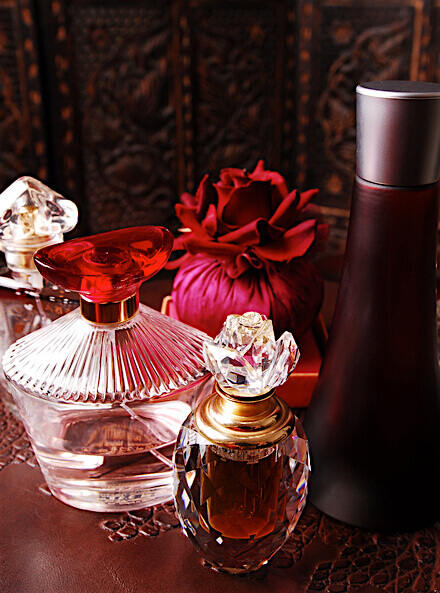 Winter perfumes – our seasonal guide to sensational scents
Winter perfumes for cold, frosty mornings
There's more to winter perfumes than being just a great Christmas gift idea. As the weather gets colder and the days get shorter, it's time to get your winter coat out – and your winter perfumes too. After all, we all have a summer and winter wardrobe, so why not have different summer and winter perfumes to wear?
A perfume for each season
Here's our guide to the notes and aromas to complement the changing seasons.
Winter perfumes
Rich, musky tones give the feeling of the warmth, as you get cosy and layer up with your clothes during the colder winter months. Mixed with a little exotic and oriental, the best winter fragrances get a bit of extra spice during the festive season.
Spring perfumes
Rebirth and regrowth is best celebrated with fresh notes around water, green and citrus. It's all about light, easy to wear fragrances to celebrate coming out of your winter hibernation and give you a seasonal boost.
Summer perfumes
A flourish of floral notes for the season where the flowers are filling the air with delicious fragrances of their own. Summer centres around the sweet smells of a glorious sunshine day and Mother Nature in full bloom.
Autumn
As the leaves fall off the trees and it's harvest time, you move towards amber notes to reflect the golden glow of autumn. The woody notes include mossy woods, dry woods and aromatic greens too.
How to wear winter perfumes
Don't forget that you're wrapped in more layers of clothing in the winter months. So, during the likes of December and January, a generous dash of a 'heavier' winter perfume will work a treat. In summer, when the temperatures rise, the heat accentuates the aromas of perfume. So on hot days, you just need a quick spritz of a lighter, spring/summer fragrance. Less is more and all that!
What are your great classic winter perfume picks?
Every year perfume designers bring out new scents, but we've stuck with the classics. Here's our quick guide to give you an idea of the sort of fragrances we're talking about, to highlight the colder winter days with your scent:
Dolce & Gabbana – The One
Chanel – Chanel Coco
Hermes – Rouge Hermes
Lalique – Encre Noire Pour Elle
These are just a handful of our pick of winter perfumes from famous perfume houses. But if you'd love to wear a winter scent that's totally bespoke to you, there is a way. Book onto a perfume making experience and learn how to make fabulous scents yourself. That way you can get the mix of floral, oriental, woody and fresh tones to suit you at any time of year!
The main thing to remember is that the seasons are transient and your perfume choice can follow the same pattern to reflect, enhance and complement the time of year. You can go for spicy winter perfumes, fresh spring scents, summer bouquet fragrances, or a cologne with the glow of autumnal aromas.