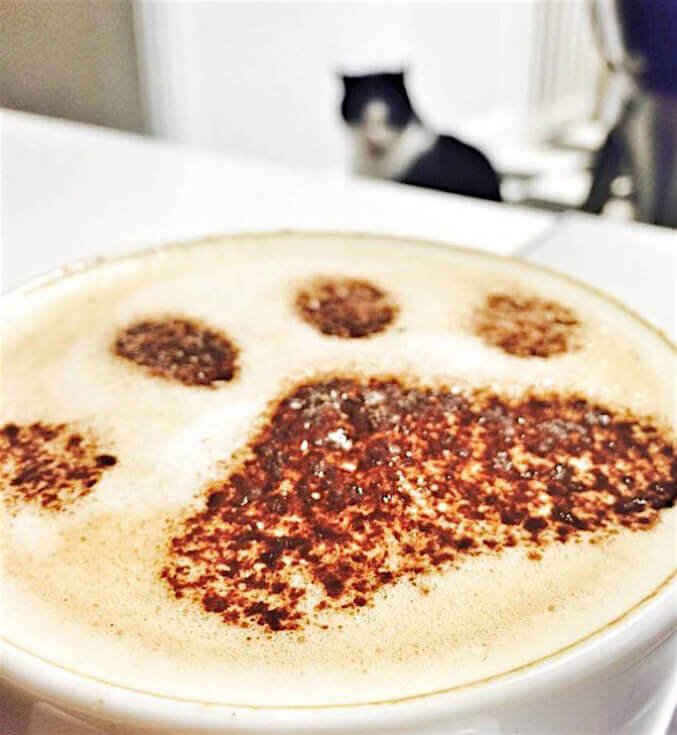 Coffee, cakes….and cats? The rise animal cafes in the UK
Furry friend filled animal cafes – the UK's new thing!
As it's International Coffee Day, we thought we'd take a look at animal cafes in the UK – cafes where resident animals mingle with the coffee-drinkers. So whilst you sip on your skinny decaf latte, you can stroke that purring cat on your lap or give that gorgeous little puppy a stroke before tucking into a slice of Victoria Sponge.
Animal cafes – from Tokyo to the UK
Sounds all a bit 'mad cat lady'? Well, it won't surprise you to learn that the idea for Animal Cafes has come from South East Asia, in particular Tawian and Japan where they are big business. In Tokyo you can drink with penguins, munch lunch with fluffy rabbits and have a sit down with a hedgehog in your hand.
The concept of Animal Cafes has come to the UK with huge success. Lady Dinah's Cat Emporium, the UK's first cat cafe opened in Shoreditch (where else!) and has proved so popular that there's a two month waiting list for table reservations, with their 'High Tea with Cats' in huge demand.
And now there are Animal Cafes all over the country. So far it's all about the cats and dogs, but who knows what animals we could be petting over a pot of Earl Grey in the future? Here's our pick of Animal Cafes in the UK for you:
1. Lady Dinah's Cat Emporium – Shoreditch, London
The original UK cat cafe, with booking essential for the famous bottomless High Tea. Lady Dinah's also organises events like cat themed colouring sessions, Board Games with Cats and Cat Bingo evenings too.
2. Kitty Cafe – Nottingham and Leeds
The concept at Kitty Cafe is not only to provide 'purr therapy' over a cuppa, but also act as a rehoming centre for cats. And if you fall in love with the pussy but can't offer them a home, you can even sponsor them.
3. Mog on the Tyne – Newcastle
We love the name! As with other cat cafes, on top of your drinks and food, you pay for entry which funds the welfare of the resident family of rescue cats. And as the TripAdvisor reviews contest, a visit here is 'strangely relaxing' and 'cat heaven' for cat nerds.
4. Cat Cafe – Manchester
This cat cafe is in the heart of Manchester on the High Street. Book in advance and for £12 your have one hour with the cats and unlimited drinks and snacks, or you can walk in and enjoy kitty cuddles for £1 per five minutes.
5. Maison de Moggy – Edinburgh
In the shadow of the famous castle, this cat cafe is the first in Scotland. It's small but perfectly formed, with cleverly furnished rooms giving the cats plenty of places to climb, relax and play. The cafe operates on timed sittings costing £8 per hour (drinks and cakes extra) and cat lovers tend to mingle and wander around.
6. Dog and Scone – Newcastle
Cuddles with pooches cost £5 for an hour, with a free drink. Pamper, pet and play with the resident doggies that include toy poodles, a Welsh corgis, a pug and a toy Yorkshire terrier. These much-loved pets go home with their cafe host owner every night and really are part of the family.
7. Catpawcino – Newcastle
On the Quayside overlooking the River Tyne, this two-level cat cafe is a feline fancier's oasis of calm in the city. It has a garden theme and the teahouse hosts the owner's six cats as well as rescue cats. Visits are £5 per hour.
8. Chihuahua Cafe – Edinburgh
Billed as Scotland's first dog cafe, it's due to open it's doors at the end of 2017. It'll be teeny weeny paws galore with the likes of Cleopatra, Lady Bee, Ama (a Chihuahua model no less), Duchess and Elsa proving the perfect lap-dog loveliness.
9. The Happiness of Hounds – Shoreditch
The much-anticipated opening of this London dog cafe is on-hold, as the people behind the concept are still searching for suitable premises with a landlord open to having doggies and puppies.
It's worth noting that animal cafes have their own set of house rules, which includes things like not feeding the animals, no tail-pulling and so on. Check with each individual animal cafe website to see the policy on children visiting the cafes.
Enjoy your cappuccino with a furry friend!